College Basketball: Ranking the Top 10 3-Point Shooters of the Past 10 Years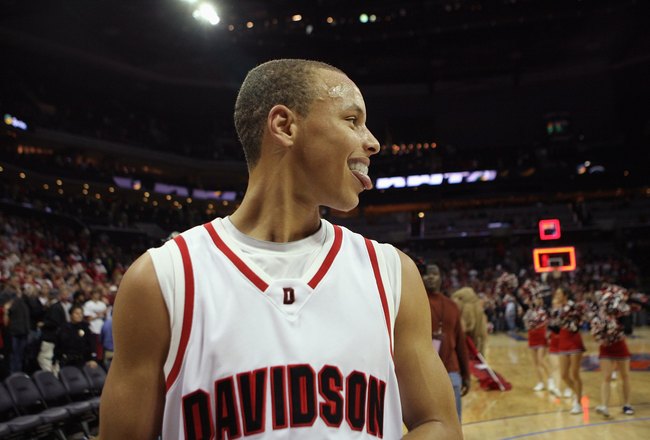 Streeter Lecka/Getty Images
The three-point shot can serve as the catalyst behind monumental comebacks, bring heavily favored squads to their knees and tear the roof off college arenas all across the country.
Yes, most college basketball players can hit the occasional three, and some even catch fire from the behind the arc every now and then. With that being said, there is a rare fraternity of shooters who have perfected the art of the longball. I am talking about the shooters that you will make you pay every time should you give them an open look from the perimeter.
We have seen many great three-point shooters over the past 10 years, but 10 men have separated themselves as being a cut above the rest.
Sit back and enjoy as I rank the top 10 three-point shooters of the past 10 years in college basketball.
10. Andrew Goudelock (College of Charleston)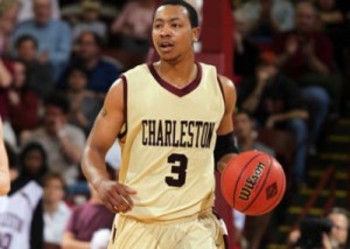 Unfortunately, most people probably never got a chance to see Andrew Goudelock play at College of Charleston. With that being said, those that did get to see Goudelock on the court instantly saw how lethal he was from behind the arc.
Andrew made 396 three pointers during his four seasons at College of Charleston and established himself as a star in the lightly publicized Southern Conference.
Goudelock's three-point shooting helped him become the all-time leading scorer at College of Charleston. Anyone who questions Andrew Goudelock being on this list should dig up College of Charleston's 2011 first round NIT game versus Dayton in which Andrew hit eight three pointers to push the Cougars to victory over the Flyers.
Goudelock is now playing alongside Kobe Bryant with the Los Angeles Lakers. Andrew has already been dubbed the "Mini-Mamba" by Bryant, which is indicative of how truly skilled this long range bomber really is.
9. Salim Stoudamire (Arizona)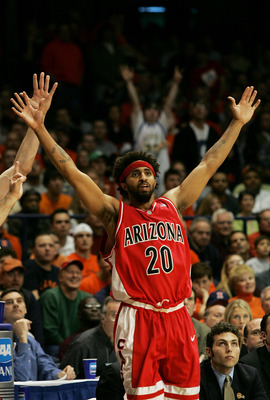 Doug Benc/Getty Images
Lute Olsen coached many great players during his storied head coaching career at Arizona, but few were as lethal a three-point shooter as Salim Stoudamire was.
Stoudamire shot a ridiculous 46 percent from behind the three point line during his time in Tuscon, as he quickly established himself as a truly special long-range marksman. The biggest three-point shot of Stoudamire's career came in the 2005 Sweet Sixteen when Salim hit a game-winning three pointer in the closing seconds to knock out Oklahoma State.
Salim's cousin Damon Stoudamire enjoyed a more successful professional career with the Portland Trail Blazers. Nevertheless, Damon doesn't have the sweet stroke that Salim hoists, as he effortlessly drains another long-range jumper.
It is not easy to establish yourself at such a historic program as Arizona, but Salim's jump shot made Wildcat fans instantly take notice. Stoudamire definitely established himself as one of the top three-point specialists of the past 10 years, and thus he earns a spot on this list.
8. Jon Diebler (Ohio State)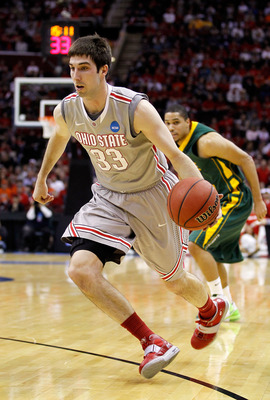 Gregory Shamus/Getty Images
Jon Diebler came to Ohio State with an already established reputation as a high-volume scorer and excellent perimeter shooter. Throughout Diebler's four years with the Buckeyes, he only cemented those aforementioned beliefs.
Jon made 374 three pointers during his collegiate career and holds the Big 10 record for most career three-point field goals. His deadly accuracy forced opposing teams to account for Diebler whenever he was standing around the perimeter. As a senior, Diebler shot a blistering 50.2 percent from three-point range.
The 6'6" 205 lb. shooting guard from nearby Sylvania, Ohio, enjoyed a tremendous amount of success under head coach Thad Matta at Ohio State. Any Buckeye fan will testify to just how invaluable Diebler's marksmanship was to Ohio State's success over the span of Jon's four-year career.
7. Steve Novak (Marquette)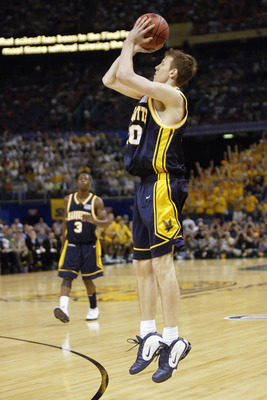 Craig Jones/Getty Images
A 6'10" forward who can step out beyond the three-point line and hit shots is always a difficult matchup for opposing coaches to game plan against. With that being said, game planning against Steve Novak was not just difficult, but was downright near impossible to do.
During a time when Marquette was transitioning from Conference USA to the Big East, Novak ensured that the Golden Eagles did not fall too far down the pecking order. Throughout Novak's four years at the school he shot 46 percent from beyond the arc, connecting on 354 of his 768 attempted three pointers.
Novak's crowning moment came in Marquette's first ever Big East game against No. 2 Connecticut. Steve scored 41 points and drilled six three pointers, as Marquette stunned the heavily favored Huskies 94-79.
Afterwards Connecticut head coach Jim Calhoun tried to put into the words the effect Novak had on the game.
"He hit fallaways, he hit a 38-footer, you name it," Calhoun said, according to ESPN.
When it was all said and done, Novak left an innumerable amount of other coaches giving similar post-game press conferences.
6. Jason Kapono (UCLA)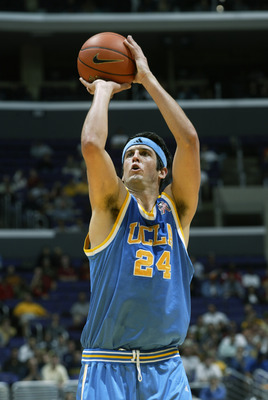 Stephen Dunn/Getty Images
Jason Kapono's name may not be as fresh in some fans' minds as some of the more recent players on this list. Nonetheless, Kapono has one of the sweetest strokes you will find along with range that extends way past the college three-point line.
The 6'8" forward burst onto the scene immediately in Westwood shooting 47.4 percent behind the arc as a freshman for the Bruins. Kapono came to UCLA as a highly touted McDonalds All-American and proved himself worthy of the hype, as he shot the lights out during his four-year collegiate career. The versatile Kapono proved to be a tough matchup thanks to the extra dimension that his long-range shooting added to his offensive game.
As a Bearcat fan this is much to my chagrin, but one of Jason's best games came in the Bruins upset of No. 1 seeded Cincinnati in the second round of the NCAA Tournament. Kapono scored 19 points and hit clutch shots in the waning minutes of regulation as well as overtime.
Jason Kapono is still recognized today as one of the top three-point shooters that the college game has seen in a long time, and he lands safely on this list.
5. Lee Humphrey (Florida)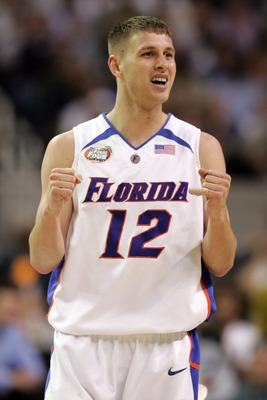 Andy Lyons/Getty Images
When people think of Florida's back to back National Title teams, they reminisce about players such as Al Horford, Taurean Green, Joakim Noah and Corey Brewer. One name that doesn't immediately come to mind, but should definitely not be overlooked, is Lee Humphrey.
As good as Horford, Green, Noah and Brewer were, it is unlikely that both National Title banners would be hanging from the top of the O'Connell center today without the three-point marksmanship of Humphrey.
Humphrey shot 44.3 percent from beyond the arc throughout his four seasons at Florida. One of Lee's more memorable performances came in Florida's 2007 National Semifinal matchup versus UCLA. Humphrey hit four three pointers, as he helped pace the Gators to a 76-66 victory over the Bruins.
Lee Humphrey owns the record for most three pointers in NCAA Tournament history. This is just one of the many accolades in his storied collegiate career. Humphrey showcased his three-point shooting on the grandest of stages, and there was no way he could have been left off this list.
4. Kyle Korver (Creighton)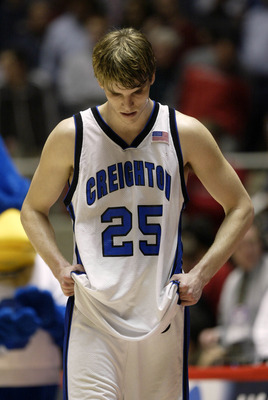 Jeff Gross/Getty Images
With all due respect to Nate Funk and Doug McDermott, Kyle Korver is hands down my favorite Creighton Blue Jay. Korver torched the nets during his four seasons at Creighton. Korver culminated his time at the school with a remarkable senior season in which he shot 48 percent from three-point range and was named a second team All-American.
Kyle made 371 three pointers at Creighton and owns the Missouri Valley career three-point record. Since starring for the Blue Jays, Korver has enjoyed a solid NBA career. Kyle currently plays for the Chicago Bulls.
During a time when the Missouri Valley Conference did not get nearly as much publicity, Korver's shooting and all around dynamic scoring transformed the Creighton phenom into a nationally-known star.
3. Stephen Curry (Davidson)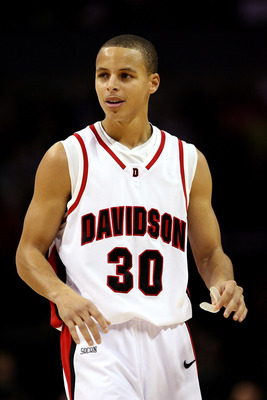 Streeter Lecka/Getty Images
Dell Curry was a pretty reliable long range shooter in his own right throughout the course of his 16-year NBA career. As good a shooter as Dell was though, even he would not want to go head-to-head with his son Stephen in a three-point shootout.
Stephen only played three seasons at Davidson, but that was all he needed to establish himself as one of the truly special shooters and all-around scorers to step on the college hardwood.
Stephen's crowning moment came during the 2008 NCAA Tournament when he led tiny Davidson to the Elite Eight. Curry hit 23 three pointers during the Wildcats four-game tournament run and went 8-10 from behind the three-point arc in Davidson's first-round matchup versus Gonzaga.
2. Chris Lofton (Tennessee)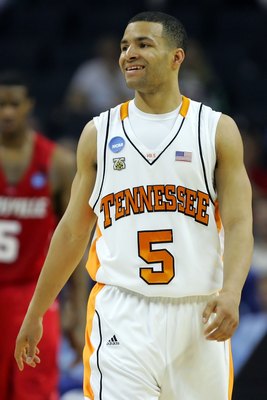 Streeter Lecka/Getty Images
Back in 2004, Tennessee was known as being primarily a football school while the Volunteers men's basketball program struggled to register on fans' radars.
That was until a sharpshooter from Maysville, Ky., named Chris Lofton forced both local fans and the national media to take notice of Tennessee's work on the hardwood.
To say that Lofton was simply a great long-range shooter for Tennessee would be an understatement. Chris dazzled fans and shot energy into the Volunteers basketball program with his barrages of three pointers and gaudy scoring totals. Chris would eventually pass Alan Houston for the top spot on Tennessee's all-time career three-point field goals list.
There are many spectacular games that could be mentioned in regards to Lofton's four-year college career, and I will not attempt to single out one moment.
Tennessee's pursuit of Lofton was simplified by the fact that neither Kentucky nor Louisville attempted to recruit the Bluegrass native coming out of High School.
1. J.J. Redick (Duke)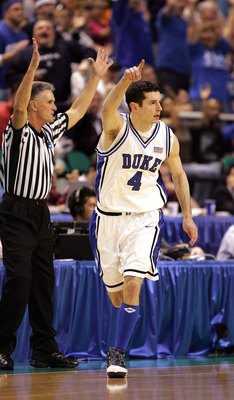 Streeter Lecka/Getty Images
When the "Alaskan Assassin" Trajan Langdon broke Duke's record for most career three-point field goals, many people envisioned that his record would stand for years to come. Little did we know, that a few years later a young man named J.J. Redick would step on the Durham campus and set the gold standard for what it means to be a three-point shooter.
Redick not only owns Duke's three-point field goal record, but J.J. also holds the NCAA record for most career three-point field goals with an astounding 457 threes. J.J. fit perfectly into head coach Mike Krzyzewski's offensive scheme and quickly became beloved by the "Cameron Crazies" and Duke fans everywhere.
Redick was not just strictly a spot-up shooter, but could also create space by himself, which made him that much more dangerous from behind the arc. J.J. was a polarizing player in college and still is today. Either way, he stands atop this writer's list as the top three-point shooter of the past 10 ten years.
Keep Reading