Miami Heat: It's Time for Erik Spoelstra to Step Down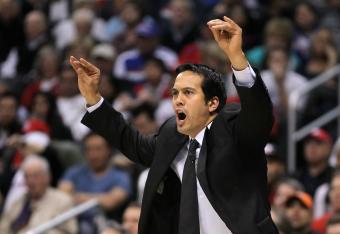 Jeff Gross/Getty Images
Before I begin, there is something I need to confess—I haven't watched every single Miami Heat game this season, and I certainly haven't kept myself updated with all the figures and stats. In fact, I have five final exams coming up within the next three weeks and I really should be studying instead of writing this article. But after watching the Heat lose to the Celtics and the Bulls twice, and losing (and winning) against the Thunder, I feel the need to share my opinions.
Simply put, Erik Spoelstra's agenda is not working out. From the key games I have watched in the past weeks, there were two main things that were alarming; not just for the Heat's potential championship run, but also their long-term plans.
The Miami Heat have no identity right now and the star players' attitudes are simply unacceptable.
Let's begin with the first point. We could argue that Spoelstra has his own schedule. But the fact of the matter is, with less than two weeks to go before the playoffs, there is no reason for a championship-caliber team to be experimenting with lineups whatsoever. When one day you see Norris Cole playing, and the next you see Mike Miller guarding point guards, it totals up to one conclusion for me: the Heat do not know what its rotation is capable or incapable of.
As I watch the Bulls and Thunder play, I recognize that each team has its own style of play and personality. The Bulls plays old-fashioned defense, does not gamble, and runs set plays on offense. With a trusty bench, key players feel comfortable seeing their backups leading the charge. For the Thunder, they are more up-tempo and like to push the ball and gamble from time to time on offense, but their big bodies down low keep them in check on defense.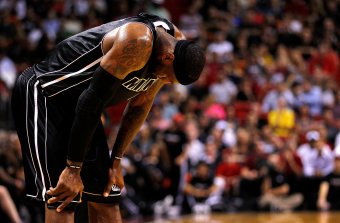 Mike Ehrmann/Getty Images
Then we have the Miami Heat, where I struggle to find that character even within a single game. Almost every game, it starts off with the vintage Heat from early on in the season—LBbron James attacking on the block, Dwyane Wade cutting through the paint, Chris Bosh finding the open mid-range shot.
After that point, the lineup experiments confuse me. Sometimes I see a lineup featuring players all taller than 6'6", then I see a lineup with Cole and Mario Chalmers in the backcourt. They settle for halfcourt sets and run the same set plays over and over again instead of pushing the tempo offensively.
What is the Heat's identity? I don't know and am not in the position to answer. But I think this responsibility ultimately falls on the head coach. There is no question that Spoelstra is a great coach with tremendous potential, but if he fails to bring an identity to the Heat, they might lose themselves in the mental game come playoff time.
The next point is the players' attitudes. Say what you want about LeBron's choking, Wade's endless injuries, and Bosh's lack of boards, but what I saw on the court was a complete indifference in attitude. That bothers me. Yes ,it is still regular season, but even so, don't these players play the game to compete? Especially against rivals? I fail to even see a single bit of that competitive fire in them.
This was put on full display in front of a national audience in their game against the Bulls, where you can see LeBron staring into the crowd with an exhausted look in overtime. You can also see Wade laughing off his missed game-winner off after getting up the floor. Then there's Chris Bosh shooting a well guarded three-pointer in a pivotal part of the game with time still on the shot clock.
Should Pat Riley take over as Head Coach?
You can blame the players for not caring enough (or whatever other reasons you conjure up), but I have to rest that responsibility with the head coach. It is Spoelstra's job to demand that attitude from his players night in and night out, and to have that discipline run through the team. That discipline was there at the start of the season, but it has completely disappeared since then.
Just think back on the great coaches who demanded discipline and the proper attitude from their star players: Phil Jackson with Michael Jordan, Dennis Rodman and Kobe Bryant; Doc Rivers with Ray Allen and Rajon Rondo; Pat Riley with Kareem Abdul-Jabbar and Patrick Ewing. It is then we realize, that one of those greats happens to be the Miami Heat GM.
I believe it really is time to bring Pat Riley back to the bench as the Heat head coach. I also believed two years ago that Spoelstra should be given the chance. But that chance has come and gone, and with the current state of the team, the immediate future is worrying.
Pat Riley has shown the ability to demand the best while instilling a winning attitude into star players. He also has the ability to help the Heat grasp its true identity, especially on the defensive end.
Many fans and critics say it's time for the Big 3 to disband and for the team to trade one of them. I don't think so—I believe this team has tremendous potential that can help them win it all, but the limitations on the coaching front have not allowed that potential to reach its full limits. Again, Spoelstra is a great coach, he is simply not the right coach for the Miami Heat today.
This article is
What is the duplicate article?
Why is this article offensive?
Where is this article plagiarized from?
Why is this article poorly edited?

Miami Heat: Like this team?