2012 NFL Draft: Should Dallas Cowboys Draft a Punter?
April 13, 2012

Norm Hall/Getty Images
Mat McBriar is a free agent after eight seasons punting for the Dallas Cowboys, leaving sophomore Chris Jones as the only punter on the team. That might not be so bad—that is, until Cowboys fans consider that Jones wasn't exactly spectacular in his rookie year and comes from the non-descript school Carson Newman College.
The Cowboys don't seem to have made serious overtures to re-sign McBriar. Some might assume this would mean that Jones will remain the team's lone punter. Still, the draft looms in the near future, and Jerry Jones can consider drafting a punter if it pleases him. Jerry Jones would have to consider how confident he is in Chris Jones and whether the punting prospects are worth a pick.
Can Chris Jones carry the load?
Before wondering who the Cowboys would draft at punter if they were to seriously consider drafting for the position, one must look at whether Chris Jones merits another year with the Cowboys. Jerry Jones seems to think Chris Jones deserves to stay since he inked him for a three-year deal after the season ended.
Chris Jones didn't do too badly while filling in for McBriar, but he didn't do too well, either. Jones punted 10 times, averaging 42 yards per punt and a 40.5 net average. He dropped four punts inside the 20-yard line.
To his credit, his net average was better than McBriar's, although it's hard to compare a healthy player to someone who suffered through drop foot.
Apparently, the 6'0", 200-pounder has a fan on staff. According to DallasCowboys.com, Joe DeCamillis likes Jones' leg and athleticism. In comparison, if one were to meet McBriar on the street, his physique wouldn't give him away as an NFL player.
Jones' athleticism could add a reason for the Cowboys to entrust him with full-time punting duties, since he could run for a first down or make a strong move to tackle a return man.
Would a draft pick dedicated to Bryan Anger anger Cowboys fans?
Bryan Anger of California is the "it" guy at punter this year. He has deadly power and accuracy. He regularly pins opponents deep in their own zones. His hang time is typically a nice 4.5 seconds. Also, he's athletic, having played receiver in high school, and is meticulous in preparation.
Amazingly, out of his 248 punts in college, 72 were fair catches and 89 were downed inside the 20, while only 20 went for touchbacks.
The only drawback with Anger is that despite his willingness to help with punt coverage, he isn't aggressive or effective, mounting only three tackles while at California.
Anger looks to be a mid-round pick for any team serious about drafting a punter.
The Cowboys might not be one of those teams, since they have a number of need-positions, and punter doesn't seem to be high on the list.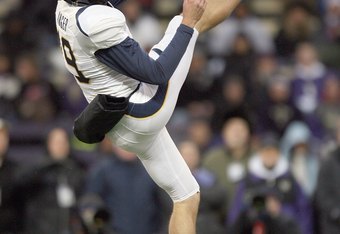 Otto Greule Jr/Getty Images
The Highest Priorities Lie Elsewhere
Anyone trying to make a dollar finding a Cowboys fan on the street who believes punter to be a draft priority would run home to dig in his or her couch for something more than what was earned in said fruitless task.
Secondary is a clear priority. Jerry Jones let Terrence Newman go and let Abram Elam walk, and then spent big money on Brandon Carr. Days later, Brodney Pool would become a Cowboy.
The interior offensive line is another priority. The Cowboys signed Mackenzy Bernadeau and Nate Livings. Another guard or a center is likely in line in the draft. Phil Costa may not be safe from possible pickups like Peter Konz or Philip Blake. David DeCastro is also a strong possibility for the Cowboys.
The defensive line and return game also could be addressed in the draft. Punting wasn't good for the Cowboys in 2011, but it doesn't figure highly among numerous other needs.
Conclusion: Cowboys Shouldn't Take a Punter
Due to other draft priorities and the presence of a punter on the Cowboys roster, Jerry Jones will refrain from drafting a punter. Teams don't typically draft a kicking specialist months after locking one up. That counts double when the team is revamping multiple sections of its roster.
Jerry Jones may confide in the punter with the same last name as him, although he may still give Chris Jones competition in training camp just to help him develop.
April isn't a month for the Cowboys to shop for punters, not in the draft at least.