UConn Huskies: The Andre Drummond Era Ends with Failed Expectations
April 13, 2012

We've all heard the names associated with groundbreaking "potential" at Uconn.
Before he ever played a game for the Huskies, Ajou Deng, brother of Chicago Bull Luol Deng, appeared on the national cover of Sports Illustrated.  And with the pressure of thousands of Sudanese-Australians weighing on his back, Ater Majok was supposed to contend for player of the year in college basketball.
Ultimately, neither man ever came close to filling out the overly-hyped shoes that were presented to them.
Then there was Andre Drummond.
The hometown kid from Middletown, Connecticut was extensively built up like no other player in Jim Calhoun's tenure in Storrs.  Before he even declared his intentions to go to UConn, his name was mentioned in the same breath as greatness.
 ESPN analysts Chad Ford and Fran Frischilla wrestled where in the top three of the 2012 NBA Draft the 6'11' forward/center would go.  His professional skills and NBA-ready body made NBA scouts salivate to the point that obligatory bibs were passed out.
His potential was practically earth-shattering and no one knew this more than Jim Calhoun. 
Even before Drummond tweeted his decision to attend UConn, the Hall of Fame coach had his eyes on the crop growing in his own backyard long before.
"People forget, because they say it happened so quick, but we recruited him for four years," Calhoun said. "He's got more games in this gym than any player on our team, presently."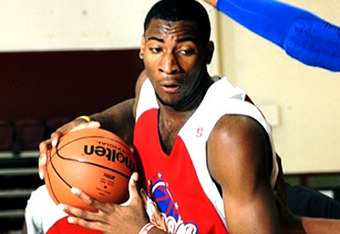 With an opening like that, Husky fans were more than excited for a dominating beginning to the Andre Drummond era.  Instead, in his first game against the "powerhouse" Ivy League member Columbia, he managed zero points on 0-1 shooting.  Not an auspicious beginning, to say the least.
However, everyone is entitled to a mulligan, especially a teenager walking into a pressure-cooker program like UConn.  But, in the next five games against "cupcakes" that included Maine and Wagner, he got to double-digit points just once.
While some were attributing the slow-start to growing pains, others saw the writing on the wall.  Simply put, he was a work in progress, extremely raw, and bearing the likes of Shaquille O'Neal's character in Blue Chips, Neon Boudeaux.
Yet, as the year went on, it was obvious Drummond's growing pains may have been underestimated.  His aww-shucks persona portrayed an illusion, which was later defined, he was a step behind in the college game. 
When teammates found him open for a high percentage shot, Drummond would many times kick the ball back out as if it were a hot potato and decline the easy opportunity.
On defense, he couldn't keep up with the speed of the opposition and quickly lost his man in the dust leading to easy baskets.
That's not to say his freshman year at UConn was an abomination.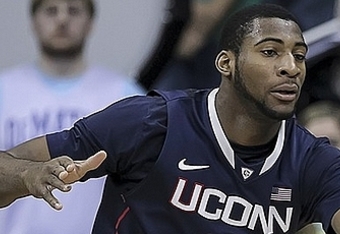 In a nationally televised game against West Virginia, Drummond powered the Huskies with 20 points, 11 rebounds and four blocks in a come from behind win.  We witnessed the flashes of brilliance.  We saw the potential that had been echoed in attachment to his name.  But by the end of the UConn season, that's all they were: flashes.
In his last UConn game against Iowa State, he ended the season similarly to how he started it: with disappointment.
In 26 minutes, he shot 1-4 from the field with three rebounds and two points and unceremoniously fouled out of the season-ending affair. 
His final season average for points barely reached over 10 and just under eight rebounds a game for an underachieving and disappointing team that never sniffed their fourth ranked preseason poll position after December.
So on Friday, Andre Drummond is expected to announce he will forego his final three years of eligibility and enter the NBA draft, becoming the first "one and done" player in University of Connecticut history. 
Amidst the NCAA postseason tournament ban on UConn for 2013, anyone would be hard-pressed to besmirch his decision. And ironically, his disappointing season has done little to soil his NBA stock, as he still predicted as top 5 pick in June.
But now the dust has officially settled and the finished product is before us, and the time for the final evaluation of the Drummond tenure is upon us.  Overall, the all-world standout from St. Thomas More became an epic failure for the Huskies and never became the dominating figure we had all expected.
In a few months, Andre Drummond will shake hands with NBA commissioner David Stern, most likely be a lottery pick, and become a multi-millionaire over the course of a few days.  However, the NBA club that drafts him will get a product that resembles what the UConn coaching staff received in October—a great physical specimen that could ultimately dominate with his god given ability, but is still a product that remains hinged on a single questionable element.
Potential.