Manny Pacquiao Wouldn't Last 5 Rounds Against Floyd Mayweather Jr., Says Roger
April 13, 2012

Jeff Gross/Getty Images
Pound-for-pound king Manny Pacquiao won't last five rounds with Floyd Mayweather if they collide in November, according to Floyd's uncle and trainer Roger Mayweather.
Mayweather's uncle/trainer said his nephew "looks incredibly sharp in training on the heels of a victory over Victor Ortiz in September."
"This is the best I've seen him since the Diego Corrales fight," Roger Mayweather told the Los Angeles Times. "He hasn't been laid off at all, he's come back tight, sharper."
And when asked about making the Pacquiao fight, he responded, "Why wouldn't you? There ain't no way that guy [Pacquiao] lasts five rounds against my nephew."
Back in September, Mayweather fought the young Victor Ortiz, who was the then-WBC welterweight titleholder. The fight ended in a bizarre and controversial fashion after Victor Ortiz fell to his knees from a power shot by Mayweather. While his defenses were down as he was waiting for a signal from referee Joe Cortez to resume fighting.
Mayweather was widely criticized for his ungentlemanly behavior during the fight but he reasoned out that Ortiz provoked him with his intentional headbutt earlier in the round. He also cited the unwritten rule in boxing which is to "protect yourself at all times."
The fight, which ended in less than four rounds, could have worked well for Mayweather if it ended in the later rounds as it would have put his endurance to test. It is of public knowledge that Mayweather has been inactive for 17 months before facing Ortiz in September.
So how can Roger now claim that Mayweather is indeed in top condition and capable of trashing Pacquiao in five rounds?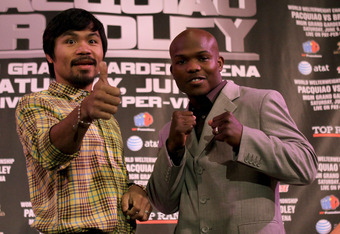 Stephen Dunn/Getty Images
It is possible, though, that Roger has seen in his nephew a marked improvement in his physical conditioning while preparing for his upcoming fight with Miguel Cotto.
Still, Roger's statement saying Pacquiao wouldn't last five rounds against his nephew, seems hard to believe as the unbeaten champion is not a KO artist but one who thrives on his skill to earn points in the long haul for a win.
Fight fans say Pacquiao has a better chance of winning via KO in the early rounds as opposed to Roger's prediction that his nephew will trash Pacquiao in five rounds or less.
Pacquiao's trainer, Freddie Roach, and Roger Mayweather are pushing for a November clash between Pacquiao and Mayweather, Jr.
On May 5, Mayweather, Jr. will see action with Puerto Rican Miguel Cotto at the MGM Grand in Las Vegas, Nev., while Pacquiao will collide with unbeaten Palm Springs star Timothy Bradley on June 9, also at the MGM Grand Garden Arena.