2012 NFL Draft Preview: Tampa Bay Buccaneers
April 13, 2012

Kevin C. Cox/Getty Images
After a surprising 2010 season when the Tampa Bay Buccaneers finished 10-6, hopes were high for third-year quarterback Josh Freeman and Coach Raheem Morris. 2011 began much the same way as the Bucs quickly got off to a 4-2 start, but a 10-game losing to finish the season 4-12 cost Morris his job.
After a somewhat exhaustive search, the team hired Greg Schiano away from Rutgers.
Schiano has long been known as a hot prospect in coaching circles, but he could never be lured away from Rutgers. Many NFL people, including Bill Belichick, gave general manager Mark Dominik a strong endorsement for Schiano.
As for Freeman, the biggest concern is his inconsistency. In 2010 he looked like a surefire franchise quarterback throwing for 25 touchdowns versus only six interceptions. In 2011 Freeman threw for 16 touchdowns and 22 interceptions. Such a precipitous drop in production is cause for concern.
While Freeman's struggles in 2011 are well chronicled, he wasn't the sole reason for the team's struggles. Wide receiver Mike Williams, after a promising rookie season, regressed.
And the defense was terrible. The Bucs finished 30th in total defense in 2011 after finishing 17th in 2010. Defensive tackles Gerald McCoy and Brian Price, Tampa's first two draft picks in 2010, haven't been able to stay on the field together, which has hurt the defense. 
The Bucs' pass defense also took a big step back in 2011. Aqib Talib's off-field issues and Ronde Barber's age are issues for the secondary.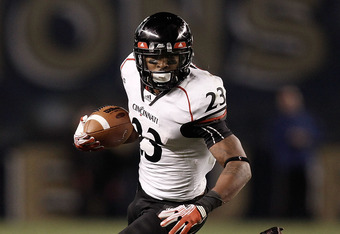 Jared Wickerham/Getty Images
But thanks to $50 million in salary cap room, the Bucs were busy in free agency. After signing Vincent Jackson, Carl Nicks and Eric Wright to long-term deals, the Bucs filled some major holes. Now with the draft just two weeks away, there are three major holes the Bucs must address.
Cornerback
Yes, they signed Eric Wright. But anyone who has seen Wright play in recent seasons is always left wanting more. He shows flashes of brilliance followed by inconsistency.
As good of a football player as Talib is, he just can't seem to stay away from trouble. The team can no longer count on him and have apparently contemplated releasing him.
Barber is one of the greatest players in franchise history, but he will be entering his 16th season in 2012. That being said, he has arguably been the best defensive back on the team in recent years.
Picking fifth in the draft, the Bucs appear to have a great chance to select Morris Claiborne. Claiborne, the best cornerback in the draft, figures to be available when the Bucs pick.
If the team decides against Claiborne, or he is unavailable, they do select high in round two and could go with Janoris Jenkins or Dre Kirkpatrick. It is doubtful the Bucs would go with Jenkins as his off-field concerns rival Talib's.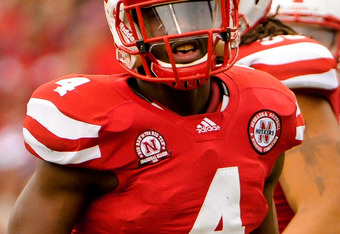 Eric Francis/Getty Images
Perhaps the best value would be in round three where players like Josh Norman, Josh Robinson, Dwight Bentley and Ryan Steed will be available.
Outside Linebacker
The team found a gem in last year's draft in Mason Foster. Foster was excellent in the middle as a rookie despite the lack of talent surrounding him.
Quincy Black and Geno Hayes were the starters in 2011. The Bucs would like to replace both. Hayes is a free agent, and his return is questionable.
Derrick Brooks, the future Hall of Famer, was a fixture on the weak side for so many years. The Bucs have been unsuccessful thus far in attempting to replace Brooks. This draft features a prospect similar to Brooks: Lavonte David of Nebraska.
David was a tremendous player in college. Often playing the middle, David's size projects him as a weak-side linebacker in the NFL. He is excellent in coverage, and his instincts are elite. However, David's stock has been increasing in recent weeks, so he could sneak into the first round.
If he is available for the Bucs in round two, he makes perfect sense.
Running Back
LeGarrette Blount surprisingly rushed for 1,000 yards as a rookie in 2010. A knee injury ruined his chances for a repeat last season.
There isn't much depth behind Blount, and Schiano may not be as committed to Blount as was the previous regime. Many believe he would be more effective if sharing time with another back. Of course, Blount doesn't agree.
If the Bucs decide to go with a running back, they will have plenty of options throughout the draft. They could go with Trent Richardson at No. 5 overall if he remains there, although that seems doubtful.
Isaiah Pead of Cincinnati is a talented runner who was highly productive in college. He should be available in the third round. Pead is an explosive runner, a good receiver and can also return kicks. The 2011 Big East Offensive Player of the Year, Pead was also named Senior Bowl MVP.
LaMichael James of Oregon could also be of interest to the Bucs. James was a dynamic player in college and, if utilized properly, could be in the NFL as well. He won't beat you between the tackles, therefore making him the perfect complement to Blount.