WWE: Chris Jericho and CM Punk Feud Makes for Great Storytelling
April 30, 2012

Call me a Jericho-holic.
I ended up realizing how great of a professional wrestler Chris Jericho had been when he came back to the WWE in 2007. His returning promo against Randy Orton got me excited.
His endless charisma, his in-ring talent, are arguably unrivaled. In the WWE, he's probably one of the "ring generals" of promotion.
As a wrestler, he's one of the best in the world.
Chris Jericho has captivated me all too well.  I've been bitten by the Y2J bug. You can expect me to chant "Y2J! Y2J!" while raising my fat, pudgy fingers in the air.
And I've never hated him more than I do now.
The storyline surrounding the WWE championship has been that of Jericho feuding with the current champion, CM Punk.
Since the end of the Royal Rumble pay-per-view, the two have been at odds. Both men have been staking their claim at both the WWE title and the right to be called "The Best in the World."
CM Punk had been slowly building himself into one of the cornerstones of the WWE.  One can argue that he's gotten enough popularity to become the face of the industry.
Chris Jericho had a problem with that.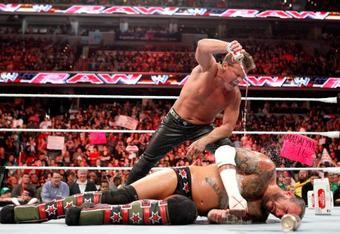 For two straight weeks back in April, Jericho verbally pummeled Punk in public, daring to say that Punk was going to become an alcoholic like his father—then added insult to injury by dousing his rival with beer inside the ring.
In this click-of-a-mouse age in which every fan seemingly know the ins and outs of the wrestling industry, Jericho is still able to make you hate him.
Jericho may be getting the best of the champion at this point. While it may not have as much star power as the Cena-Lesnar rivalry, the Jericho-Punk feud might be the best in the WWE right now.
For fans of the WWE, great storytelling still matters; this ongoing confrontation certainly has the storytelling quality that sports entertainment fans crave so much.
Jericho and Punk.  These two haven't disappointed. Let's hope this great rivalry has one more match in it.