2012 NFL Draft: Will Justin Blackmon Take a Nose Dive on Draft Day?
April 13, 2012

Doug Pensinger/Getty Images
Ever since last season reached an unsatisfying conclusion for the two-win St. Louis Rams, the fanbase has been hopeful that the team can execute the proper offseason moves in order to right the ship.
As a result, the fans have been anxiously awaiting the NFL Draft. But for the last several months, the majority of the focus has been on one specific player—Oklahoma State receiver Justin Blackmon.
Sure, there have been other players associated with the Rams' No. 6 overall pick, such as LSU cornerback Morris Claiborne or Alabama running back Trent Richardson, but neither have been mentioned as frequently as Blackmon.
At this point, we can't go a single day without Blackmon and the Rams being put in the same sentence. And according to a portion of the media, he's practically a member of the team already.
However, bloggers and season ticket holders have no impact on major team decisions. Head coach Jeff Fisher's opinion is the only one that truly matters, so the selection of Blackmon is far from being a sure thing.
In fact, if you ask certain people, they'll tell you Blackmon not only has a shot at being passed on by St. Louis, but he could slip out of the top 10 all together.
Just ask Nolan Nawrocki of Pro Football Weekly, who recently outlined questions and possible character concerns regarding Blackmon.
In Nawrocki's article, he mentions how Blackmon bailed on his team after their Fiesta Bowl victory over Stanford. Rather than flying home with his teammates, Blackmon took a flight to Las Vegas instead.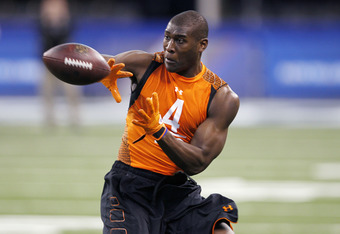 Joe Robbins/Getty Images
The trip to Vegas was completely within his rights, but thanks to the questionable timing we now have to wonder about his priorities.
On top of that, it's hard to ignore Blackmon's DUI in 2010, which resulted in a one-game suspension. Although, the arrest was apparently an isolated incident.
And finally, there was the incident against Texas A&M last season. Blackmon was about to enter the end zone until his showboating resulted in a fumble and a touchback.
These events are troubling, to say the least, but he's hardly guilty of a capital offense. At least that's what you're telling yourself if Blackmon is at the top of your wish list.
However, according to Nawrocki's article, the concerns against Blackmon are not limited to off the field issues. Some have questioned his talent as well.
"There are GMs who have graded (Blackmon) in the second round," Nawrocki said. "He's not especially physical, and he's not a blazer."
Nawrocki went on to cite his anonymous source—supposedly an NFL general manager—who stated that Blackmon's Pro Day workout was "average at best," regardless of the praise he received for the performance.
Is Blackmon Destined for Failure?
It's completely irrational to assume that a talented athlete like Blackmon will crash and burn as the result of a few minor hiccups on and off the field.
For any wrong Blackmon has done, he has made up for it through his charity work, as well as his promising work ethic.
And after all, Nawrocki is the same guy who brought down the hammer on Cam Newton a year ago, calling him "selfish" with a "sense of entitlement", while also attacking his abilities.
After a rookie of the year performance by Newton last season, it's clear that Nawrocki's word is hardly gospel.
However, the criticism does not end with Nawrocki.
There are some striking similarities between Blackmon and two other receivers who were also considered the best of their class—Michael Crabtree (2009) and Dez Bryant (2010).
All three receivers dominated in Big 12 spread offenses while lacking elite size and dangerous straight-line speed.
Since all three receivers can be easily linked simply because of the conference they played in, there was bound to be a number of Blackmon skeptics willing to point out the obvious, yet meaningless, connection.
In the end, Blackmon's success or failure will not be determined by one writer's disapproval of his personality, or the fact he played in the Big 12.
He's a capable player with plenty to offer. His future will be determined by the amount of work he's willing to put in, which means his career rests on his own shoulders.