10 Kansas City Chiefs Who Deserve Long-Term Extensions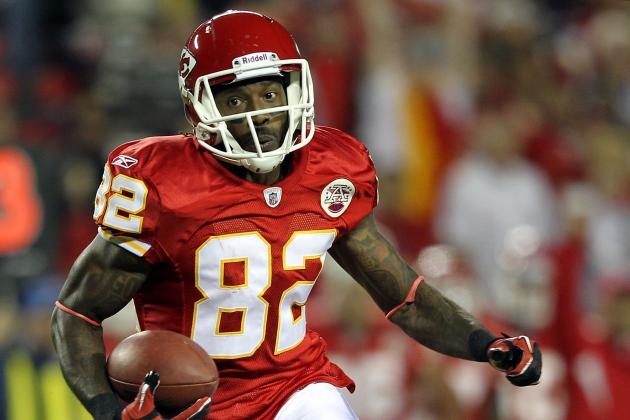 Jamie Squire/Getty Images

Chiefs general manager Scott Pioli has handed out a few contract extensions to those in Kansas City who deserved it.
Pioli has granted extensions to Jamaal Charles, Derrick Johnson, Andy Studebaker, Tamba Hali, Brandon Flowers and Ryan Succop.
However, when we least expected it, Pioli did not retain Brandon Carr as he demanded more money than expected. Not every Chief has earned the right to receive a contract extension from Pioli.
Pioli has a lot of thinking to do this upcoming season. Some players have one year left on their contracts and have interest in returning. The question is, can Pioli mutually agree to a contract extension with these players?
Begin Slideshow

»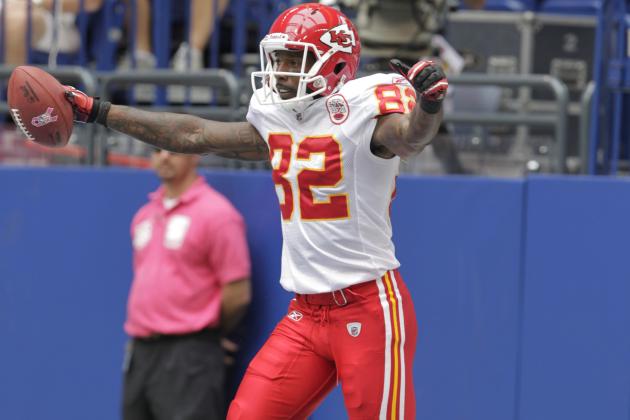 John Sommers II/Getty Images

The obvious choice on this list is wide receiver Dwayne Bowe. Bowe is currently without a contract but was given the franchise tag earlier this offseason.
Bowe had a rough season last year, as did everyone else on the team. The Chiefs noticed that his drop habits returned after having a phenomenal 2010 season when he led the league in receiving touchdowns with 15.
However, the Chiefs need Bowe to stay on this team. Although his career has consisted of a lot of struggles, he has managed to be the team's top receiver every year since being drafted out of LSU in 2007.
If Bowe signs his tender, he will make over $9 million in 2012.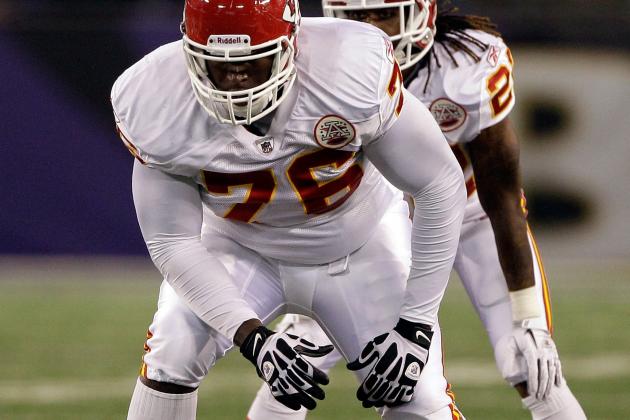 Rob Carr/Getty Images

The next three players listed are those who have only one year left on their current contracts.
In order for these players to receive an extension, they must make a strong impression to the front office this year, Pioli specifically.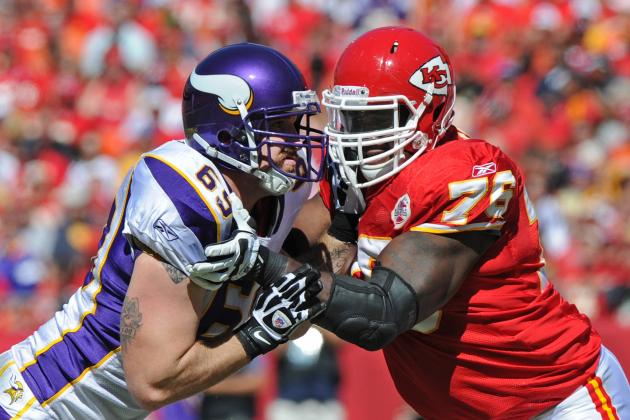 Peter Aiken/Getty Images

After playing all 16 games for the first time in his career, Branden Albert gave up five sacks but was penalized 10 times, with six of the penalties coming before the snap.
Albert has done a better job of protecting the quarterback, but in order for him to be considered one of the best in the league, he needs to make sure he does not make the officials throw the yellow flag at him.
If Albert makes those adjustments, Pioli will call him into his office for a new contract.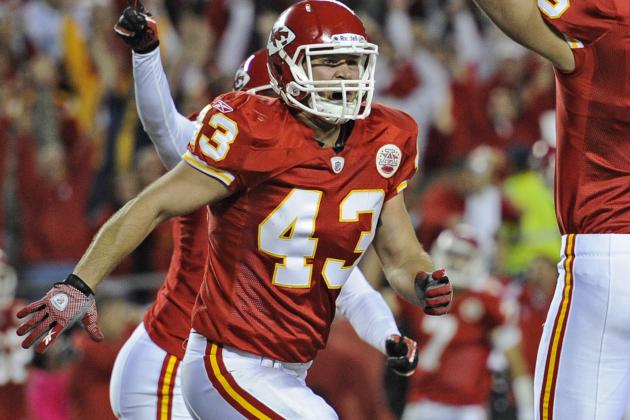 Peter Aiken/Getty Images

Long snappers never receive heavy evaluation from analysts. But anyone who has watched Chiefs games since 2008 have noticed that Gafford has not been involved in any bad snaps for Chiefs kickers.
Gafford has been very accurate and on target with his snaps, preventing a missed opportunity to earn three points because of a flawed snap.
If Gafford continues to play this way, there is no reason he should slip away from the Chiefs after the 2012 season.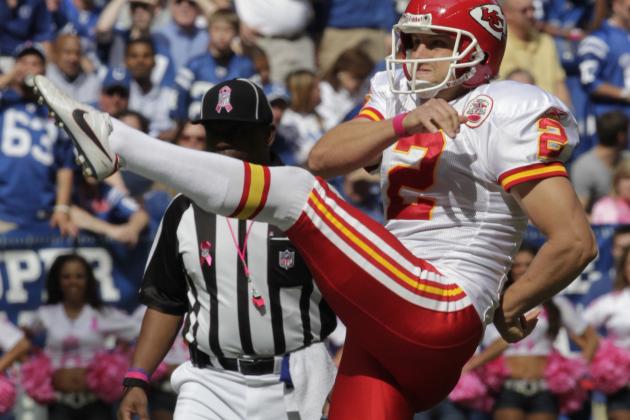 John Sommers II/Getty Images

In 2011, the Chiefs got a lot out of Dustin Colquitt.
Colquitt averaged 45.9 yards per punt, the highest he has ever had in a season. He also had five touchbacks last season, tying for the fewest he ever had in a single season.
Colquitt barely cracked the top-10 charts for net average and tied sixth in the league for the most punts.
The Chiefs have had no problems with Colquitt as a punter and as a holder, with the exception of a couple of errors, which every player goes through.
Colquitt is entering the final year of his five-year deal he signed under previous general manager Carl Peterson. If Colquitt continues to play well, he should receive another contract and continue to play for the Chiefs.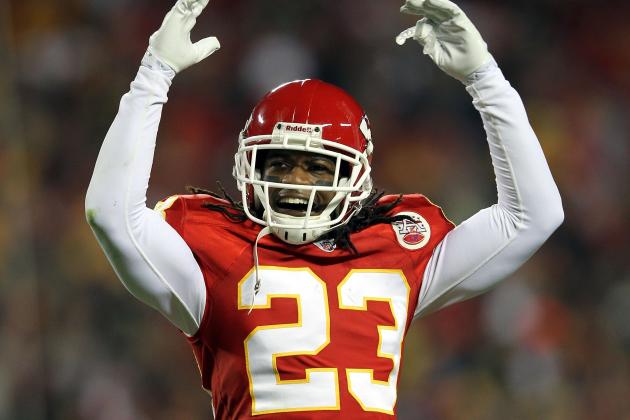 Jamie Squire/Getty Images

The six players who are about to be mentioned have two years remaining in their respective contracts.
It is not necessary for Pioli to grant them an extension immediately. However, it will be important to keep an eye on these players as they try to make an impact this year so they can earn an extension, perhaps near the end of this season or early during the 2013 season.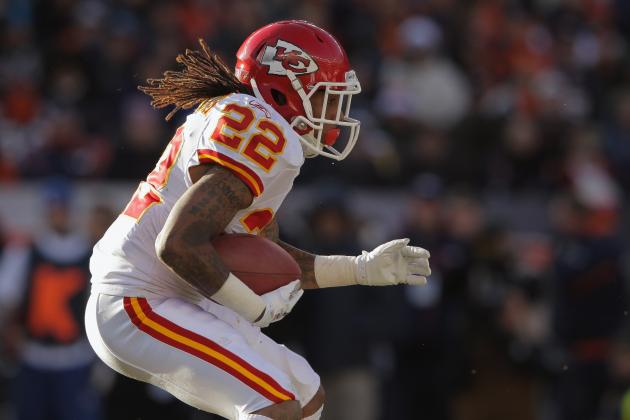 Doug Pensinger/Getty Images

Dexter McCluster has not lived up to expectations since coming out of Ole Miss in 2010. He started his career off with a bang, scoring a touchdown in two of the first three games of his career.
2011 was a tough year for everyone with all of the injuries that went down. With the lack of support from Thomas Jones, McCluster's number was called often to carry the ball. He ended up having the highest yard-per-carry average for the Chiefs.
McCluster gained 1,466 total yards off of 191 touches on offense and special teams.
He was more active as a receiver than he was as a rusher during his rookie season. But in 2011, McCluster duties consisted mostly of him carrying the football. The Chiefs valued his ability to gain yards with the ball as he played all 16 games after missing five the previous season.
If McCluster can live up to his potential with a better group of players around him, he might turn into a serious weapon and become one of the league's most dangerous players. At that point, there is no way Pioli doesn't offer McCluster a new contract.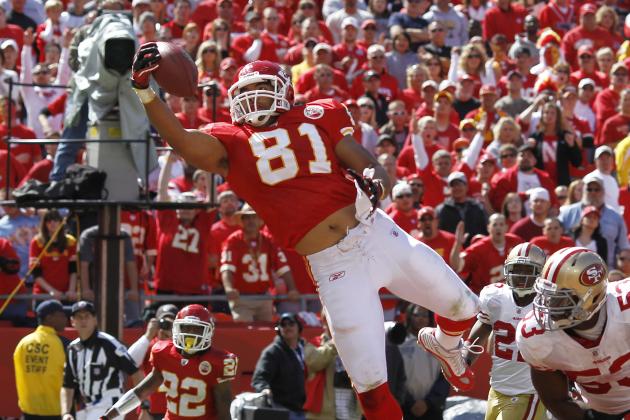 Joe Robbins/Getty Images

Since Tony Moeaki has two years remaining on his contract, the Chiefs have no reason to hurry things through and try to decide when would be the right time to give him a new contract.
Moeaki understands that 2012 is a critical year for him as he must remain on the field and do what he did during his rookie season so he can help the offense move the football.
Pioli does not have any problem with his ability to play football. The biggest deciding factor will be whether or not he stays healthy. Moeaki has missed 17 games in total since coming out of Iowa two years ago.
If he makes big plays and can play for a majority of this season, Pioli will want him to carry that over to the 2013 season. At that point, Pioli may grant him an extension early in the season if he proves that he can continue to be healthy.
If Moeaki goes through another year where he misses most of the season, the Chiefs may not have interest in keeping him for 2013.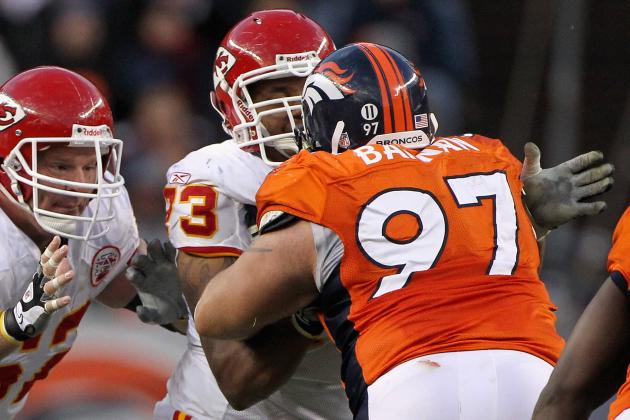 Doug Pensinger/Getty Images

Unexpectedly, the Chiefs released Pro Bowl guard Brian Waters and opened the door for Jon Asamoah, who started in only one game during his rookie season.
In his second year of playing football, Asamoah started all 16 games, giving up three sacks and four penalties last year.
Asamoah is quietly climbing his way up as one of the best right guards in the league today.
Asamoah will continue to get more playing time over the next two seasons for the Chiefs. If he begins to earn All-Pro and Pro Bowl honors, the talk about giving him a contract extension could get serious.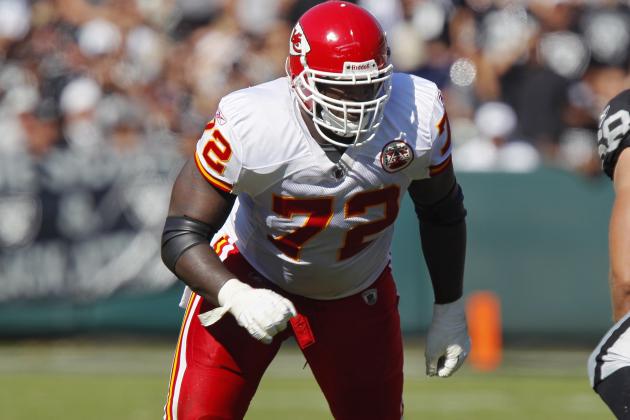 Brian Bahr/Getty Images

Though Glenn Dorsey is not playing the sexiest position in football, he is expected to make $5.5 million this year.
However, for a player who entered the league as a 4-3 defensive tackle, Dorsey is doing quite well in the 3-4 defensive scheme. Dorsey is considered one of the better run-stoppers among all defensive ends and has paved the way for outside linebacker Tamba Hali to go sack the quarterback.
If Dorsey manages to become a defensive end where he plays well against the run and finds a way to chase the quarterback himself, he could be valued as one of the best 3-4 defensive ends in the league, which could earn him a contract extension.
If he continues to just occupy blockers and stuff running backs, he may be re-signed instead when his contract expires.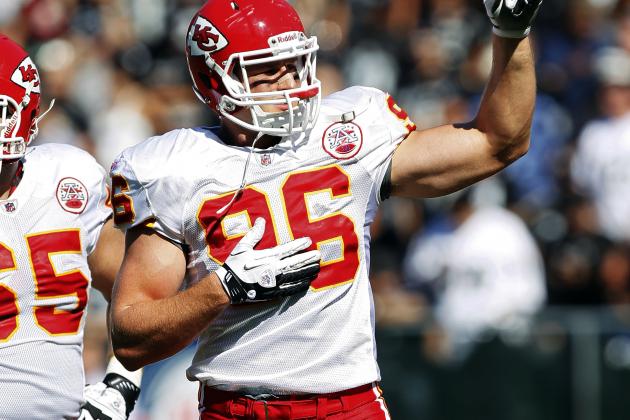 Brian Bahr/Getty Images

Andy Studebaker has seen some action as a linebacker, but the Chiefs like to use him more on special teams.
Studebaker has played on the return team as well as the defensive special teams unit.
His contract extension early in 2010 came off as a surprise. But the Chiefs knew they could get him for less money through 2013.
If the Chiefs continue to get more production out of him as a special-teams player and even as a linebacker, Studebaker will likely get an extension or re-sign and continue to play in Kansas City.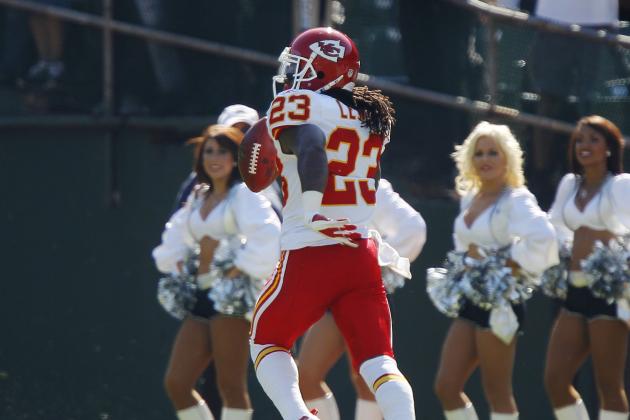 Brian Bahr/Getty Images

Once the Chiefs learned Eric Berry was lost for the year after the first game of the 2011 season, Kendrick Lewis knew this was his time to impress his coaches. He knew it would be hard without Berry, but he managed to do well.
He came away with three interceptions and led the team in yards returned off of interceptions with 119. Lewis was also the only safety on the team to start all 16 games as most of the backfield was banged up.
Lewis has came away with three interceptions in each of the two years he has been in the league. If he plays at a higher level with Berry and a strong defense over the next two years, Lewis is more than likely to catch Pioli's attention and earn an extension at some point before his contract expires.