Bulls Knock off Heat 96-86 in OT Despite a Rusty Derrick Rose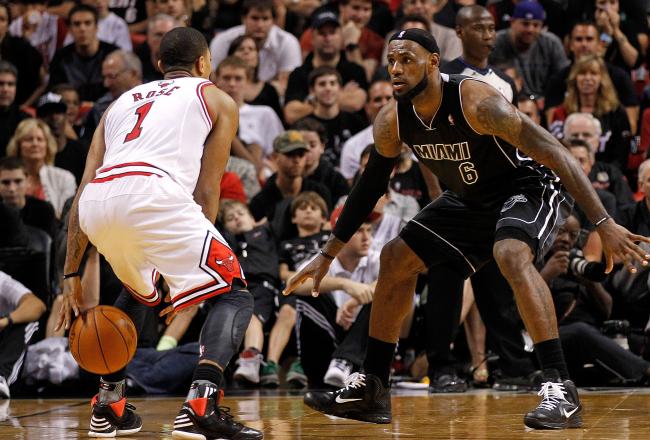 Mike Ehrmann/Getty Images
Derrick Rose shot a woeful 1-13 tonight, but that didn't stop the Chicago Bulls from beating the Miami Heat 96-86 in overtime at the United Center.
Miami looked strong against Chicago's starting five, but the Bulls' superior bench stepped up throughout the game, including a late three-pointer by CJ Watson that sent the game to overtime. Watson finished with 16 while reserves Kyle Korver and Taj Gibson had 17 and 11 respectively.
The Heat wasted strong performances from their Big Three—LeBron James, Dwyane Wade and Chris Bosh combined for 71 points, led by James with 30.
Bosh was steady from mid-range throughout the night, and Wade scored 10 straight for Miami in the fourth quarter, helping to force an overtime period that wasn't close. Chicago's defense tightened up late in the game, holding the Heat to just two points in overtime. Miami never scored more than 22 in a quarter all night.
Miami should rebound nicely tomorrow night against the Charlotte Bobcats, and Chicago has a couple of nights off before a back-to-back against Detroit and Washington.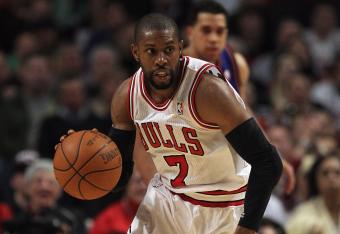 It's not often that you see an OT game with a 10-point differential. Whatever's wrong with Miami's head on the road just got a little worse after this one. All of the sudden, the Heat look pretty vulnerable to elite teams like Chicago and Boston. Could be a very interesting postseason...
Thanks for following!
Now Bosh misses a FT.
It's probably not going to matter, though. Korver just drained a three a good five feet behind the arc. Bulls lead 96-86 with 1:02 left in OT. I think that's all she wrote.
LeBron's three is off the front of the rim.
CJ puts Chicago up by eight. Watson has 16, Korver has 14 and Gibson has 11. How good is this bench?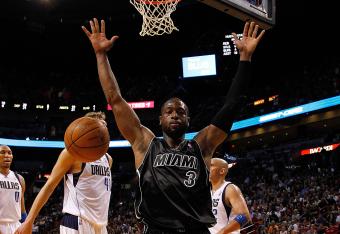 Bulls lead 91-85 with 2:10 remaining.
Wade missed a FT earlier. That shouldn't take anything away from what he did in the fourth—we wouldn't be in OT without Wade's play.
Alright, I'll say it—I called it.
Taj Gibson needed more minutes, and he got more minutes. He's got five straight in OT.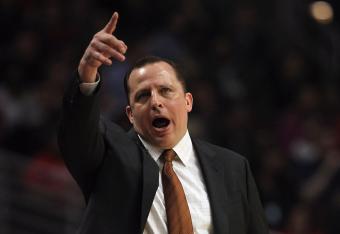 The Bulls just can't push this lead beyond five. The Heat aren't looking any better though. The Bulls' D is on lockdown.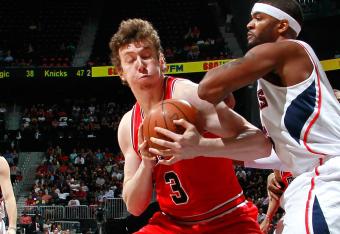 Luol Deng can make some tough shots.
I don't think the crowd's ever going to sit down after that sequence—Asik with the block and Gibson with a MEAN dunk (and the FT).
Good comment from Galileo: "Wow. Coach Thibs takes out D-Rose for what could be the final play. Wouldn't see too many coaches doing that. He brings in Watson instead. It's a nice move, too, considering Rose's play in this game."
Overtime it is. Wade's fall-away barely draws iron.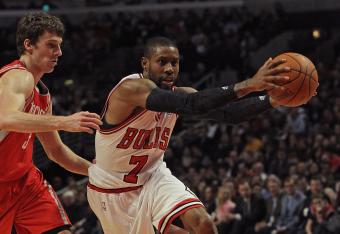 Whoa—CJ Watson for three with a hand in his face. Amazing shot.
This game is rivaling the Knicks-Bulls game on Easter.
Amazing has been happening this week!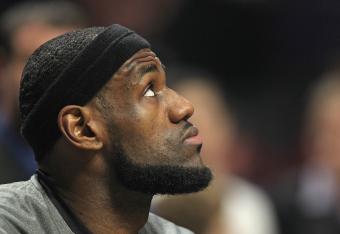 Clutch or not clutch... that is the question. LeBron hits the vital three... then goes on to miss a FT.
I'm staying out of this one...
WOW—jump ball. How often are jump balls this crucial?
After Deng misses the trey, Miami still leads 63-61 with under 25 seconds to go. LeBron hit a big time three obviously.
Down to the wire!
Am I the only one who thinks it's slightly ironic that LeBron does commercials about staying in school?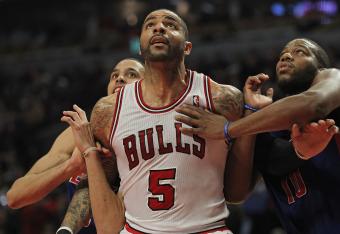 Wade has the Heat's last 10 points—he's just taking over and has Miami within one with 1:20 to go. Boozer missed a fall-away just now, but he's had a nice game tonight—19 points, 11 boards. He's a little one-dimensional these days, but he does what he's asked to do.
Under three to go, Bulls up 80-76.
Bosh just took a three. Hmmm. Not quite Andrew Bynum-level embarrassing, but not the shot Heat fans want to see.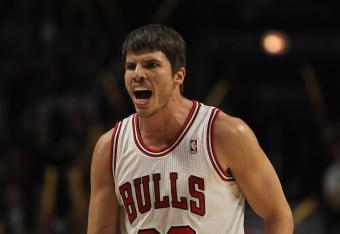 That answers that. Rose is back in with 3:30 to go. Korver hits his second straight three—Bulls lead it 78-74. HUGE game from Korver—he's got 14 tonight. It seems like it's always someone different for Chicago. They have a lot of guys who come out of nowhere and step up when it counts.
Taj Gibson just punked LeBron James with a spin move in the post. Yikes.
Steve Kerr asked a great question: Do you bring Rose back in right now? He's been super cold, only 2 points. CJ Watson just missed a FT though... that might make my decision easier.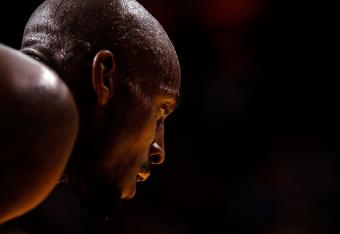 Bosh ties it up with the midrange jumper—who called it?
Question: Who has a better chance of knocking off Miami in the playoffs? Chicago or Boston?
Before the All-Star break, I'd have said Chicago—no question. I'm not so sure now, though. Boston has looked awfully good lately, and they might match up well with Miami especially.
I want LeBron to pull his headband down just a tiny bit... maybe an inch. It drives me crazy propped up like that.
Korver for three—Bulls by 5 on an 8-0 run. LeBron responds with an absolutely ridiculous and-1.
The momentum has decidedly shifted in this game—all while Rose sits.
The Bulls have a 67-65 lead with nine and a half minutes left. I'd expect Miami to come out of this timeout with some fire—they want to stop this run before it starts.
I'd also expect Bosh to get some shots sooner rather than later—he's 7-12 and has been consistent with his mid-range jumper. He likes to play these Bulls...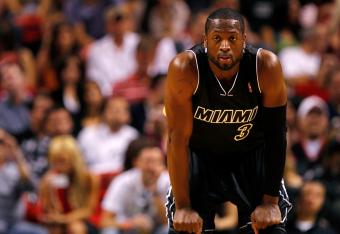 That's another reason Gibson needs more minutes—he can make things happen on D. He makes a nice swat, but James winds up with a steal right away.
Call me crazy, but I think Wade should come off the bench. He'd be the greatest sixth man ever and give the team a lift when it otherwise starts to lull.
He only has 11 shots in this game and just seems to disappear for long stretches off time. Maybe he'd be more aggressive with a few more minutes without LeBron on the floor at the same time...
Mario Chalmers picks up consecutive offensive fouls, and the Bulls started to hit some shots at the end of the quarter. They've cut the score to 62-60 at the end of the third, and Bulls' fans are starting to make some noise.
I think Hamilton and Deng have score Chicago's last 10 points? Deng was quiet in the first half, but Hamilton's touch showing up is an even better sign. He scored 20 on Tuesday, so it looks like his confidence is returning.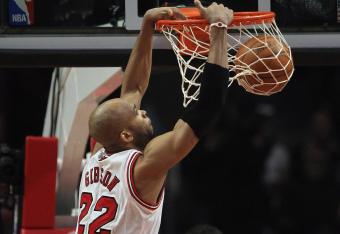 The Bulls have to find a way to get Taj Gibson more minutes. The Bulls are a better rebounding team when he's on the floor, and he's a far more explosive option than Boozer.
Bulls have cut the lead to five with under two minutes in the third. Once again, the bench is making a difference.
It looks like Rose is starting to press. He's getting up in the air with nowhere to go, forcing shots, missing shots—not looking good. It's John Lucas time if you ask me.
The Heat have stretched the lead to 58-38 with four minutes to go in the third.
This article is
What is the duplicate article?
Why is this article offensive?
Where is this article plagiarized from?
Why is this article poorly edited?