Brennan Boesch Catches Fire with Multiple RBI Knocks: Tigers Defeat Rays, 7-2
April 12, 2012

Leon Halip/Getty Images
Tigers outfielder Brennan Boesch found his stroke on Thursday afternoon, and the Tampa Bay Rays paid the price. Boesch's Tigers defeated the Rays 7-2 and moved to 5-1 on the season with their second series win of the season.
Boesch connected twice on two-out singles and drove-in four runs total, two with each hit on the day. Boesch celebrated his 27th birthday in style with today's performance.
Boesch came into today's game hitting only .174 and struggling to get comfortable at the plate. His two hits today raised his average nearly 50 points and provided the Tigers the shot in the arm they needed from their No. 2 hitter.
Following yesterday's deflating loss in the wake of Justin Verlander's quality start and eventual unraveling in the ninth, Boesch's boost to the Tigers offense, which struggled a day ago, was just what Detroit needed to get their motor running again.
Tigers rookie Drew Smyly started his first MLB game and provided the Tigers with four quality innings of work in his debut, striking out four and walking three. Smyly allowed just one run, a solo home run to Carlos Pena in the top of the third.
Ironically, the last time Verlander lost a game, Smyly was pitching Single-A ball. 10 months later they are working from the same dugout.
Detroit's starting rotation has yet to earn a victory.  Collin Balester relieved Smyly with two good innings, allowing only one run that garnered another win for the bullpen.
The Tigers totaled 10 hits on the day, getting two each from Prince Fielder, Alex Avila and Andy Dirks. Avila and Dirks also provided a spark by chipping-in an RBI each and individual triples that resulted in Detroit scores.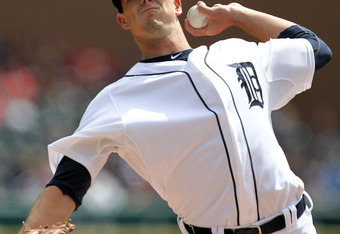 Leon Halip/Getty Images
Austin Jackson's hot season-starting hitting streak came to an end, but he did manage to earn a walk, extending his reaching-base-safely-streak to six games.
Rays starting pitcher Jeff Niemann (0-1) took the loss for Tampa Bay. Niemann didn't get much help in the way of run support, as the Rays left 11 runners on base and were 2-for-13 with runners in scoring position. Carlos Pena and Evan Longoria paced Tampa Bay's offense with two hits and an RBI each.
The Tigers now head on a six-game road trip to visit the White Sox in Chicago over the weekend and then on to Kansas City for a weekday series before returning home to face the Texas Rangers in their second home stand.
Detroit will be looking to extend their solid start with Max Scherzer getting the next nod on the mound. Scherzer will seek to rebound after an unsteady first outing this season that saw him knocked from the game early and struggling to find command of his pitches.
Box score stats provided by mlb.com.
Bleacher Report Featured Columnist J. Cook is a member of B/R's MLB Content Team and contributes regularly to the Detroit Tigers team page. He also covers key sport interest stories for all of Detroit's major sports teams.