2012 NFL Draft: Why Michael Floyd Is Destined to Disappoint
April 12, 2012

Jonathan Daniel/Getty Images
Selecting the right player in the NFL draft is a lot like cooking a complicated Thanksgiving recipe that only your mother can execute. It's evaluating equal parts of talent, character and timing.
Notre Dame wide receiver Michael Floyd received rave reviews after his pro day a few weeks ago, and while some may have him compared to Larry Fitzgerald, I have him pegged as the next Dwayne Jarrett.
Floyd has done nothing but produce in his four years at South Bend and his size has to be enticing for teams, but playing wideout at the NFL level is all about separation. There are no doubts Floyd has the speed, but he seems to lack the crisp route-running needed to break away from talented cornerbacks in at the next level.
The fact that he was bigger and faster than the vast majority of his peers was great for Floyd in college. On Sundays, every corner he lines up against is just as good an athlete as he is, and better in some cases.
NFL analyst Mike Mayock gushed about his talent and athleticism after his recent pro day, saying, "What you get with Michael Floyd, you get a 6-foot-3, 220-pound wide receiver who gets tremendous breaks in and out. His explosion off the line of scrimmage is exceptional."
It's not ability that is missing, though, when you look at Floyd's career over the past four years. It's his ability to stay focused on football that has teams worried.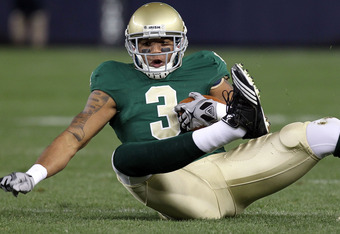 Nick Laham/Getty Images
Floyd had three alcohol-related incidents during his time at South Bend and this has to be a huge red flag to potential suitors.
Now, character issues are a heavily talked about topic each year when the draft rolls around ,and with the information age in full swing, it's easy to get join a group of pundits saying, "Hey, this guy is a real problem child!"
Fight with a teammate? Boys being boys, right?
Low grades? We can't all be Einstein.
Three alcohol-related issues during a four-year span? 
There is no way to spin that into something remotely acceptable, and this has to have many teams weighing the risk of drafting a guy like Floyd.
Floyd did manage keep his nose clean during his senior campaign and even caught 100 passes in 2011. Floyd wasn't catching passes from elite college quarterbacks during his time at Notre Dame with Tommy Rees and Dayne Crist at the helm, but Floyd still managed to produce.
It remains to be seen If Floyd can do the same at the NFL level, and I will gladly say I am wrong if the guy catches 10 touchdown passes this season.
Until then, the idea of picking Floyd inside of the top 10 seems like a recipe for disaster.