Is the Arkansas Head Coaching Position an Attractive Job?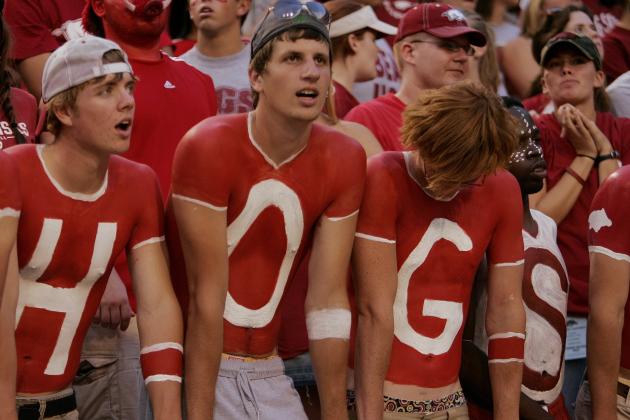 Brian Bahr/Getty Images

Now that Arkansas Athletic Director Jeff Long has made the decision to fire Bobby Petrino, can the Razorbacks lure another top flight coach to Fayetteville?
The first major hire that Long made when coming to Northwest Arkansas was Petrino whom he enticed away from the professional game to once again enter the ranks of college coaches. Petrino had wanted to leave a situation in Atlanta that he felt was just not right for him and faced the wrath of the national news media in doing so. It seems that fire storms seem to follow him as Bobby Petrino made perhaps a decision that will prove lethal to his career in hiring his mistress to work for him as a direct report employee of the athletic department.
Although many outside of the state of Arkansas may feel that the Hogs captured lightning in a bottle with Petrino and have no chance to advance to championship levels, those in the know feel otherwise. Here are the reasons why the Arkansas job remains a desirable one:
Begin Slideshow

»
Joe Robbins/Getty Images

D.W. Reynolds Razorback Stadium is filled each Saturday with ecstatic Hog fans whether the opponent is Louisiana Monroe or a national power such as LSU. There is a general hysteria that runs statewide within the borders of Arkansas as the big game becomes the talk of coffee shops, barber shops and Sunday school classes.
The only successful sports talk radio call in shows are those who focus heavily on the Razorback topics of the week. The Hogs are a religion to thousands of fans who tune in to ESPN or show up at tailgate parties just to worship at the hog trough.
There is no major sports franchise located in the state of Arkansas and thus no competition for the love and dollars given to the University of Arkansas. Everywhere you look, you will find hog snouts, people with pigs on their heads, or a t-shirt proclaiming devotion to everything Razorback. In living rooms all over the state you will find all kinds of people standing with both hands raised, fingers extended and wiggling while they scream, "Whoooo, Pig Sooie, Razorbacks!"
Those who have been associated with the Razorback program will tell you, there are no finer or more frenetic fans in college football.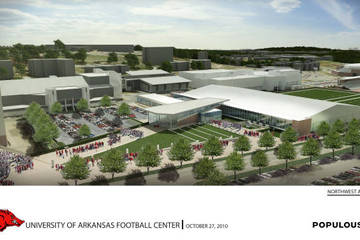 New Razorback Football Center
The University has embarked on an ambitious plan to build a beautiful new addition to Razorback facilities just outside of the D.W. Reynolds Razorback Stadium. This new football center will house coaches' offices, a new modern locker room complex, athletic training rooms, a student-athlete lounge and a football museum.
Whoever decides to move their family to Fayetteville and begin as the next head coach of the Arkansas Razorbacks will have a competitive advantage in the SEC because of the desire to win at Arkansas. The Hogs are also adding two new practice fields and are making remarkable additions to an already amazing campus in many different athletic venues.
The back-to-back BCS-caliber seasons that the Razorbacks have enjoyed have stirred the imaginations and emotions of those who are financial backers of the program. There is no ceiling at the moment to how much more these donors are willing to give to quench this thirst for a championship program.
Ronald Martinez/Getty Images

One of the reasons that Bobby Petrino's firing will largely pass muster in the state of Arkansas is the outrage over his behavior. Arkansas is a rural state with very traditional values. It is a place where love and loyalty for your family and your marriage is highly treasured.
The SEC fans who visit Northwest Arkansas will report that Fayetteville is a quiet , southern college town that is decent and kind to their visitors. The atmosphere is far friendlier than the rowdy rude, and spirit-driven chaos at a Saturday night LSU game in Baton Rouge.
Arkansas' stadium is a place where people will stand up to let you pass, hold your soda for you as you burp your baby and politely ask you to sit down if you are standing in front of them. In Baton Rouge, you are lucky if you don't leave their facilities without being cursed or being soaked with beer.
No matter if the next coach has children who are still in school, or grand kids who come to visit, he will find that Hog fans are mostly courteous and fun loving. It's a great place to raise a family.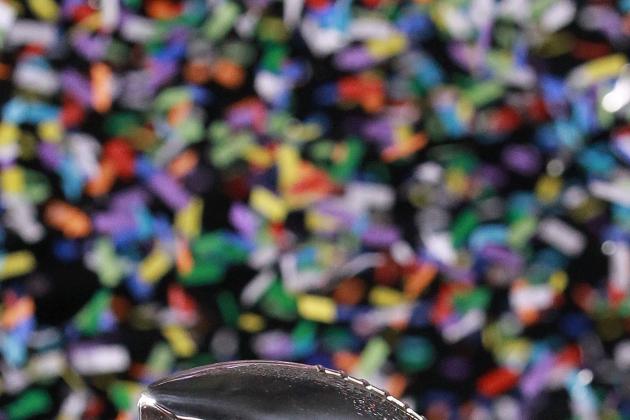 Ronald Martinez/Getty Images
The Cotton Bowl Trophy
Former head coach Bobby Petrino brought home an average salary of $3.5 million annually. This placed him in the top 10 of college head coaches as recently as last season. There is no reason to think that the Razorbacks will not be willing to raise the scratch to pay the next top man just as royally.
As of last year, the offensive coordinator was making $336,000 annually and the defensive coordinator banked $375,000. The other assistants made between $180,000 and $243,000 for a total of $2,215,000 in assistant-coach salaries.
As salaries continue to rise, the Razorbacks will continue to make sure that they have the best talent on the market.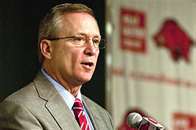 Arkansas Athletic Director Jeff Long
Some would argue that Jeff Long made a mistake in firing Bobby Petrino as head coach of the Hogs. After hearing Jeff Long's emotional account on Tuesday, Razorback fans are mostly convinced that it was the right thing to do.
In the arena of tough decisions, this may rank as one of the hardest that Long has had to make. The Arkansas football program will either right itself and be competitive this season and beyond, or fall back into the ranks of the mediocre.
Regardless, most fans believe that Jeff Long has the same drive and competitive juices that drove Bobby Petrino. Yet they also see character and resolve that tells them he is committed to do what is right. He clearly put the best interests of the University over what may have been his best interests in the short term.
If Jeff Long can hit another home run in this coaching hire, he will solidify himself as the athletic director for the Hogs for many years to come. He may finally step out of that long shadow cast by former legend Frank Broyles. One thing that is certain is that he can be counted on to handle authority with integrity and guts.