WWE Extreme Rules 2011: Top 10 Moments from Last Year's Show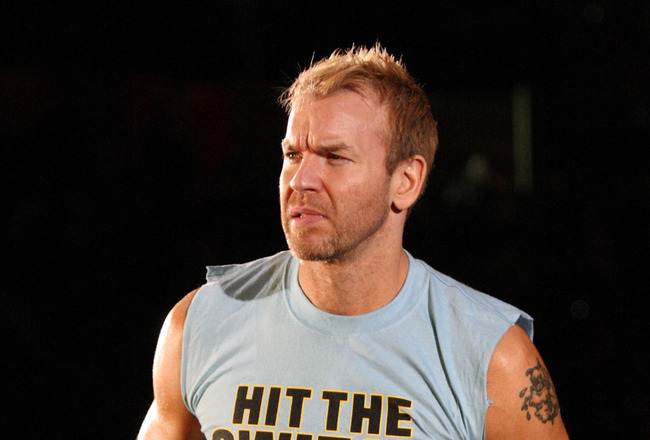 Gallo Images/Getty Images
Last year, WWE delivered a great Extreme Rules event. It is always tough to have an entertaining show right after WrestleMania, but the company does it time and time again.

With a few more main-event players gone, it just meant more opportunity for others. On this night, more than enough performers stepped up to the plate.

What were the best moments? Let's find out!
10. New United States Champion!
Sheamus was the reigning United States Champion. With him moving to the Smackdown brand, it was apparent a Raw wrestler needed to get the title.

On this night, it was Kofi Kingston.

Kofi defeated Sheamus in a Tables match and won the gold. While many were continuously crying "buried" (ridiculous term) at Sheamus in 2011, I used logic and sense.

Sheamus would get his time.

One year later, I doubt anybody remembers the Celtic Warrior being "buried."
9. Tag Titles
Big Show and Kane held the tag team titles in 2011.

On this night, they defeated The Corre. The group consisted of Wade Barrett and Ezekiel Jackson here. Yeah, they stood no chance.

With lumberjacks around the ring, it was a quick match.
8. Cody vs. Mysterio
Cody Rhodes beat Rey Mysterio at WrestleMania.

A few weeks later, they fought in a Falls Count Anywhere match. Both men brought their best, and it was very entertaining.

With the heel winning the earlier match, you knew the face had to win the finale.

Rey won and switched brands.
7. Why?
I loved the Jerry Lawler vs. Michael Cole story leading up to WrestleMania. It was one of the best feuds all year and deserves major praise.

However, it should have stopped at Mania. Continuing it was not very fun to watch. On this night, it was more of the same.

Jim Ross and Jerry Lawler lost to Michael Cole and Jack Swagger in a "Country Whipping" match. It went too long, and nobody cared anymore.

The climax was Mania, not weeks later.

Cole pinned JR, and the crowd groaned...
6. Last Man Standing
Randy Orton and CM Punk had a fun feud to begin 2011. However, all good things must come to an end.

Orton was heading to Smackdown, while Punk was staying on the Red Brand, Thus, the feud needed one final match.

Last Man Standing!

These two tore each other apart for about 20 minutes, until they could barely stand. In the end, there was only one result.

The face had to win.

Randy Orton picked up the victory and (rightfully) won the World Title a few days later on Smackdown.
5. Loser Leaves WWE
This was probably the best divas match all year.

Beth Phoenix and Eve Torres had a great battle months later, but this barely topped it. The extra added story made it that much more enjoyable.

Layla vs. Michelle McCool, the loser leaves WWE!

It was a huge stipulation, but it had to happen. Laycool had finally come to an end, and one woman was not sticking around.

Like the other matches, there was only one logical result.

Layla won, while Michelle hasn't wrestled again since.

Excellent segment! My hat goes off to both women.
4. Kharma Debuts
We had all seen the vignettes teasing her arrival.

We had all speculated on her role.

We had all been curious as to how she would debut live.

At Extreme Rules, Kharma came out after the divas match and attacked Michelle. In her final act as a WWE diva, McCool made the new force look like a million bucks.

Kharma looked strong, and the entire division was put on notice.

On year later, we are all back to waiting for her to make an impact...
3. Historical Announcement
Right or wrong, this moment had to be mentioned.

It was a day (and moment) some will never forget.

All you have to do is watch the video.
2. Main Event
The Miz defended the WWE Title in a triple threat match steel cage match.

His opponents were John Cena and (don't ask why) John Morrison.

While "That Parkour Guy" had less than a zero percent chance at winning, it was down to Cena and Miz from the beginning. Thankfully, R-Truth's interference confirmed that thought.

After a grueling contest, Cena won the gold. The long title reign from The Miz was over, and we had a new WWE Champion!
1. Christian's Moment
Edge had just retired as World Champion. It was a sad moment, but life needed to move on. WWE was without a champion for Smackdown, but that would all change at Extreme Rules.

Christian vs. Alberto Del Rio for the vacant World Title in a ladder match was set.

Somebody was about to win their first ever World Title (TNA doesn't count). No matter what, it was going to be a huge event for the WWE Universe.

With the match coming to a close, Edge cost Del Rio the match and watched as Christian climbed the ladder to success.

He was finally a World Champion, and it was a perfect moment. He and Edge cried, hugged, and celebrated together. The emotion was definitely legitimate, and it was a proud moment for everybody.

All you have to do is watch at the video I posted. At the 2:30 mark, Christian says "I can't believe it," as he holds the title high. Add in the report of him hugging Vince McMahon backstage afterwards with tears in his eyes.

In a business where very few moments are "real," this certainly was.

Follow Justin Watry on Twitter!


Keep Reading