Atlanta Hawks and 4 Other NBA Teams Stuck in Neutral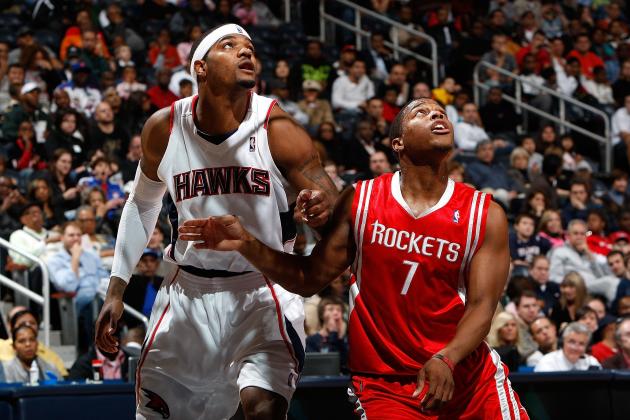 Kevin C. Cox/Getty Images
There's a reason people aren't talking about teams like Atlanta and Houston – they're not going anywhere.
No-man's land. Stuck. Going nowhere.
It's a situation no team should want, yet there's a handful of NBA clubs that seem content doing just that.
Whether it's another draft lottery ticket or an early playoff exit, these teams show why consistency isn't always praiseworthy. In their respective cases, it's the opposite.
Here's a look at five teams running in place, how they got there, the main culprits and how they can get un-tracked.
Qualifications:
Haven't advanced past the second round in last four years
Haven't had a top-five lottery pick in the last four years
Aren't significantly better this year
Just Missing the Cut:
Detroit Pistons (East Finals in 2008)
Phoenix Suns (West Finals in 2010)
Toronto Raptors (No. 5 pick in 2011)
Denver Nuggets (West Finals in 2009)
Begin Slideshow

»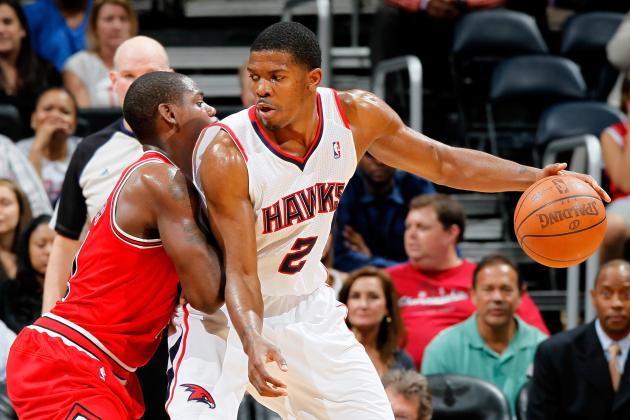 Kevin C. Cox/Getty Images
Joe Johnson's arrival moved the Hawks from the lottery to mediocre playoff team. They haven't moved since.
Regular season records 2008-2011: 37-45, 47-35, 53-29, 44-38
Playoff results last four years: 4-3 L first round, 4-0 L East semifinals, 4-0 L East semifnals, 4-2 L East Semifinals
Main culprits: Joe Johnson, Josh Smith
How they got there: The Hawks deserve credit for snagging Johnson in a 2005 trade with Phoenix, and then top-three protecting the included draft pick (which ended up being Al Horford).
Atlanta, however, ignored every piece of evidence that Johnson wasn't a franchise player (see: 2010 playoffs), shelling out a whopping $119 million for five years.
In a way, this was worse than Orlando throwing $118 million at Rashard Lewis in 2007. Here's why:
Lewis + franchise player (Dwight Howard) = East contender
Johnson = franchise player = early playoff exit
Add to that Atlanta's refusal to admit that Smith's "potential" tag has already expired, and it's easy to see why the Hawks have hardly budged from its middle-of-the-pack status.
How they can get out: If they want to contend with Johnson, Atlanta needs to cash in on Smith's trade value. "Potential" always lands more than its worth, and the Hawks could do worse than exchange Smith for an under-the-radar stud and some possible lottery picks.
If Atlanta mercifully realizes Johnson isn't "the guy" after all, they could him to fringe contenders for youth, expiring contracts and picks. Another (more drastic) option would be to amnesty his albatross of a contract and rebuild—making sure not to repeat the same mistakes along the way.
Harry How/Getty Images
Luis Scola has been really good for Houston – just not good enough to make them matter.
Regular season records 2008-2011: 55-27, 53-29, 42-40, 43-39
Playoff results last four years: 4-2 L first round, 4-2 L West Semis, DNQ, DNQ
Main culprit: Daryl Morey
How they got there: Morey, the Rockets GM, stockpiled enough assets to make his opponents jealous. Then he kept hoarding assets...kept hoarding...and, really, he's still doing it.
Let's face it, Morey is the last guy you'd want to invite to Vegas for a good time.
Case in point: Morey took a flyer on diminutive point guard Aaron Brooks in 2007 and acquired Villanova playmaker Kyle Lowry from Memphis. Brooks flourished in 2009, only to give way to Lowry the past two seasons.
Instead of packaging Brooks with other considerable assets for a legit star (or borderline star), Morey flipped him for Goran Dragic and a late first-round pick.
Lowry went out with a bacterial infection last month, opening the door for Dragic to flourish as a starter. Now, Morey and the coaching staff is left to decide who they would rather have run the point—and what to do with the guy that doesn't.
At this point, both are too valuable for backup minutes, but neither can carry the team beyond middling success.
That just about sums up Houston's problem.
How they can get out: They actually tried during the offseason before David Stern axed the deal that would have landed them Pau Gasol. The deal would have seen the Rockets give up Kevin Martin, Luis Scola and Dragic, a package even more appealing now with Dragic's value now exposed.
Ideally, Morey could fetch a stud with some combination of Lowry/Dragic/Scola/Martin, along with some younger chips (Patrick Patterson? Chandler Parsons? Chase Budinger?).
The question remains the same as the last four years: will it finally happen?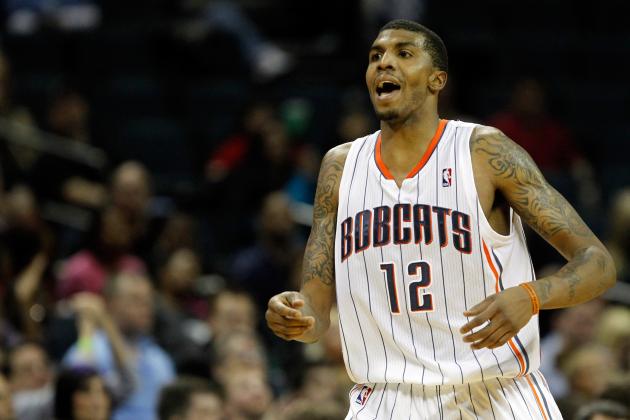 Streeter Lecka/Getty Images
Though just 25 years old, Tyrus Thomas has been in the league long enough for Charlotte to know he's not worth another three years and $26 million.
Regular season records 2008-2011: 32-50, 35-47, 44-38, 34-48
Playoff results last four years: DNQ, DNQ, 4-0 L first round, DNQ
Main culprits: Michael Jordan, Tyrus Thomas
How they got there: Somehow, Jordan has managed to completely flip-flop from "win now" to rebuilding in a four-year span and still keep his team completely irrelevant.
Stephen Jackson and Gerald Wallace briefly injected life into the franchise, culminating in their first-round weep in 2009. When the Bobcats missed the playoffs the following year, Jordan abandoned ship and pocketed money, shipping Jackson to Milwaukee and Wallace to Portland.
Now Charlotte finds itself as listless as ever. They've got two terribly errant shoot-first guards in Kemba Walker and D.J. Augustin. They're locked into Tyrus Thomas for three more years and $26 million. Corey Maggette still thinks he's a No. 1 option.
How they can get out: They're well on their way with the worst record in the league right now at 7-49. A top-three pick in a deep draft would be a great step.
The next would be fully committing to rebuilding by trying to parlay Maggette as an expiring contract this summer and pulling an amnesty on Thomas' contract. That will give more time, touches and experience to the young guys, enabling Charlotte to find out who's worth keeping sooner rather than later.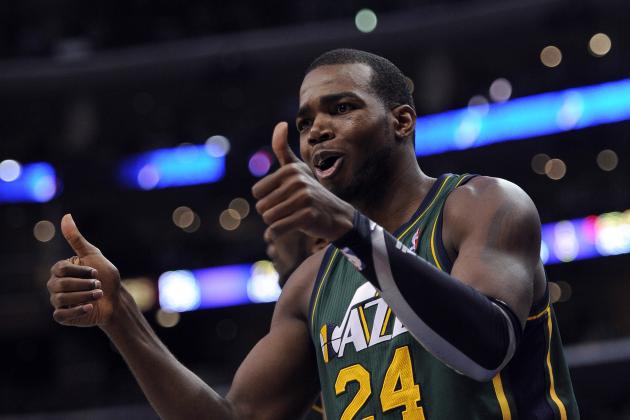 Harry How/Getty Images
Opinions are varied on Paul Millsap. Is he a keeper, or is he trade bait?
Regular season records 2008-2011: 54-28, 48-34, 53-29, 39-43
Playoff results last four years: 4-2 L West semifinals, 4-1 L first round, 4-2 L West semifinals, DNQ
Main culprits: Good-but-not-quite-great frontcourt players
How they got there: Carlos Boozer was a borderline All-Star and little else, so Utah let him walk. Now, the Jazz are slowly realizing the same holds true for Al Jefferson and Paul Millsap, two guys who produce, but don't necessarily push the team into contention.
Stuck behind them is the young crop of talent Utah has harvested since dealing Deron Williams, including Derrick Favors, Enes Kanter* and Alec Burks.
The first two are limited in playing time while Millsap and Jefferson are still in town, while Burks mysteriously remains the backup to C.J. Miles (can't shoot, seventh man at best) and Raja Bell (washed up).
*Yes, Kanter was a top-three pick, but Utah got the pick in the Williams trade, not because the Jazz themselves had bottomed out.
How they can get out: Make a decision. If the Jazz want to win now, they need to package some of their young pieces for a perimeter star to compliment Jefferson and Millsap. If rebuilding is the goal, then either or both need to go.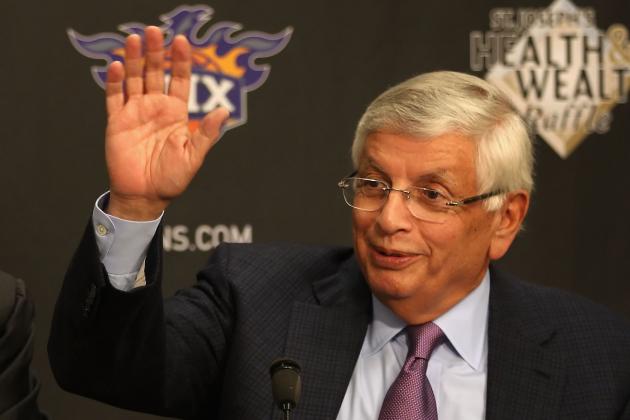 Christian Petersen/Getty Images
If it weren't for the commissioner, New Orleans might have more invested returns from dealing Chris Paul.
Regular season records 2008-2011: 56-26, 49-33, 37-45, 46-6
Playoff results last four years: 4-3 L West semifinals, 4-1 L first round, DNQ, 4-2 L first round
Main culprits: The powers that be
How they got there: Chris Paul did his best with quasi-All-Star David West and a band of role players, but it was never enough in the rugged West.
With Paul increasingly dissatisfied and eager to duplicate LeBron James' if-you-can't-beat-them-join-them campaign, the Hornets shipped Paul to the Lakers in a three-way deal that landed them Luis Scola, Lamar Odom, Kevin Martin, Goran Dragic and a first-round pick.
Until the league stepped in.
Due to the NBA version of divine intervention, the Hornets were with Eric Gordon (injured and unhappy), Chris Kaman (playing well now for a better contract somewhere else) and Al-Farouq Aminu (five points, four rebounds per game).
With Gordon (restricted) and Kaman (unrestricted) possibly gone this summer, the Hornets face the prospect of the Aminu/Jarrett Jack/Carl Landry era.
How they can get out: Gordon is young and talented enough to be a legit building block, but the Hornets need to know if he wants to be. If not, a sign-and-trade to bring back hungry young talent and draft picks may be the best route.