Notre Dame Football: Expect Tyler Eifert to Lead 2012 Offensive Attack
April 12, 2012

Jonathan Daniel/Getty Images
After being blessed with a future Pro Bowl receiver for the last four years, it's going to be difficult to Notre Dame to replace Michael Floyd.
However, tight end Tyler Eifert can help make it a smooth transition for the Fighting Irish.
The rising senior may have been an All-American in 2011, but that was as a traditional tight end, which most teams incorporate. His year included a lot of blocking, both on the line of scrimmage and down the field.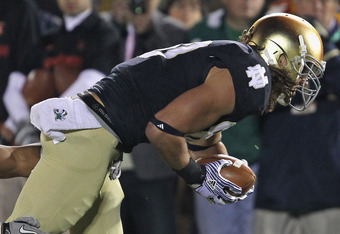 Jonathan Daniel/Getty Images
After a 93-yard receiving performance in the season opener against South Florida, most fans expected that sort of production each and every week.
Instead, that ended up being his best game of the season.
Eifert finished the year with 63 receptions for 803 yards and five touchdowns. Those were outstanding numbers for a tight end. In fact, both figures were single-season school records.
However, he can do even better.
One of the first orders of business for new offensive coordinator Chuck Martin was making a recruiting visit of sorts to Eifert's hometown of Fort Wayne, Indiana to convince him to stick around for another season and wait on the pros. Martin got his wish by assuring Eifert he would be more of a wide receiver in his new offense.
As promised, the tight end has been lining up as a receiver so far this spring.
That being said, he admits that the learning curve has been rather steep (via Rivals.com):
It's been everything (the coaches) said they'd do, move me around and stuff like that. All last year I knew what I was doing pretty much every play. I knew what most of the guys are doing. It's been a little challenging to learn. It's the first time I've had to learn some stuff in quite a while.
At 6'6" and 250 pounds, he has the prototypical size for the position and is also blessed with incredible hands and outstanding foot work. Once he hones his receiving skills this spring/summer and feels comfortable running routes outside of the hash marks, the sky truly is the limit.
Eifert needed the extra season to polish off his game and now Notre Dame fans are going to reap the benefits. There is no doubt he will be the team's leader in receiving yards this season and could potentially be a high first-round pick in the 2013 draft.
Floyd who? Eifert is the new sheriff in town at Notre Dame.