NBA Draft 2012: Breaking Down Draymond Green's Pro Prospects
Christian Petersen/Getty Images
Considering that Draymond Green was one of the best players in the NCAA tournament, it is hard to believe how low his draft stock is.
Green is obviously going to be drafted this year, but probably not until late in the first round or possibly even early in the second round.
Whoever picks up Green is going to get an absolute steal just for the fact of how late in the draft he will be picked.
With that said, read on to find out the breakdown of Green's pro prospects.
On Offense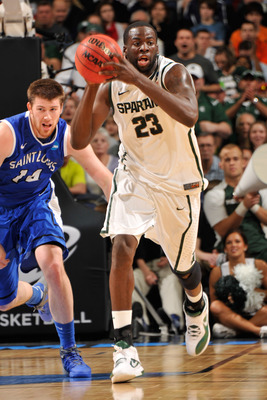 Jamie Sabau/Getty Images
Draymond Green is an elite scorer, to say the least, and his 16.2 points per game his senior year proves this.
Green is very powerful and plays the game much bigger than his 6'6'' stature would suggest. However, Green has a big body and he uses his strength to power the ball into the hoop.
For playing the game like a big man, Green has a really good shot, and his passing skills are out of this world. On paper, 3.6 assists per game is pretty impressive considering that Green is nowhere near a guard type of player.
However, with his passing ability and great shot, he would make a great small forward at the next level.
On Defense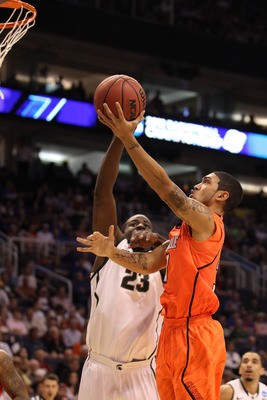 Christian Petersen/Getty Images
Green is an absolute man on the boards, which certainly helps with his defensive game. He averaged 10.6 rebounds per game this past year.
Green is not known as a shot blocker, but he is a very physical player, which is a plus on both defense and offense.
However, Green is not the fastest player in the world and his lateral movement isn't one of his best attributes, but he works just as hard or harder than anyone on the court. That is definitely a feature that any coach would love.
Overall
Jamie Squire/Getty Images
You cannot measure how much heart someone has, and Draymond Green is certainly not lacking in that department.
Green is an amazing leader, to say the least, and he has great basketball IQ. Combine those two features with Green's talent and you will have a great basketball player in the making.
Overall, Green is a pretty darn good basketball player on both sides of the court. Whichever NBA team that drafts Green will get a great scorer and rebounder, but those are obviously not his only attributes.
Draymond Green is an absolute workhorse, and you can expect him to work his way to an elite player in the NBA.
If you're a tweeter, feel free to follow me @TheTrevorLowry.
Keep Reading