Big Mystery: Andre Drummond Enters the Draft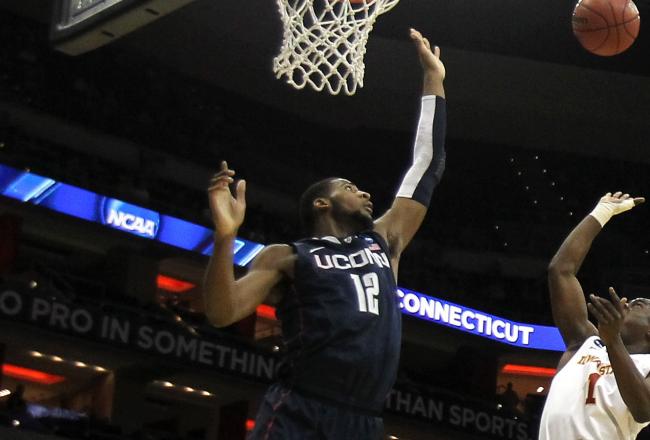 Jonathan Daniel/Getty Images
Andre Drummond is here to terrify an NBA GM on draft night. As in, he declared for the NBA draft.
I actually think this bodes well for the young center. UConn coach Jim Calhoun has presided over a slew of disappointing pro big men (sorry, Emeka Okafor), and it's probably best that Drummond gets away from that program while he's still in formative years.
Back to the GM fear factor—Andre Drummond was shaky as a freshman, and "shaky" is putting it kindly. To be frank, he was a massive disappointment, and high school hype is lifting his draft stock an inch or two higher than it would be otherwise.
Before Anthony Davis started dominating college games from jump street (lank street?), Drummond was the projected No. 1 pick. Chad Ford has him at No. 5 today, a massive fall for someone so physically gifted.
This is not to say that he was bad for the Huskies or a bad college player. Drummond averaged a respectable 10 points on 53.8-percent shooting in 28.4 minutes per game. It's notable that he also notched 2.7 blocks in this span, though his defense was all over the place.
Perhaps the right coach or system could mold Drummond, but his post defensive lapses could trend toward a JaVale McGee-level of confounding. His offense was also less refined than a muddy oil strike.
The problem is that the right coach or system can so rarely trawl the lottery. Andre Drummond is projected to go to Sacramento, a nightmare scenario for his career.
Here are the best fits for him, in my opinion.
Cleveland Cavaliers
The organization actually remembers what success feels like, and they already have a fantastic point guard in Kyrie Irving. Ease Drummond into the Varejao/Thompson frontcourt.
Detroit Pistons
They already have a scoring threat in Greg Monroe, and Drummond could provide the weak-side shot-blockage.
Milwaukee Bucks
Might as well call them the Milwaukee LUCKS, if they're picking this high. Am I right, people? Is this thing on?
I like pairing the kid with defensive ace Ekpe Udoh, defense-obsessed Scott Skiles.
This article is
What is the duplicate article?
Why is this article offensive?
Where is this article plagiarized from?
Why is this article poorly edited?