New York Giants: Antwaun Molden Signed for Corner Depth, Solid Move for G-Men
April 12, 2012

Patrick McDermott/Getty Images
Wednesday was a very busy day for the New York Giants.
The biggest news from Big Blue was their trade for Cincinnati Bengals linebacker Keith Rivers in exchange for a fifth-round draft pick in the 2012 NFL draft.
They also signed former Seahawks and Redskins right tackle Sean Locklear to a one-year deal to compete for a starting job on the line.
Late Wednesday night, in the midst of the Rivers trade news, the Giants made another solid acquisition.
According to Mike Reiss of ESPN Boston, the Giants have signed former New England Patriots cornerback Antwaun Molden, and he will likely take Aaron Ross' spot in the depth chart.
Ross left as a free agent to sign with the Jacksonville Jaguars, so now Molden will play along with Corey Webster, Prince Amukamara and the returning Terrell Thomas.
Molden played in all 16 games for the Patriots in 2011, made 36 tackles and had two interceptions for the AFC champions.
The Patriots secondary was a major concern in 2011, and Molden saw his playing time increase with each game, getting a lot of playing time for New England in the postseason and in Super Bowl XLVI against his new team.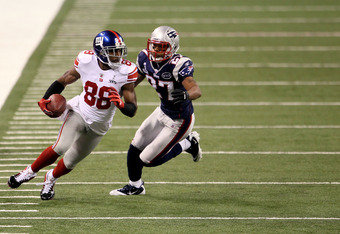 Jeff Gross/Getty Images
Molden will not only be a part of the Giants defensive backfield, but he'll likely be a part of their special teams, which can always use adjustments and improvements.
General Manager Jerry Reese is living up to his word by saying the Giants weren't done in free agency, and this past week, he proved it with the trade for Rivers and signing both Locklear and now Molden.
Overall, I think it's a solid move to add depth for the Giants.
Before the 2011 season, they got hammered by injuries in the preseason, partially because the NFL was in a lockout for several months.
So, stocking up on key players who can contribute for 2012 is a wise move by Reese.
I wouldn't expect much else from the Giants until the draft, which is two weeks from this Thursday. But the signings they have made in the last 24 hours were solid moves.
Stay tuned, Giants fans.