Kansas Jayhawks Basketball: How Will the Program Replace Thomas Robinson?
April 12, 2012

Jeff Gross/Getty Images
Tyshawn Taylor has been an extremely important part of the Kansas basketball program for the past four years.
However, some people might argue that an "on" Elijah Johnson may be more talented still; we'll find out next season when Head Coach Bill Self hands him the keys to this team.
Thomas Robinson's rise to stardom, however, has been an amazing story that vastly transcends talent and success. His minutes have doubled in each of his seasons at Kansas, and his statistics have grown likewise. In a matter of three years he went from uber-athletic, non-stop bench player to national superstar and player of the year runner-up.
It doesn't hurt that the touching story of battling through a myriad of family deaths and the decision to care for his baby sister changed him, in the hearts of his fans, from a teenage campus celebrity into America's sweetheart.
How can Self and the Jayhawks possibly replace Robinson, on and off the court?
Without desensitizing readers to the heartwarming story of a terrific human being, replacing Robinson off the court is probably the easier of the two, actually.
A recruiting class featuring five true freshmen is supplemented by the addition of two red-shirt freshmen, who sat out last season with eligibility concerns. Infusing that much talent into an underrated team that made it against great odds all the way to the National Championship game is certain to keep the fans' attention at a powerhouse school like Kansas.
Replacing the superstar power forward on the court will be much more difficult. Obviously, it will have to be done by committee, and it looks like the Jayhawks have the right guys to do so.
Jeff Withey (Sr., C)
The seven-footer quickly became a celebrity in his own right. Though he won't directly help replace Robinson, he needs to continue refining his post game with both hands. He won't be the focal point of the offense like Robinson, but with the shot clock running down, the Jayhawks can still toss the ball into the post at a moment's notice and get a decent shot out of the deal. 
Jamari Traylor (Fr., PF)
The differences between playing power forward and center can be minimized in Kansas' offense. However, a man Withey's size can't be expected to log 30 minutes per game. Traylor will actually be most useful to this team if he can use his immense athleticism and strength to defend opposing centers, like Robinson was asked to do this season during Withey's breaks.
Landen Lucas (Fr., PF)
Lucas strikes me as somewhere between Traylor and Perry Ellis on a couple of levels. He doesn't have immense potential, but is athletic, physical and has a refined game in the post. He's too talented to keep off the court, and it looks like he and Ellis could battle it out for the starting and backup power forward positions and become Robinson's direct replacements.
Perry Ellis (Fr., PF)
Ellis is the Jayhawks' best chance to directly and immediately replace Robinson. He's strong, quick and has a good face-up offensive game. In order to become a more complete package and help Kansas fans forget about Robinson, he needs to prove he can defend in the post at a high level and develop a move or two with his back to the basket.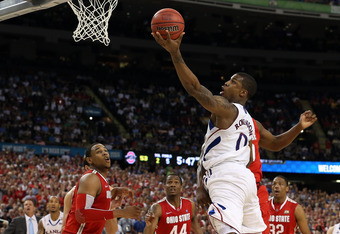 Jeff Gross/Getty Images
Zach Peters (Fr., PF)
Peters is the second largest player on the Jayhawks' current offseason roster; behind Withey, size at center is something Kansas is lacking. However, Peters also seems like the prime candidate to red-shirt. The Jayhawks have more depth than ever in the post, and Peters needs the most work to become college-ready.
Kevin Young (Sr., F)
Young is best suited to come off the bench in small spurts in order to maintain his high energy level, his best asset and something Robinson always brought to the table. The logjam at power forward may push Young toward the backup small forward role, and he'd do well to develop his jump shot and continue to rebound at a high level. Unfortunately, with all the younger swing-men and power forwards joining the program, Young could become the odd man out.
Justin Wesley (Jr., PF)

If Young becomes a scapegoat for minutes and Peters is asked to red-shirt, Wesley will almost certainly see a drop in playing time. He may be useful to defend taller opposing centers should Withey get into foul trouble and Traylor prove not ready to contribute. That's likely it, but fans still appreciate how important players like Wesley are to successful basketball teams.
It looks like Kansas has the pieces to replace Robinson, but it's not as simple as that. Truly replacing a player like Robinson requires those pieces fitting together in perfect harmony.
The Jayhawks are far deeper and more talented than last season's national championship runner-up. Duplicating last season's success will require chemistry similar to last season's and yet more masterful puzzle-work from Self.