NHL Playoffs: Questions Set to Begin About Roberto Luongo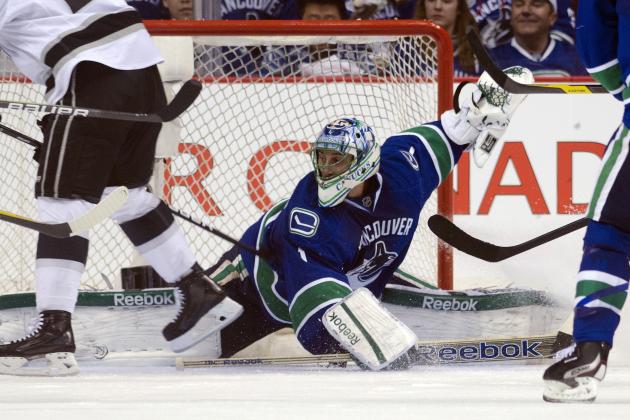 Rich Lam/Getty Images

Don't let Vancouver Canucks goaltender Roberto Luongo's playoff stats from a year ago fool you. Sure he won 15 games, had a save percentage of .914, only allowed an average of 2.56 goals a game and shut the opposing team out four times.
But this were a playoffs he'd like to have back, as would the rest of Vancouver. Luongo was pulled many times throughout the playoffs and got shelled 4-0 in the most important game of his life, Game 7 of the Stanley Cup Finals.
He's hoping this year will be different, and he's certainly doing his part. In the Canucks playoff opener 4-2 loss to the Los Angeles Kings, Luongo made a stellar 35 saves.
But, with Luongo being Luongo, questions will start to begin, first just whispers, then growing louder and louder. He's the only one who can ultimately provide the answer, but nevertheless, here are the questions Lou will eventually face.
Begin Slideshow

»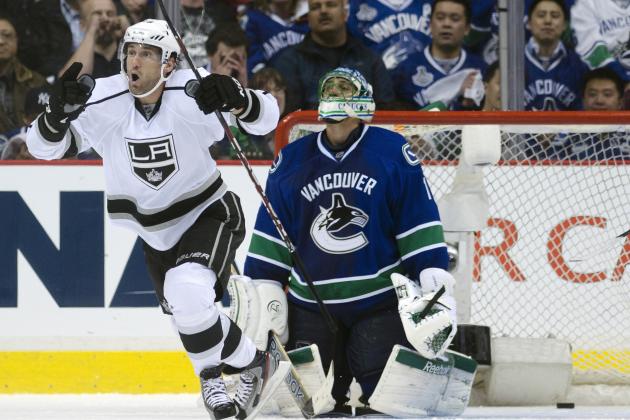 Rich Lam/Getty Images

If there was a common theme to Luongo's playoffs last year, it was inconsistency. You never seemed to know which Luongo you were going to get. Yes, this isn't met in the literal sense as there is only one NHL player named Roberto Luongo, but last year there as well been two.
In Game 1 and 2 of the Stanley Cup Finals against the Boston Bruins last year Luongo was incredible, only allowing a combined two goals.
The next two games the Bruins scored a combined 12 goals, a large factor being the poor play of Luongo, a reason he was pulled from Game 4 in favour of Cory Schneider.
If Vancouver wants a chance to win, they better hope the Luongo that is playing is the former and not the latter.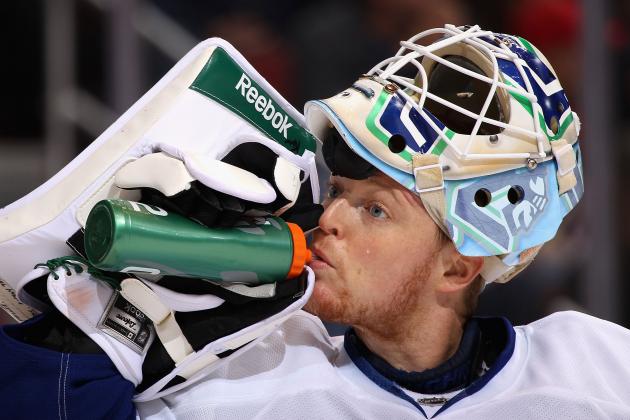 Christian Petersen/Getty Images

Like every year of the NHL playoffs, the intensity is high and fans' patience for losing is short. With that being said, a string of poor performances by Luongo could earn him a seat on the bench.
Elite young goaltender Cory Schneider had an incredible regular season winning 20 games and posting an incredible goals against average (GAA) of 1.96. Luongo's season GAA pails in comparison sitting at 2.41.
While Luongo played well against the Kings in the first game of the series, another loss or two will have fans screaming for Schneider to be given a chance, before he likely departs in free agency.
With Schneider coming into this year's playoffs more proven and polished than last year, it will be a great test of the faith and loyalty coach Alain Vigneault has in Luongo.
If Luongo gets pulled early, this question has been answered.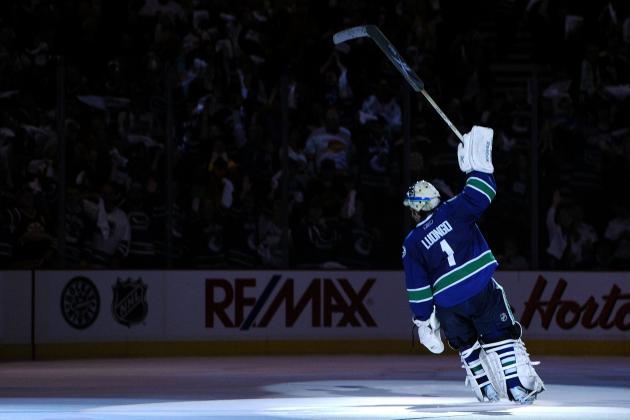 Harry How/Getty Images

Will this year be different?
That is the question being asked by all Canucks fan, hoping they can finally bring home the Stanley Cup. All they want is that one championship, and that is exactly what they will ask Luongo for. They will ask him to bail out the team with a big save, but most importantly for him to win the big one.
Last year, the Canucks were as close as you could possibly get to winning the cup. It was Game 7 of the Stanley Cup Finals against the Bruins and they had home ice.
How did Luongo and the Canucks respond to this opportunity?
They got blown out 4-0 in the biggest game of their lives. Riots in Vancouver shortly followed.
So the pressure is on Luongo and the rest of the repeat Presidents Trophy winning Canucks to finally prove to everyone, including themselves, that they can win the big one.
Yes, Luongo did win a Gold Medal for Canada and started the championship game,but there is only one player that game is known for and it is Sidney Crosby.
If Luongo wants to change people's perception of him, winning a championship is the only way.