Green Bay Packers: Why Jordy Nelson Will Become an Elite NFL WR in 2012
April 12, 2012

Jonathan Daniel/Getty Images
Jordy Nelson is coming off his best season as a professional, catching 68 passes for 1,263 yards and 15 touchdowns.  Nelson has improved every year of his career, and he is clearly on his way to becoming one of the elite receivers in the NFL.  Nelson boasts a number of physical and mental characteristics that ensure his success, and he benefits greatly from playing for the Green Bay Packers.
Nelson has all of the physical attributes that one looks for in an elite receiver.  At 6'3" and 217 lbs. he has prototypical size, and with a 4.5 40-yard dash, he has solid speed.  He runs crisp routes and excels at utilizing double moves to gain separation and is adept at catching the back-shoulder throw.  Nelson also serves as a big-play threat, with 47 of his 68 receptions going for first downs along with averaging more than 18 yards a reception in 2011.  
Nelson has also shown the mental makeup of an elite wide receiver throughout his young career.  He has proved to be a team player and hasn't had any off-the-field incidents that could potentially earn him a suspension or cause conflict with his teammates and potentially derail his career.  Additionally, Nelson doesn't have to worry about his contract as he as already signed a contract extension through 2014.   
In addition to his physical and mental attributes, Nelson also benefits greatly from playing for the Green Bay Packers.  The Packers' West Coast offensive system focuses primarily on moving the chains via short passes with receivers gaining yards after the catch.  After drawing the defense in to cover the underneath routes, the offense exploits the defense via the deep routes.  The West Coast system is a perfect fit for Nelson as he runs crisp routes and has the speed to get open underneath. By playing in this offensive system that is so pass oriented, Nelson is given plenty of opportunity to accumulate the stats necessary for him to reach an elite level.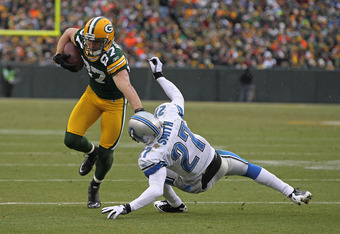 Jonathan Daniel/Getty Images
Nelson also benefits greatly from the rest of the offensive personnel on the Green Bay Packers.  He is playing with the best quarterback in the NFL, and there are multiple receivers on the Packers who are able to prevent opposing defenses from double- and triple-covering him.  
Aaron Rodgers is the best quarterback in the NFL, and he clearly makes Nelson a better receiver.  His incredible accuracy, as well as his ability to consistently find the open man, make it much easier for Nelson to catch balls, gain yards and score touchdowns.  
Playing with Jermichael Finley and Greg Jennings also benefits Nelson.  With such a talented receiver opposite him, opposing defenses are forced to account for Jennings and are unable to blanket him in coverage.  Because of Finley's speed, opposing defenses are forced to cover him with a safety, leaving Nelson single-covered on deep routes.  Finley also serves to clear out the underneath routes via the seam routes.  These elite offensive teammates consistently take the defensive pressure off Nelson, allowing him to routinely beat his defender.
What defines an elite NFL wide receiver? Is it based solely on stats or are a wide receiver's physical talents taken into consideration? No matter what the criteria, Jordy Nelson has it covered.  He's big and fast.  He has great hands and runs crisp routes.  He's a great teammate and is drama free.  To top everything off, he has the stats to compare to other elite wide receivers.  
Not many NFL wide receivers combine all of the abilities that Jordy Nelson has with an offensive system perfect for his talents.  Few can equal his stats.  With Nelson's talent and his ability to improve, he is well on his way to becoming one of the elite wide receivers in the National Football League.