Milwaukee Brewers: Could Zack Greinke Be Among Trade Deadline Deals?
April 12, 2012

Brian Kersey/Getty Images
Zack Greinke makes his second start of the season Thursday afternoon for the Milwaukee Brewers against the Chicago Cubs.
In his 2012 debut, Greinke was one of the only pitchers to shut down the St. Louis Cardinals' thus far, throwing seven scoreless innings and allowing just four hits. 
But Greinke made some news off the field earlier this week. As reported by the Milwaukee Journal Sentinel's Tom Haudricourt, Brewers general manager Doug Melvin announced that the team had suspended negotiations with the pitcher on a new contract.
Greinke's contract expires after the season and he recently hired a new agent, Casey Close, to try and work out a new deal with the Brewers. But as could be expected, Matt Cain's five-year, $121.5 million contract extension with the San Francisco Giants has complicated matters. 
Is Cain better than Greinke? CBSSports.com's Jon Heyman thinks the two are a good comparison. Cain has certainly been more consistent over his career. But consider that Greinke mostly played for a worse team with the Kansas City Royals and also pitched against tougher lineups in the American League.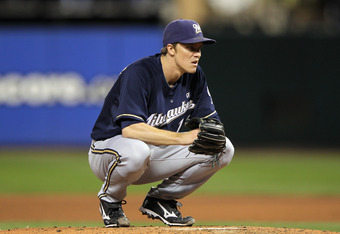 Jamie Squire/Getty Images
Cain also hasn't ever been a disruptive presence in the clubhouse. According to ESPN's Buster Olney, that's a concern that some general managers have about Greinke, recalling how he rocked the boat to push for an exit from Kansas City.  
And though it wasn't mentioned by Heyman or Olney, Greinke's past struggles with depression and social anxiety disorder might be a factor for some teams, as well.
However, the Brewers are obviously happy with him if they've been trying to negotiate a new deal. The issues between the two sides likely have more to do with money and length of the contract. 
But talks breaking down can't be a good sign. And if Greinke keeps pitching as well as he did in his first start of the season, his market value will keep going up. Maybe that's what Close was saying in his latest talks with Melvin, forcing him to table the discussion.
What could make Greinke's situation with the Brewers more interesting is if the team falls out of contention in the NL Central. That's not to say they will. The Brew Crew should battle for first place and/or a wild card spot all season long.
But if —if — the team took a tumble, could Melvin look at dealing Greinke away at the trade deadline and perhaps get some prospects back to restock the minor league system that he drained to get Greinke and Shaun Marcum?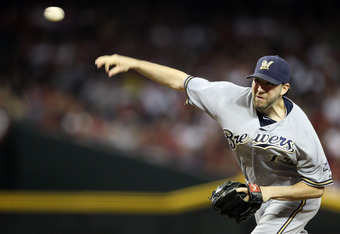 Christian Petersen/Getty Images
In a column earlier this week, FoxSports.com's Ken Rosenthal wrote that the Brewers could decide to sell off some parts if they were out of contention by midseason. Besides Greinke, Marcum is also eligible for free agency after the season.
Another pitcher that could also be trade bait is reliever Francisco Rodriguez, who says he's content being a setup man for John Axford but really wants to close. MLB.com's Adam McCalvy reports that Rodriguez is well aware of how close he is to 300 saves and wants to get the eight he needs. But will he get them in Milwaukee?
Outfielder Corey Hart could also be a trade consideration, according to Rosenthal, though he's signed through the 2013 season. If the Philadelphia Phillies sign Hunter Pence to an extension, Hart could find himself in position for a big raise that the Brewers don't want to pay. 
Of course, the Brewers could avoid all of these potential distractions if they just continue to win. Keeping his players focused on the task at hand might be exactly what Melvin had in mind when he decided to put off contract talks with Greinke.