Levante vs. Barcelona: Preview, Live Stream, Start Time and More
April 12, 2012

David Ramos/Getty Images
Barcelona continues to try and claw away at Real Madrid's La Liga lead as they travel to Levante this Saturday. Barca cannot afford to drop any points as Real look unlikely to drop any of their own with the six games remaining in each team's schedule.
As they are in nearly every game they have played this season, Barca will be the odds-on favorites to come away with the full three points, but it would be foolish for them to take Leavante lightly.
The Granotas made great strides from last season as their second straight year in La Liga sees them likely to qualify for a Europa League spot. A solid balance between attack and defense keeps them competitive in nearly every match they play. They even have a big win under them, beating Real Madrid 1-0 earlier in the season.
Here is everything you need to know for the tie.
Where: Ciudad de Valencia, Spain
When: Saturday, April 14, 4:00 p.m. EDT
Watch: ESPNDeportes
Live Stream: ESPN3.com
Player to Watch: Victor Valdes
Valdes has been excellent between the pipes for Barca this season. The team has the best defensive record in the league, with only 23 goals conceded, and most of the time Valdes is minding that goal. However, Valdes tends to struggle when the most is on the line.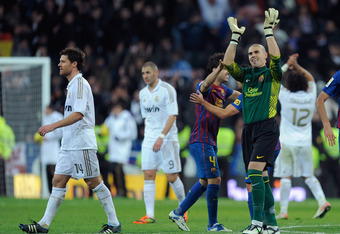 Denis Doyle/Getty Images
He plays down to competition occasionally, seemingly not being as aware or exact when his team is so heavily favored. He has cut down a great deal on the kind of mistakes that have cost his team in the past, but it always leaves fans worrying.
What's even more bothering is the potential he has to get yellow cards. Never one to back down from a disagreement and always willing to make his opinion known to the ref, he can get himself in trouble. Now this will matter little in this match, but with an El Clasico for the title less than two weeks away, another could have him out for that match.
He will have to be careful to not do something foolish now that could jeopardize the future.
Stats tell the story
Levante has scored 21 goals off of set pieces, accounting for 74 percent of their total scores. That is the highest in La Liga. If they can figure out a way to create fouls, they could have a chance.
Considering Barca concedes an average of 16 per game, that matchup could favor the underdogs.
What They're Saying
The great Pele recently came out with another one of his egomaniacal quotes, suggesting the Messi is not really the best player in the world:
There's always this Maradona comparison, saying that he's better than Pele. Now some are saying that Messi is better than Pele. Well, he has to be better than Neymar first, which he isn't yet. He has more experience.
Messi could be looking to shut Pele up with another multi-goal game.
Prediction: Levante 1-4 Barcelona
Levante will get on the scoreboard early off of a set-piece situation, but after that it becomes all Barca. Even if Messi and others get a break after the mid-week fixture, the reserves will have little trouble punishing their hosts for the early lead.
Follow me on Twitter: @thecriterionman