New York Yankees: Should the Bombers Be Concerned About CC Sabathia?
April 12, 2012

Rob Carr/Getty Images
Two starts into the 2012 season, CC Sabathia has hardly looked like the Yankees' ace who has won 59 games in his three seasons with the club. Should they be concerned?
Absolutely not.
While his starts against Tampa on Friday and Baltimore last night have been his worst two starts to open a season since putting on pinstripes, he has struggled to begin the season in the past.
The beginning of 2008, the year he split time between the Indians and the Brewers, was horrific. He gave up five runs on Opening Day to the White Sox, four runs to Oakland, then got shelled for nine runs in each of his next two starts against Oakland (again) and Detroit. Even after allowing just one run total over his next two starts, CC still had a 7.88 ERA at the end of April.
In 2009, fans might remember a regrettable Opening Day. The Yankees were in Baltimore, and their prized free agent signing gave up six runs, eight hits, and walked five in just 4.2 innings pitched in a 10-5 loss. He pitched well in his next start, tossing 7.2 shutout innings against the Royals.
He then opened up the new Yankee Stadium with a 10-2 loss, only allowing one earned run in 5.2 innings but allowing five hits, five walks, and throwing 122 pitches. CC faced Oakland in his fourth start, giving up seven runs (six earned) in 6.2 innings, then allowed four runs in eight innings to Detroit and five runs (three earned) to the Angels in 6.2 innings.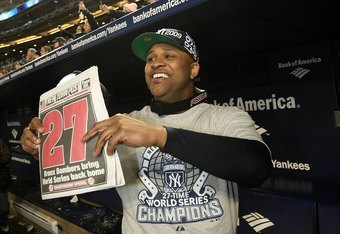 Nick Laham/Getty Images
After six starts, CC was 1-4 with a 4.85 ERA.
He started 2010 better than he did in 2009, but his first start was still not good—he gave up five runs in 5.1 innings at Fenway Park to the Red Sox. He followed that up with a string of five Quality Starts in a row, but he still opened poorly.
CC opened 2011 strong, so it's not that case that he struggles to begin the season every year, but precedent certainly suggests that Sabathia, for whatever reason, has occasionally had trouble in his first few starts of the year. Nevertheless, he still always turns it around the be the ace the Yankees expect him to be.
In 2008, he finished 17-10 with a 2.70 ERA (including 11-2 with a 1.65 ERA after being traded to the Brewers, earning him fifth place in the NL Cy Young voting even though he only pitched in the National League for half a season).
We all know what happened in 2009—CC went 19-8 with a 3.37 ERA and led the Yankees to their 27th World Series title.
2010 was another great year for CC. He was 21-8 with a 3.18 ERA,.
No need to worry about Sabathia. Even though he's been knocked around a little in his first two starts, it's not completely unprecedented and there's no reason to believe he won't turn it around like he's done in the past.
He struck out five hitters in his first two innings last night, and after giving up a grand slam in the first inning of Opening Day he only allowed one more run despite not having his best stuff.
It's a long season, and CC's only going to get better.