NBA Draft 2012: Predicting Most Surprising Picks of the First Round
April 12, 2012

Chris Graythen/Getty Images
There will certainly be some surprise picks in the first round of the 2012 NBA Draft, as that is seemingly the case every season.
Which team is going to roll the dice on Perry Jones III? Will a club that is desperate for size look to pull the trigger on Meyers Leonard far earlier than necessary?
There will be plenty of questions, but only the decision-makers in the front office have the answers.
These teams could certainly stir the pot when it's time to make a selection.
Sacramento Kings, No. 4: Andre Drummond, PF/C, UConn 
Here's the thing about the Kings: Sacramento has no need for more help in the backcourt or on the wing.
The team has to find a long-term answer alongside DeMarcus Cousins, and the talk of re-signing Jason Thompson is just chatter at this point in the game.
If the Kings have an opportunity to nab someone of Drummond's upside, it's a move that the franchise can't afford to not make—even if it is considered a reach by some.
Detroit Pistons, No. 8: Jared Sullinger, PF, Ohio State
There are a lot of people who don't believe Sullinger should be a top-10 pick, but he fits into Detroit's picture rather interestingly.
Joe Dumars has a history of drafting well (even if he doesn't do so great in free agency) and Sullinger would form a fearsome combination beneath the basket when playing next to Greg Monroe.
He'll need to improve defensively and prove that his lack of athleticism won't trip him up in the league, but there is reason to believe he could flourish in the right spot.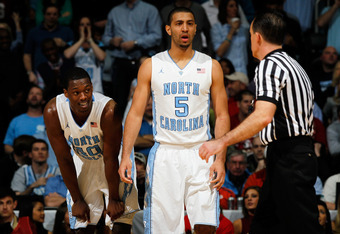 Kevin C. Cox/Getty Images
Portland Trail Blazers, No. 7 and No. 11: Kendall Marshall, PG, UNC; Tyler Zeller, C, UNC 
The Trail Blazers need to hit a home run in the draft, but the team is already locked into a couple of guys on the wing in Wes Matthews and Nicolas Batum.
Yes, Batum is a restricted free agent, but the Blazers will match any offer he receives unless it's something absolutely ridiculous.
What's the biggest need? A point guard and size. Raymond Felton is not the long-term answer and Marhshall's playmaking ability would allow the team to spend elsewhere on free agents.
Zeller is undoubtedly a question mark, but his height is legitimate and he could be a nice fit in the second unit as he transitions to the NBA.
Memphis Grizzlies, No. 22: Fab Melo, C, Syracuse 
Melo is someone who could rapidly rise up draft boards and his upside is tantalizing in the back end of the first round.
He needs to stay in shape and prove that he's dedicated to the game, but the Grizzlies would be wise to invest in a real backup behind Marc Gasol.
Melo could turn into a very impressive player, but there is a ton of gamble involved and his career trajectory could easily go either north or south rather quickly.
Boston Celtics, No. 20 and No. 24: Royce White, SF, Iowa State; Jeff Taylor, SF, Vanderbilt 
Some think the Celtics need to add legitimate size after failed experiments at center, but there isn't a prospect worth reaching for when Boston is likely to pick.
The club needs to add athleticism and youth on the wing to give Rajon Rondo players he can run with and it would be wise to find players who can help limit Paul Pierce's playing time moving forward.
The Celtics must target versatile players who are capable of contributing at both ends of the floor.