Norwich City vs. Manchester City: Preview, Live Stream, Start Time and More
April 12, 2012

Clive Brunskill/Getty Images
Manchester City kept their slim title hopes alive by thrashing West Brom at the Etihad Wednesday night. Add in Manchester United's shock defeat against Wigan, and what once seemed certain that the title will again land in the red half of Manchester has been put on hold temporarily.
However, if City want any hope of catching the Red Devils they must go perfect from here on out, starting with a victory against Norwich, Saturday at Carrow Road.
Norwich City is not to be underestimated as the Canaries have made the most of their first season in the Premier League since 2005. Sitting comfortably in tenth place, Paul Lambert's team is in almost no worry of falling into relegation.
City have not been exactly strong away from home this season, with a record of 7-4-5 not playing at the Etihad. But Carrow Road has not exactly been generous to Norwich either as they are a mediocre 6-6-4 at home.
With City finidng their groove over the midweek and their title hopes reignited, it will be interesting to see if they can keep it going against this tough Norwich side.
Here is everything you need to know about the tie.
Where: Carrow Road, Norwich
When: Saturday, April 14, 7:45 a.m. EDT
Watch: ESPN2 and ESPNDeportes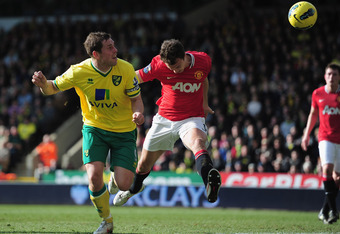 Jamie McDonald/Getty Images
Live Stream: ESPN3.com
Player to Watch: Grant Holt
Oddly enough, the return of Vincent Kompany to the City back line has not stabilized a ship that started to capsize. Once the best defensive record in the league by a long-shot, City have found themselves giving up easy and untimely goals.
Grant Holt has been lethal for Norwich City this season. The team's leading goal scorer (13) and captain has been excellent on the attacking front, poaching goals and causing all kinds of havoc for defenders. He was integral in Norwich's upset win over Tottenham this past Monday.
With size, strength and an endless tank of energy to fuel it all, odds are that he will factor into the match somehow. If the City defense can limit how much, then they should have little trouble stopping the Norwich attack.
But if Holt makes his presence felt early, it could be a long afternoon for the title contenders.
Stats tell the story
City are undefeated (12-2-0) in games where David Silva has scored or had an assist. When Silva fails to make a direct impression on the score sheet, City are a mediocre 8-4-4.
What They're Saying
The win over West Brom did little for City's title hopes according to City boss Roberto Mancini. Mancini still remains pessimistic for his team's hopes of wrestling the league title away from United:
United are a fantastic team and I don't think they can lose five points...I fight always, every day, and also my team but now I think it is too late.
The words "too late" are something you never want to hear out of your manager's mouth. But the delusional fantasies some City fans may have are going to disappear, and they are going to have to come to grips with this reality soon.
Interesting Trivia
Paul Lambert's side was the first to reach back-to-back promotion from third tier to the first since City did it back in 2000. City, however, found themselves back down in the Championship the following season.
Prediction: Norwich 1-2 Manchester City
It seems too harsh to rob us all of what could be one of the most exciting games of the season on April 30th, when United face off against City. If both teams win out, that match could determine the champion. Norwich will scrap one away from City to keep them on edge, but the Citizens are back in form and will come away with a victory.
Follow me on Twitter: @thecriterionman