NHL Playoffs 2012: What the Season Series Between Panthers-Devils Showed Us
April 12, 2012

It is in fact the most wonderful time of the year; 2012 NHL playoffs are finally underway.
Coming into the Eastern Conference No. 3 vs. No. 6 series, a tiny NHL loophole has the lower seeded New Jersey Devils (48-28-6, 102 points) matched up against the surprising Southeast Division champs Florida Panthers (38-26-18, 94 points).
With that being said, the New Jersey Devils came into the season with a new found hunger when they missed out on the playoffs last year for the first time in 16 seasons. Led by Ilya Kovalchuk, Patrick Elias and Zach Parise, the Devils played some beautiful hockey and held an impressive record in a more-than-ever competitive Atlantic Division against three major competitors (Rangers, Penguins, Flyers).
Florida on the other hand has not made the playoffs since 2000 and as a matter of fact, the Panthers, who were fifth seed in the Eastern Conference faced the No. 4 New Jersey Devils. Needless to say the Devils swept the Panthers in four games and went on to beat the Dallas Stars and win their second Stanley Cup in five years. Back to the current day, Florida only won two of their last 10 games in the regular season and seem to be in between a rock and a hard place with the 2000 rematch between them and New Jersey.
Game 1: November 21, 2011 Sunrise, Florida
Panthers 4, Devils 3
New Jersey Devils blazed to a hot start in the game, notching three first period goals contributed by Ilya Kovalchuk, Petr Sykora and  Dainus Zubrus, while taking complete control of the Panthers back line. Unfortunately for former Florida coach and current Devil coach Peter DeBoer, New Jersey relapsed and gave up two second period goals to Kris Versteeg and two third period goals to Stephen Weiss and Tomas Fleischmann with just 2:03 left in regulation.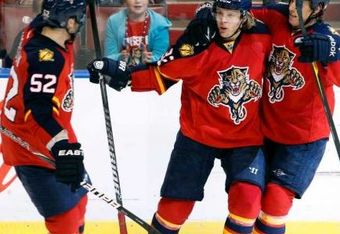 Jose Theodore made 22 saves on the night and added to his career record against the Devils to 8-14-2.
Devils were amid a five-game road trip in which they went 3-2 and were fighting early season woes to finish out games in the third period, and Florida completely exploited that weakness in this match.  
Game 2: December 13, 2011 Sunrise, Florida
Devils 3, Panthers 3 F/SO
Kris Versteeg was at it again with the New Jersey Devils and Martin Brodeur, having his second two-goal night in just as many games against New Jersey.
Florida and Versteeg saw their 2-0 lead for about :54 seconds when veteran winger Patrik Elias finally scored to awaken the Devils and cut the Panther lead to 2-1. Then the game was equalized halfway through the third period when Zach Parise put one passed Theodore who made 32 saves through regulation, overtime and the shootout combined.
New Jersey was 6-1 coming into the shootout and had a knockout shooting trio in Kovy, Elias and Parise combined with one of the greatest goaltenders of all time—Florida had their hands full.
Kovalchuk and Elias each scored in the shootout and completed the 3-2 comeback redemption for the loss in Game 1 of the season series.
Game 3: January 6, 2012 Newark, NJ
Devils 5, Panthers 2
The Panthers first visit to the Prudential Center was not a good one. NHL Rookie of the Year candidate Adam Henrique drew first blood with his goal three minutes into the game. Both of the teams opted to go with their backups respectively Johan Hedburg (Devils) and Jakob Markstrom (Panthers).
On this particular night, the New Jersey Devils all-time leader in goals, assists and points, Patrik Elias, was playing in his 1,000th career NHL game. And how sweet it was for him to light the lamp on his special night. The game was tied at one at the end of the first after Samuelsson put one passed the Swedish goalie. Then just :36 seconds in the second period Elias gave the Devils a go ahead goal, but it was short live. Florida's Krys Barch tied the game at two seven minutes into the period.
After an evenly matched game, hero of the night Patrick Elias assisted Ilya Kovalchuk for the 3-2 go ahead goal with just 8:20 left in regulation.  Then Kovalchuk added his second of the night on an empty net goal and Zach Parise added the fifth of the night on another empty net goal with just :40 seconds of game time.
Game 4: February 11, 2012 Newark, NJ
Panthers 3, Devils 1
Florida Panthers got the sweetest revenge in the fourth and final meeting between the two teams in the regular season by winning and evening the series at two a-piece.
Florida opted to go with former New Jersey Devil goalie Scott Clemmensen and Marty Brodeur took the pipes against his former backup. The Devils scored first and scored early. Bernier scored 1:39 into the game and then it was all Florida. The Cats scored a goal in each of the periods and they had contributions from Bergenheim, Versteeg (again) and Samuelsson on an empty net.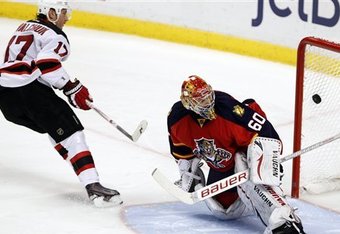 The stellar play of Scott Clemmensen gave with the player of the game award in his return to New Jersey.
Conclusion
The New Jersey Devils were pretty consistent this season with their home and away games with a 24-13-4 record at Prudential and a 24-15-2 record away from Newark. Florida had a 21-9-11 record in South Florida and 17-17-7 record away, high-lighing their closeness in games throughout the season.
I expect a great series and good hockey played. Watching both teams this season I know how streaky they can be but this seems to be in favor of the Devils. I want to say New Jersey in five, but everyone counted out Florida and they came out played scrappy hockey and I believe will put up a good fight.
PREDICTION: DEVILS IN 6