10 Most Surprising Slow Starts in Baseball's Opening Week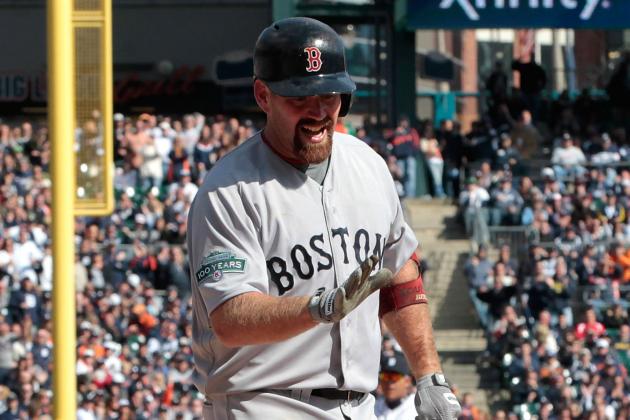 Leon Halip/Getty Images
It's been a nightmarish start for Kevin Youkilis.
We're only one week into a very long season, but for certain players in the MLB it's been a long first week.
Almost every baseball player goes through a rough patch each season. Over the course of a six-month, 162-game regular season it stands to reason that there will be ups and downs.
A rough patch is magnified when it happens at the outset of the season. With no accumulated statistics to buffer the impact of the slump, a player's numbers can look just awful.
Which big-name players are struggling in baseball's opening week?
Read on to find out.
Begin Slideshow

»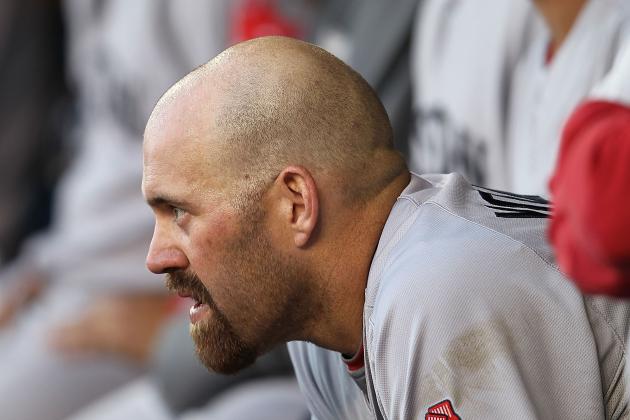 Leon Halip/Getty Images
Kevin Youkilis looks lost at the plate so far in 2012.
Kevin Youkilis: .100 Batting Average, 0 Home Runs, 0 RBI, .250 OPS
Nope, that's not a misprint. Those are actually Kevin Youkilis' numbers one week into the new season.
Dubbed "The Greek God of Walks" in Moneyball, Youkilis has morphed into Adam Dunn circa 2011. Through 20 at-bats he has six strikeouts and zero walks.
Making matters worse for Youkilis is that the Red Sox are off to an atrocious 1-5 start, making him a prime target of blame for an entire team's struggles.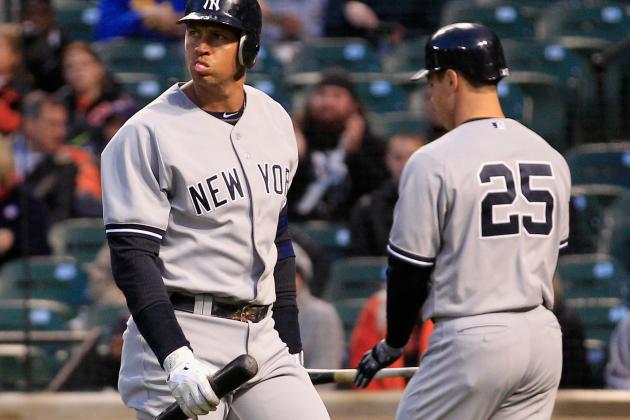 Rob Carr/Getty Images
Alex Rodriguez is still looking for his first RBI.
Alex Rodriguez: .174 Batting Average, 0 Home Runs, 0 RBI, .606 OPS
Those numbers might not look so bad when compared to Kevin Youkilis' but they are still not what one would expect from Alex Rodriguez.
A-Rod, who stands to make a tidy $29 million this season, is coming off a rough 2011 highlighted by an horrendous 2011 postseason. It was hoped that he would get off to a hot start to alleviate some of the pressure on him to produce but it's a little late for that at this point.
Don't for one second think that the sky-high salary he earns doesn't impact the level of patience fans have for these types of slumps. A-Rod will start hearing the boo-birds in New York if he doesn't snap out of this slump soon.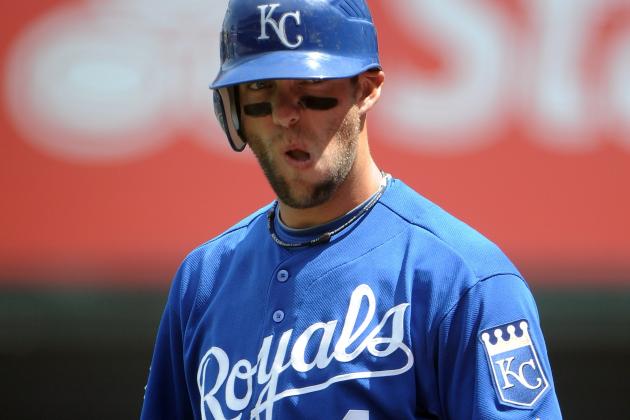 Harry How/Getty Images
A face of frustration for Alex Gordon after a very rough start to the 2012 season.
Alex Gordon: .091 Batting Average, 1 Home Run, 2 RBI, .427 OPS
After last season there were probably many people, Alex Gordon included, who felt that he had gotten over the hump and become the player many had thought he would be back when he was the number one hitting prospect in all of baseball.
After hitting over .300 last season, he has been inserted into the leadoff spot on a Royals team with a dynamic young offense.
Unfortunately for Gordon, he is not putting up the kind of numbers indicative of a leadoff man. With the big bats of the team now depending on Gordon as a table setter, the pressure is on for him to snap out of his slump.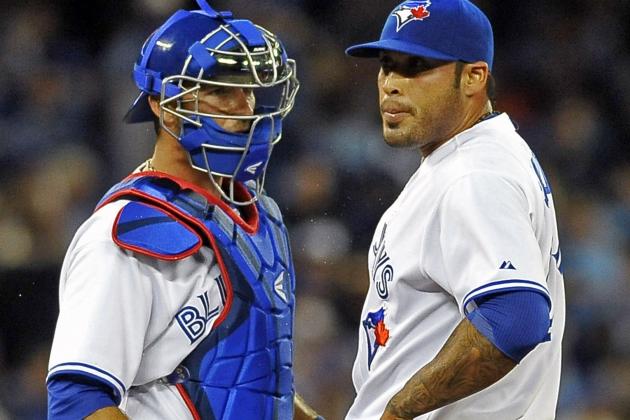 Brad White/Getty Images
Sergio Santos is off to a bad start as the closer in Toronto.
Sergio Santos: 4 Games, 3.0 IP, 0-1, 2 Blown Saves, 1 Save, 12.00 ERA, 2.33 WHIP
The Toronto Blue Jays dealt highly touted starting pitching prospect Nestor Molina to the Chicago White Sox for Sergio Santos because he was seen as an affordable and dominant closer of the future.
He may be just that, but so far 2012 has been a nightmare of blown save opportunities. Making things rougher on Santos is the presence of Francisco Cordero as his setup man. Cordero has a pretty good closer resume, and if Santos' struggles continue, his role as the closer could be in jeopardy.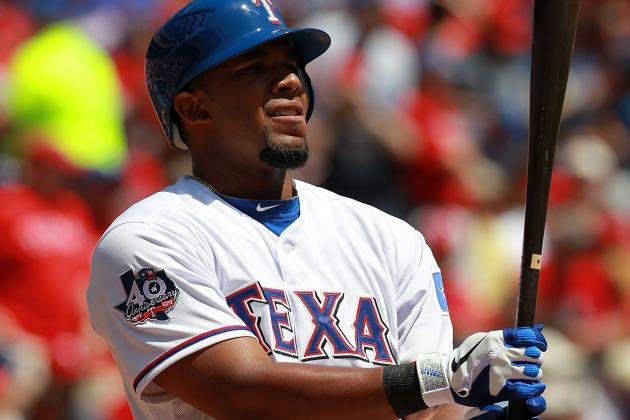 Ronald Martinez/Getty Images
Even Andrus himself seems perplexed by his own offensive futility.
Elvis Andrus: .125 Batting Average, 1 Home Run, 2 RBI, .410 OPS, 0 Stolen Bases
Shortstops are generally given some leeway as far as offensive production goes. The position is so critical defensively speaking that players who don't mash the ball can still earn jobs if their gloves are great.
But Elvis Andrus isn't supposed to be that type of shortstop.
To his credit, Andrus has been one of the best all-around shortstops in baseball since coming up for the Rangers.
But so far this season it just hasn't panned out. His struggles are not as glaring since he's surrounded by one of baseball's most lethal lineups, but if his slow start wears on it could spell trouble for both him and the Rangers.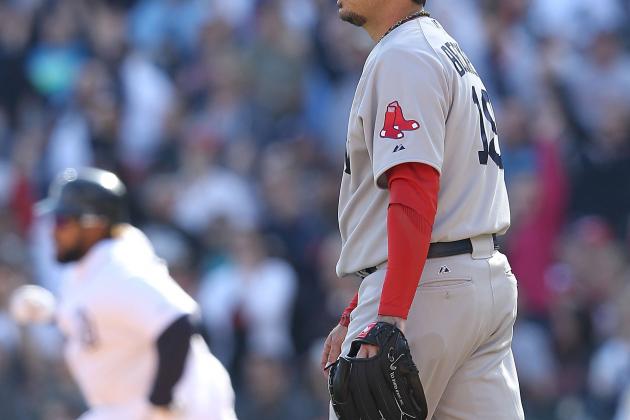 Leon Halip/Getty Images
Josh Beckett wonders what went wrong as Prince Fielder circles the bases following a home run.
Josh Beckett: 0-1, 13.50 ERA, 1.71 WHIP, 5 home runs
After all the beer and fried chicken nonsense surrounding last season's September collapse, perhaps no player on the Boston Red Sox could afford a terrible start less than Josh Beckett.
Tying a career high by allowing five home runs in your first start would qualify as a worst-case scenario.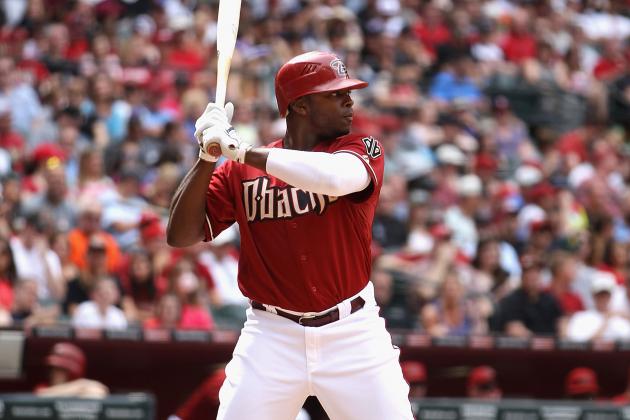 Christian Petersen/Getty Images
It's been a bad start for Justin Upton in Arizona.
Justin Upton: .133 Batting Average, 0 Home Runs, 0 RBI, .581 OPS
Justin Upton is only 24 years old and he's coming off a season in which he led his team to a National League West crown and finished fourth in the National League MVP voting.
The number one overall pick in the 2005 MLB Draft entered this season as a "can't miss" type of prospect who has lived up to all the hype.
The first week has left something to be desired though. Arizona is 5-1 but needs Upton to snap out of his slump if they hope to continue at that pace.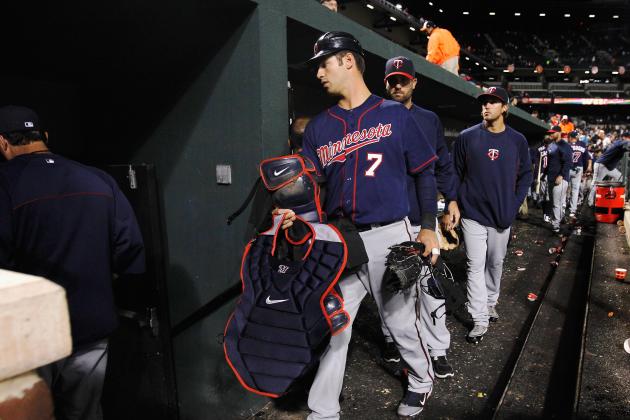 Rob Carr/Getty Images
It's been ugly in Minnesota for both Mauer and the entire Twins team.
Joe Mauer: .261 Batting Average, 1 Home Run, 5 RBI, .711 OPS
The Twins invested $184 million in Joe Mauer after he won the 2009 American League MVP Award.
Since then he's been injured more than he's been healthy and has been mired in a serious offensive slump to start the 2012 season. He's still one of the very best defensive catchers in all of baseball, but given his sky high salary, there is a lot of pressure on him to perform with his bat as well.
Sure, his stat line above isn't as bad as the others on this list. However, before his 3-for-5 night on Thursday that included a three-run blast of the Angels' Dan Haren—his first home run of the young season—Mauer was hitting just .167 with a .417 OPS and just two RBI. This early in the season, it takes just one solid game to boost a player's stats.
The question is, was Thursday's performance an anomaly or just what Mauer needed to break out of his funk?
The Twins may be in a rebuilding mode, but they are supposed to be rebuilding around Mauer. That's going to be tough to do if he's not hitting consistently.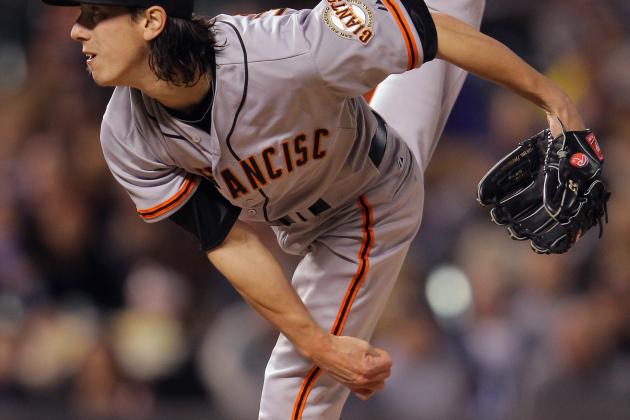 Doug Pensinger/Getty Images
It's been a very rough start for former Cy Young winner Tim Lincecum.
Tim Lincecum: 2 Starts, 0-1, 12.91 ERA, 2.22 WHIP
No one in all of baseball could have predicted that after one week the San Francisco Giants would have a shutout from Barry Zito and not one, but two terrible starts from Tim Lincecum.
Lincecum looks totally different than the dominating pitcher who won back-to-back Cy Young Awards in 2008 and 2009. For a Giants team aspiring to return to its glory of the 2010 season, this is more than just a minor concern.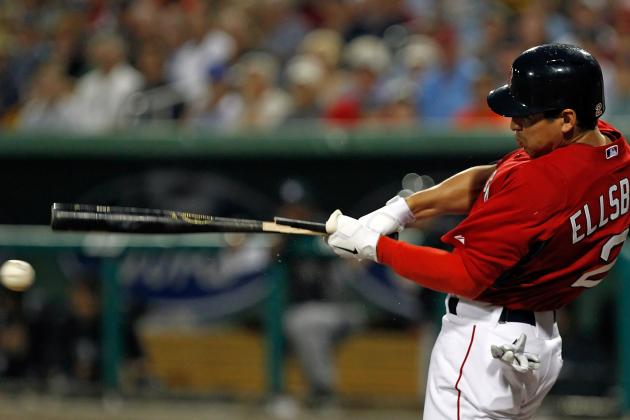 J. Meric/Getty Images
Contact? It hasn't happened often enough for Jacoby Ellsbury in 2012.
Jacoby Ellsbury: .130 Batting Average, 0 Home Runs, 2 RBI, .433 OPS, 0 Stolen Bases
The offensive player who finished highest in the 2011 American League MVP voting was not Miguel Cabrera, Curtis Granderson or Jose Bautista. It was Jacoby Ellsbury, a player who led all of baseball in total bases and drove in more than 100 RBI from the leadoff spot.
No one really expected Ellsbury to improve on those numbers, but this type of start was not anticipated. Not from a player who is 28 years old and played great through a terrible September in Boston.
Ellsbury seemed as safe a bet as anyone to come out of the gates hot, but then again, underachieving seems to be the rule and not the exception for the Red Sox this season.