Morning MLB Links: Cano vs. Kinsler, Walk-Up Music, Ozzie and Barkley
April 12, 2012

Rob Carr/Getty Images
Good morning! Here are some articles we think are worth reading as you settle in to begin your day.
• Could Ian Kinsler's five-year, $75 million contract extension actually lower the bar for New York Yankees second baseman Robinson Cano?
The New York Post's Joel Sherman felt that Cano would receive $20 million to $25 million per year in a new contract, but if Kinsler's annual price is $15 million, is Cano that much better? 
• If you've been sitting at your desk wishing for a list of walk-up music for Colorado Rockies batters, dream no more. The Denver Post's Troy Renck provides the intro tunes for Rockies position players and a few pitchers. As if I needed another reminder of how old I'm getting, I don't recognize any of these songs.
Off to iTunes or Amazon (or, ahem, other means) you go!
• Maybe all the MLB beat writers should provide their team's walk-up tunes. MLB.com's Todd Zolecki lists the Philadelphia Phillies' intro music, as well. Actually, he provides a bit of extra service over Renck, in that he links to YouTube clips of each song, if available. (Now I can hear "Levels" by Avicii.)
I might still have a shred of cool, as I know some of the Phillies' choices (Led Zeppelin, Phil Collins, Alice in Chains.)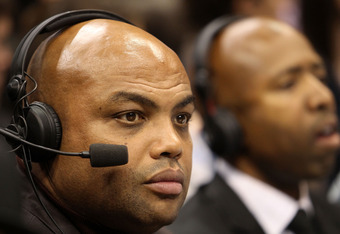 Ronald Martinez/Getty Images
• Charles Barkley has been trying to get in touch with Miami Marlins manager Ozzie Guillen, according to ESPN Chicago. Barkley feels he can relate to Guillen's current problems, given the uproar and remorse caused by him spitting on a girl back in the '80s.
• The Yankees' Eduardo Nunez executed a less-than-graceful slide into third base during Wednesday's night game against the Baltimore Orioles. Getting Blanked has a GIF of Nunez's stopping-short skid. 
• Grantland's Adam Moerder doesn't want to see the Detroit Tigers become an AL Central dynasty. Not just because it would be boring, but because the Tigers have shown hubris in assembling their roster.
As a bonus, DesigNate Robertson responds with a point-by-point rebuttal. Or, as we call it on the Internet, a fisking. 
• The good karma from the Los Angeles Dodgers' home opener apparently only lasted one day. Or maybe it was premature to declare that things have changed. Attendance for the Dodgers' second home game was noticeably lower, with many no-shows, according to the L.A. Times' Steve Dilbeck.
• Former Boston Red Sox manager Terry Francona told the Boston Globe's Dan Shaughnessy that he won't attend 100th anniversary festivities at Fenway Park next week. Another old skipper that also apparently won't be stopping by is Grady Little. ESPN Boston's Gordon Edes reports Little was sent an invitation, but hasn't responded. 
-- Have any links worth sharing? Pass the goodies along to @iancass or icasselberry@bleacherreport.com