Scott Hall: Former WWE Star Denies All Charges in Domestic Abuse Case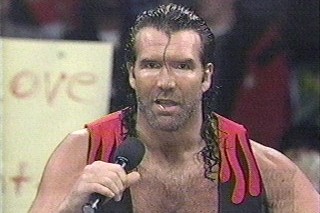 Photo courtesy of WWE.com

Days after being arrested for an alleged domestic abuse incident involving his girlfriend, former WWE star Scott Hall is denying all charges against him, according to TMZ.
Hall's girlfriend, Lisa Howell, said that Hall had grabbed her by the neck and arm and attempted to pull her out of her car outside Hall's Chuluota, Fla. home. According to the report, there were red marks on Howell's neck that were consistent with her story, so the police decided to arrest Hall.
According to Hall's lawyer, though, Howell didn't want Hall arrested and she claims no physical abuse happened despite the fact that she called the police. The entire situation is obviously a strange one, but it should come as no surprise when you take into account how Hall's life has spiraled out of control.
Hall has been addicted to drugs and alcohol for quite some time, and despite repeated stints in rehab, he has been unable to shake his addiction. According to the original report by TMZ, Hall was visibly intoxicated when the police arrested him and had an "unknown white secretions flowing from both sides of his mouth."
Do you believe Hall in this situation?
Also, rather than booking him immediately, he had to be taken to the hospital first in order to get medical clearance because he was in such poor condition. If that is truly the case, then it's understandable why the police decided to arrest Hall, even if Howell requested that they didn't.
As much as most wrestling fans likely want to support and believe Hall in this instance, it's becoming tougher and tougher to do so. It looked like Hall might have been on the road to recovery when his ESPN E:60 special aired several months ago, but like every time before it, he has fallen back into the abyss.
Perhaps this whole situation was a big misunderstanding, but based on Hall's recent history, you can't blame anyone for being skeptical.
This article is
What is the duplicate article?
Why is this article offensive?
Where is this article plagiarized from?
Why is this article poorly edited?