NHL Playoff Schedule 2012: When and Where to Watch Thursday's Stanley Cup Action
April 12, 2012

Nick Laham/Getty Images
The 2012 Stanley Cup Playoffs have begun, and just about every day for the next few weeks is loaded with fantastic NHL showdowns. 
Watching all of these games will be difficult, but if you have the capability to do it then you definitely don't want to miss out on any of the great action. 
Thursday night features four games and if they're anything like Wednesday night's festivities, it's going to be a fun ride. 
With that said, here's all the info you need to watch each game tonight. 
Ottawa Senators at N.Y. Rangers
When: April 12 at 7:00 p.m. ET 
Watch: MSG, NHLNET, CBC, RDS
Difference Maker: Henrik Lundqvist, G, Rangers - Top goalie in the game today. He has to continue to be elite for New York to win it all this year. 
Washington Capitals at Boston Bruins 
When: April 12 at 7:30 p.m. ET 
Watch: NESN, NBCSN, CSN-MA, CBC, RSD2
Difference Maker: Alex Ovechkin, LW, Capitals - Phenomenal player not really having his best year, but he still has to be dominant in the playoffs if Washington is going to upset Boston. 
San Jose Sharks at St. Louis Blues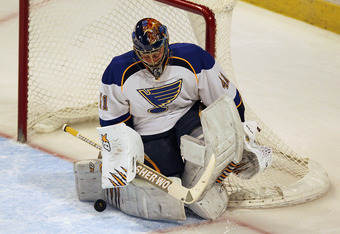 Jonathan Daniel/Getty Images
When: April 12 at 7:30 p.m. ET 
Watch: TSN, CNBC, CSN-CA, RDSI, FOX MIDW
Difference Maker: Jaroslav Halak, G, Blues - Getting the start over Brian Elliott, has to prove he can be the main man in high-pressure playoff situations. 
Chicago Blackhawks at Phoenix Coyotes 
When: April 12 at 10:00 p.m. ET 
Watch: TSN, NBCSN, RDS, CSN-CH, FSA+ 
Difference Maker: Jonathan Toews, C, Blackhawks - Concussion injuries have hindered him this season, but he will play tonight. Chicago desperately needs their leader to thrive with so much on the line.