Atlanta Braves: Will Livan Hernandez Contribute Anything in 2012?
April 12, 2012

Bob Levey/Getty Images
Shortly after being among the last spring training roster cuts by a 76-win Houston Astros team, Livan Hernandez only had to drive a short distance down the road to find a new home at the Atlanta Braves spring training complex.
Factoring in the struggles of Julio Teheran and Randall Delgado during camp, the initial reaction after Hernandez was signed to a $750,000 one-year deal was that he would be in the rotation as the fifth starter while Tim Hudson was on the shelf.
With Hernanadez being most notable as an innings-eating starter, general manager Fran Wren told MLB.com, "We made it clear to Livan [that] he is not in competition for the fifth starter's spot at this point."
Of his 475 games played as a big leaguer prior to this season, only one of those was in a relief appearance and that was 16 years ago.
What can this seasoned vet contribute, if anything, to the Braves bullpen in 2012?
Craig Kimbrel, Jonny Venters and Eric O'Flaherty are the core of the bullpen and have the late-innings on lock down.
Arodys Vizcaino's season-ending injury means Kris Medlen moves up the pecking order and will likely be called upon to pitch more high-leverage situations.
With the heavy workload of 2011 lingering over the primary relievers and Medlen coming off a season in which he only pitched 2.1 innings while recovering from Tommy John elbow surgery, the Braves hope Hernandez can fill the role of the long reliever.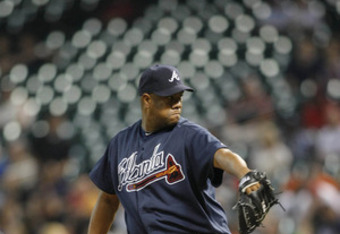 To date, his effectiveness has left a lot to be desired. In his two appearances, both against less-than-stellar lineups, Hernandez has thrown 3.2 innings with two runs allowed and opponents are hitting .412 against him.
He must continue learning the nuances of life in the bullpen to help assist the transition, such as how much time he needs to warm up prior to entering the game or conditioning himself to pitch on back-to-back days if needed.
It is doubtful Hernandez's production on the field will produce what his contract says it should.
His value will hinge more on how many innings he can take off the arms of the core bullpen members rather than what his statistics will look like.
His presence on the pitching staff also eases some pressure off manager Fredi Gonzalez to continue using Teheran or Delgado as spot starters if they continue to struggle, though Delgado did pitch well in his season debut on Wednesday night.
The pitcher that is most affected by the Hernandez signing will be Cristhian Martinez, who will now be given the opportunity to play a more important role in the bullpen.
Martinez's ground-ball rate as a reliever (56, 58.5 and 47.6 percent in three MLB seasons) could play a more prominent role in specific late-inning situations rather than the long relief role he was used in last season.
As for the question to whether or not Hernandez can contribute anything to the Braves this season, let's certainly hope so. It's unlikely an organization that is as salary-cap strapped as Atlanta seems to be will eat that kind of money.
Count on his biggest contribution coming from what is unseen rather than what he will provide on the field in mop-up duty.
His presence alone will allow other relievers to slot into more high-leverage roles, and if the manager does his job properly, the back-end guys shouldn't finish near the top of the games-played rankings by seasons end, yet again.
Jim Pratt is a Featured Columnist covering the Atlanta Braves for Bleacher Report, and is an MLB contributor for MLBDepthCharts and BravesWire. Follow Jim on Twitter, @2OutSacBunt