NHL Playoffs 2012: 5 Key Players to Watch in Thursday's Games
April 12, 2012

Nick Laham/Getty Images
The second day of the postseason has a strong lineup planned, with four series commencing Thursday night. With so many games, it's easy to get overwhelmed and start missing things.
Well, here are five guys to watch for tomorrow night. If there's exciting action, they'll likely be involved.
1. Henrik Lundqvist, New York Rangers
It stands to reason that you should focus on the man who got them there. Henrik Lundqvist had a beast of a season, finishing 39-18-5 with a goals-against average under two and a .930 save percentage. The Rangers have many skilled forwards and defensemen, but Lundqvist is their biggest weapon in any given game.
This Senators team could pose a threat to Lundqvist. They had the fourth-most productive offense in the league, and between Milan Michalek, Jason Spezza and Daniel Alfredsson, they find ways to win. The Rangers have an offense that can handle the Ottawa back-end, but it will all start with Lundqvist standing tall in his own end.
2. Erik Karlsson, Ottawa Senators
When the Senators travel to Madison Square Garden, someone is going to need to be a driving force if the team is to have a chance.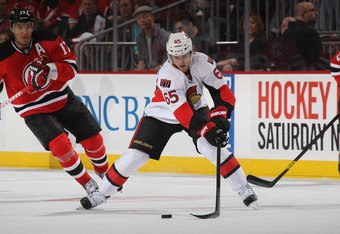 Bruce Bennett/Getty Images
The young, Swedish defenseman exploded for 78 points this season, 25 more than any other defender. Karlsson was instrumental in Ottawa's regular-season success, and that translates to here. Karlsson will be looked to as much as anyone to try to lead an attack against the Rangers defense.
He'll also have to play sound defense, or the speed of the Rangers forwards will make him pay for it. Karlsson is good enough to play like a fourth forward, but he can't leave the team vulnerable or be left out of position.
3. Alex Ovechkin, Washington Capitals
Yeah, fine, it's cliche. But Alex Ovechkin is still that superstar capable of 65 goals in a season, so he has to be taken seriously. Besides, he finished the season with 11 goals and three assists in his final 13 games, so despite his (relatively) horrendous stats, he heated up at the right time.
Boston is a team that's built on defense. While the Bruins forwards pose a sizable threat to the Caps defense, challenge number one if you want to beat the Bruins is figuring out Tim Thomas, and Ovechkin is a player with enough skill that he may be able to do just that.
Ovi loves physical hockey and the Bruins always welcome it, so look for Ovechkin to throw some fast-and-loose checks early on before hunkering down and assaulting the Bruins netminder.
4. Jaroslav Halak, St. Louis Blues
Halak was named the starting goaltender this week by coach Ken Hitchcock. It's no huge surprise, given that Halak played more games during the season and has more playoff experience, but it placed Halak in what's sure to be an active position.
Halak will be going against one of two teams in the league that managed three 30-goal scorers in Joe Pavelski, Patrick Marleau and Logan Couture. Add in Joe Thornton, arguably the best set-up man of the past 15 years, and you have an exceedingly dangerous offense.
Halak played impressively well all season, and he has carried teams in the playoffs before. But if one thing's for certain, he will be tested a great deal this series.
5. Ray Whitney, Phoenix Coyotes
This is a series where many have predicted a Blackhawks upset. That's probably fair. After all, there's a lot of great players on Chicago. They have Patrick Kane, Patrick Sharp and Marian Hossa—this is all ignoring Jonathan Toews may return soon. The talented Hawks offense will put constant pressure on Coyotes goalie Mike Smith.
Smith is coming off of a tremendous year, and may be able to hold off the Blackhawks—but he's not the focus here. Ray Whitney needs to lead by example with strong counterattacks and an attempt to chip away at the Blackhawks' weak spot, goalie Corey Crawford.
If Whitney can get Phoenix's offense active, they could create much more trouble for Chicago than some anticipated.