2012 NFL Draft: The Closest Thing to a Guarantee in This Draft Could Fall to 20
April 12, 2012
Donald Miralle/Getty Images
There a few things I know about this draft from watching the film. The first two QBs off the board are both perfect fits for their future teams. Trent Richardson will be one of the best RBs in the NFL within his first three years. Ryan Tannehill will be over-drafted. Most importantly though, David Decastro is the closest thing to a guarantee in this year's draft.
Who picks at No. 20 again?
That would be the Tennessee Titans. The Titans have to be dreaming about David Decastro in these last few weeks before the NFL Draft. However without trading up, how could the Titans possibly get someone this good? Well there is a scenario slowly falling into place that could lead to that outcome. It all starts with the Carolina Panthers.
If you just want the bullet points read the bold letters only. The other type is details as to why those teams would make those picks. Enjoy!
Carolina take any of these DTs: Michael Brockers, Dontari Poe, or Fletcher Cox.
In my opinion the biggest need in the draft this year for the Panthers is a defensive tackle. They were gashed with runs last year and a big body in the middle could go a long way towards solving that problem. If that wasn't enough of a reason, the extra attention in the middle would give Charles Johnson more space to use to his advantage when trying to get to the QB.
It doesn't matter which of the players they take, because in this scenario whoever gets picked will most likely be the only DT taken in the top 20.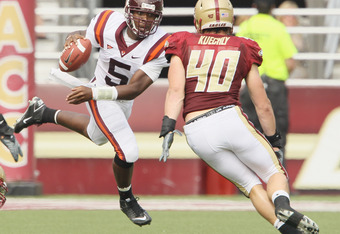 Elsa/Getty Images
Kansas City takes NT Devon Still or MLB Luke Kuechly
The Chiefs could be eying either one of these players at No. 11. Devon Still could be the perfect anchor for that young defense for years to come. On the flip side, Kuechly provides a level of production that would tantalize any defensive minded coaching staff.
Arizona takes OT Riley Reiff or Jonathan Martin
Reiff is far superior to Martin in almost every way, but that offensive line is in such shambles that either one would be noticeably better than what they have now. With that being said, a solid starter at OG in free agency can be found at a reasonable price, but finding any kind of OT in free agency is tough. It is even worse trying to find one cheap.
While this may not end up being the best football position, from a value and fiscal standpoint this pick makes a lot of sense.
Dallas takes DE/OLB Whitney Mercilus, Courtney Upshaw, or CB Janoris Jenkins
Dallas has signed two guards in free agency this year, and Jerry Jones took an offensive lineman in last year's draft. It is my personal opinion that Jones wouldn't take a guard in the first round of the draft even at pick No. 32. And to think that he would pass on any of the big name players I have listed for Decastro would blow my mind.
The New York Jets take S Mark Barron, C Peter Konz, or Best available WR.
With Barron in at safety the Jets could regain my vote for best defensive backfield in the league. A versatile "thumper", Barron can be a mobile chess piece for Rex Ryan and company.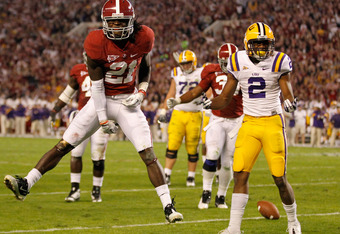 Streeter Lecka/Getty Images
Speaking of which, I think that Konz can excel at either guard position as well as his natural center. That being said why not put him on the line next to Mangold so he can be groomed by the best. With that tandem in the interior, the Jets could get back to the pound-it-down-your-throat mentality they love. 
The Bengals take CB Dre Kirkpatrick, RB Lamar Miller, or OG/OT Cordy Glenn
Any of these players could help push Cincinnati over the edge. That leap takes them from wild-card contender to AFC North division champions.
Glenn can be a load in the middle that has potential to play outside with some polish. Lamar Miller is a quick one-cut back that could thrive early in a rotation and could become the prime ball carrier by Week 6. 
Kirkpatrick has the size, speed, and skill set to play either CB, S, or NB immediately. He is a plug-and-play athlete that would be huge for this team's defensive depth. 
Chicago takes OT Mike Adams, WR Kendall Wright, Michael Floyd, or DE Quinton Coples
While OL is a big need, the Bears could go several directions here that don't involve DD. All the options above would be a huge upgrade, but the one I want to talk about the most is Coples.
Under the tutelage of premier pass-rusher Julius Peppers, Coples could be properly motivated. The two are both former Tar Heels with freak attributes. Both are tall, lanky, and are incredibly productive when they want to be. If Peppers, Urlacher, and Briggs can get just half of Coples potential out of him then this pick will be a steal.
Ta-Da! The Titans take OG David Decastro.

See it all worked out and everybody got a big improvement. Send in your comments and let me know what you think. Thank you!