NHL Playoffs : 3 Stars from Wednesday Night's Games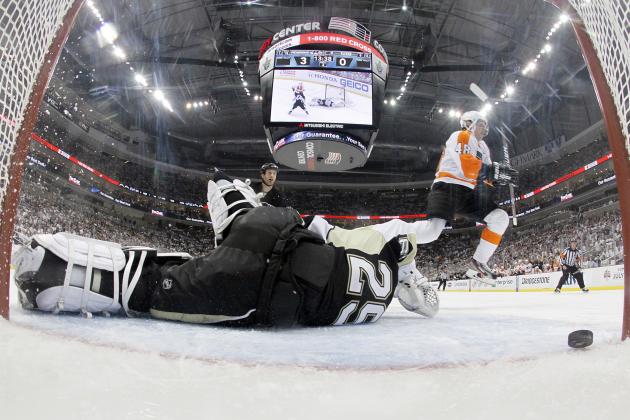 Justin K. Aller/Getty Images

The 2012 NHL Stanley Cup Playoffs began with a bang Wednesday night.
That bang saw three close games require 183 minutes of total play to decide three winners. The Flyers and Penguins needed overtime, while both the Red Wings-Predators and Kings-Canucks games were gritty battles until the final horn.
After all the body-checking and stellar goaltending, there were three players who stole the spotlight on the first night of the playoffs.
Begin Slideshow

»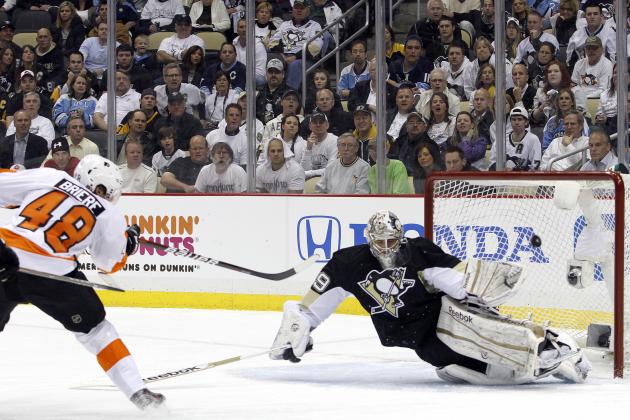 Justin K. Aller/Getty Images

If you look closely enough at the above image you can almost see the gasping breaths of the Penguins' fans.
Despite Pittsburgh's best efforts to make Briere a non-factor in this series by inflicting pain using hits by Joe Vitale a week ago and Brooks Orpik tonight, Briere could not be stopped Wednesday night.
When the Flyers went down 3-0 early, Briere sparked Philadelphia early in the second period with a controversial goal past Marc-Andre Fleury. Later in the third period it was Briere again who scored from a sharp angle to bring the score to 3-2 and shift the momentum to Philadelphia.
The Flyers went on to win the game 4-3 in overtime.
Oh and by the way, statistic of the night: Briere has 98 points in 98 career playoff games.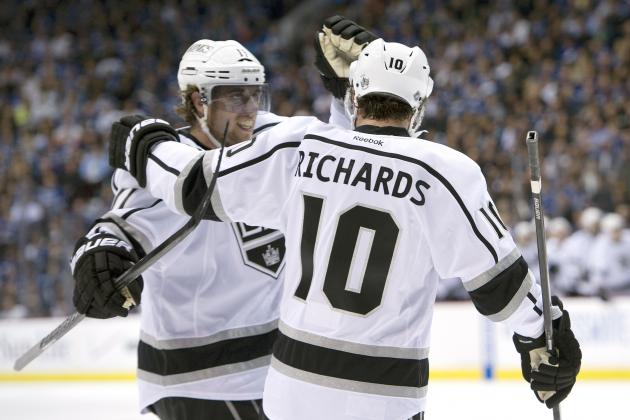 Rich Lam/Getty Images

Few people may have expected Kings forward Mike Richards to be one of the best players on Wednesday night but he was.
Not only did Richards have a superb game with a goal and two assists but he also played a strong, physical game.
Seemingly every shift Richards' name was being mentioned causing turnovers, dishing out huge hits and being a force on the ice. Just ask Alexandre Burrows how hard Richards was playing.
He constantly frustrated the Canucks' scorers and set the pace for the game—earning him the first star.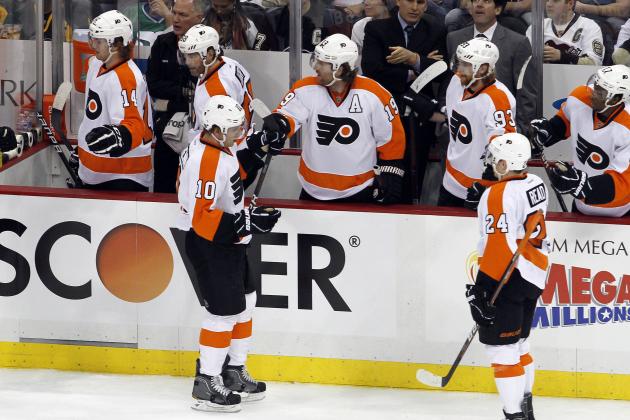 Justin K. Aller/Getty Images

Brayden Schenn played like a seasoned veteran Wednesday night.
Schenn notched a goal and two assists on the night while going plus-two. Schenn's deflection off a Scott Hartnell shot mid-way through the third period completed Philadelphia's comeback from a three goal deficit.
Schenn reached the score-sheet on every regulation goal the Flyers scored, helping the Flyers deflate the Penguins and gain the series lead.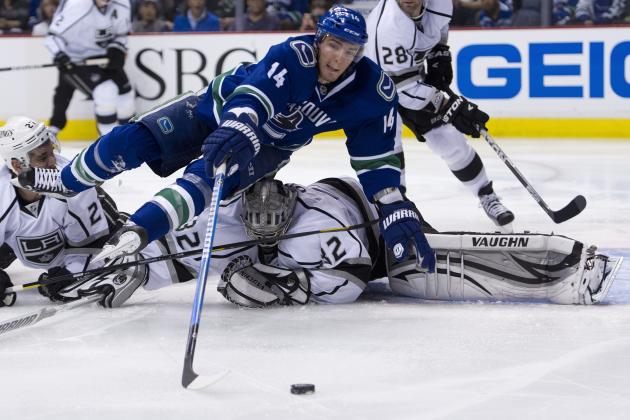 Rich Lam/Getty Images

Johnathan Quick: Quick stopped 24 of 26 shots Wednesday night for the Kings including multiple scoring chances. He will prove to be a huge factor in the outcome of this series.
Gabriel Bourque: Bourque scored two goals in his first career NHL playoff game and was the difference in a 3-2 win against Detroit.
Roberto Luongo: Luongo is on a short leash in Vancouver in this series due to memories of last year being still fresh and Cory Schneider waiting anxiously on the bench. While the Canucks lost the game, Luongo made 35 saves including numerous re-direction stops.