Should NBA Olympians Be Paid? Dwyane Wade and Ray Allen Think so
April 12, 2012

Elsa/Getty Images
[Begin sarcasm]
Dear Dwyane Wade and Ray Allen,
From everyone here in America to you, we feel your pain.  If your NBA team goes deep in the playoffs this year, you're only going to have two weeks off before you have to go play for Team USA in London at the 2012 Olympics.  
Not to mention that the gold medal game is scheduled for August 12, only about a month before you're just going to have to go back and start playing basketball all over again with your NBA teams.  Talk about problems.  
According to Forbes.com, Dwayne, you only made $26 million last year. Ray Allen, you're only bringing home a $10 million salary from the Celtics.  I'm going to be honest, it's a struggle for me to imagine how you manage.
For one, you are basically forced to play a game for a living and only making millions of dollars a year for doing it.  There is no way you should get to represent your country without some kind of compensation.
Forget the sponsorships; I know I've heard somewhere that man cannot live on multi-million dollar annual salary and sponsorships alone.  
Forget the fact that your country has provided you with the opportunity to get paid millions to play a game by supporting your sport through lockouts and having to hear about bargaining agreements where people are arguing over amounts of money most of us literally couldn't count to. Playing a game without getting paid to do it is something for children who'll never have your talent.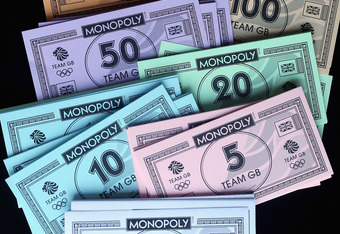 Oli Scarff/Getty Images
Speaking of representing your country, how about all of those lucky United States military personnel?  They're getting paid just like NBA players when they go overseas to represent our country.  You guys are going overseas to represent our country—why not you too?!  Yeah, they risk their lives defending the choices of our elected politicians, but they're getting paid and that's what matters.  
Do you think anyone would even be in the military if all they got for it was a 5-star hotel, all of their equipment, all of their food, all of their travel and the pride of knowing they were representing the United States?  Doubtful!  It's not like I can pay my rent with "USA PRIDE" written on the amount line, right?
Now I understand what some people are going to say.  They're going to say that it's an honor and privilege to represent the United States of America in a competition like the Olympics.  
They're going to say that the Olympics provides athletes with the opportunity to show themselves off to the world (which in turn gets them paid) creating larger-than-life legends like Rulon Gardner, Jim Craig and Mike Eruzione, Mary Lou Retton, Carl Lewis and Michael Johnson, Apolo Anton Ohno, Tommie Smith and John Carlos.  
They're going to say that leading Team USA in scoring in the 1984 Olympics put Michael Jordan's face on the globe.  They're going to say that a selfless desire to represent your country can actually alter the outcome of some of the most historically significant things in history, like wars.
But while they're saying all of this stuff, remember one thing: They're not good enough to do what you're capable of doing on a basketball court.
So in closing, pay no attention to the average Joes, playing basketball literally every, single day of the year just because they love the game.  They're schmucks, and playing basketball for free is a silly notion for folks who just don't know any better.  
Forget the legions of players who haven't even had this thought cross their mind when given the opportunity to represent their country in the Olympics.  They just didn't have the foresight that the two of you have.  
And you know what else?  Forget the fans who might've thought for just a moment that someone should feel blessed to get paid anything at all, let alone millions, for playing a game.  
Forget those jealous folks who think it's a "big deal" to be selected to represent their country in an event that, once every four years, unites the entire globe.  They're just jealous and lack the business acumen necessary to make it big time.  
Let's be honest—in the end, it's not about the history, it's not about creating something bigger than yourself, it's not about respect for the game, respect for the country, pride, honor, or glory.  It's about money.
From all of your loyal, adoring fans, we're with you to the green, green, green, green, very green end.
Never change.
P.S.  Since LeBron said to Michael Wallace of ESPN.com, "It doesn't matter.  I'm happy to be part of the team, to be selected again," when asked about your comments, we would understand if you never passed him the ball again.
[end sarcasm]