MMA: The 25 Most Intimidating Fighters Right Now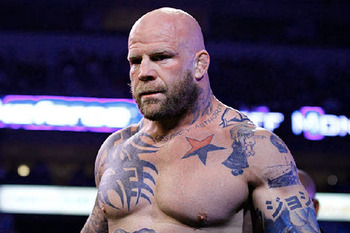 Photo credit: ESPN
If my thoroughly unscientific research is any indication, people who don't watch a lot of MMA (and, believe it or not, there are a good amount of them) seem to have this perception that the fighters are all a bunch of barbaric, bloodthirsty, heavily tattooed, baby-eating, street-brawling cannibals.
Serious fans, of course, know better. Serious fans realize that, brutal though it undoubtedly is, most of the sport's combatants take pains to follow the rules, respect their opponents, and show gratitude to the fans.
What's more, serious fans derive more than a little entertainment from the unassuming physiques of some of the sport's most revered practitioners (see: Penn, B.J.; Emelianenko, Fedor; Silva, Anderson).
No, the reality is a far cry from the mohawks, show muscles and Satanic tattoos that festoon the cage fighters of popular imagination. It's just one of those common misconceptions about MMA.
This slideshow will do nothing to dispel that misconception. In fact, it's likely to further ingrain it. These are the 25 most intimidating fighters active in the sport today. Fight style and win-loss record have nothing to do with it. This is based on looks only. These are the guys who, even if you didn't know who they were or what they did for a living, you'd cross the street if you saw them coming your way.
Spread some irrational fear, perpetuate some stereotypes, and share it with your friends.
25. Diego Brandao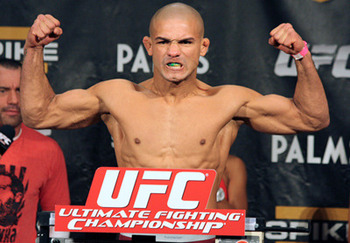 Photo credit: MMA Junkie
Promotion: UFC
Record: 14-7
Winner of season 14 of The Ultimate Fighter, Brandao's got the shaved head now to go with the angry scowls and craning tendons.
24. Takeya Mizugaki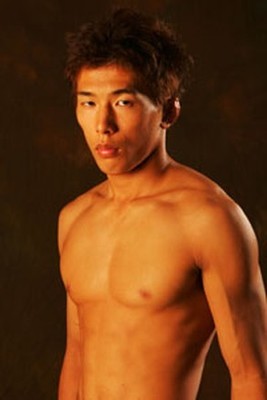 Photo credit: Five Knuckles
Promotion: UFC
Record: 15-7-2
The journeyman bantamweight has apparently mastered the art of the stony stare.
23. Bob Sapp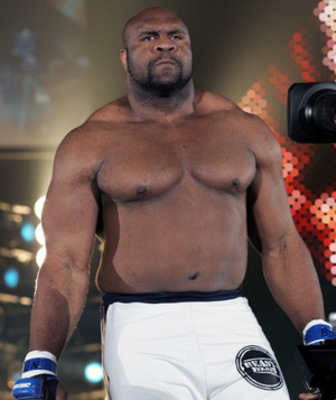 Photo credit: DREAM
Promotion: Whoever CTC
Record: 11-14
He could go a lot higher. I know I said I wasn't going to consider record or fight style, but I couldn't help myself in this case. He definitely deserves some kind of spot, though.
22. Tim Boetsch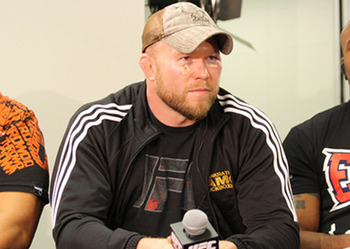 Photo credit: MMA Junkie
Promotion: UFC
Record: 15-4

The hulking middleweight says he feels ready to make a run. I, for one, believe him.
21. Jose Aldo
Photo credit: ESPN
Promotion: UFC
Record: 21-1
Belt aside, which one of these guys would you want to fight?
The baby face is more than offset by an angry scar and an angrier gaze.
20. Rousimar Palhares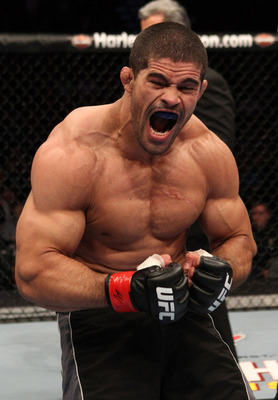 Photo credit: Mixed Martial Arts.com
Promotion: UFC
Record: 14-3
Like someone crossed a wolverine with a walnut.
19. Alexis Vila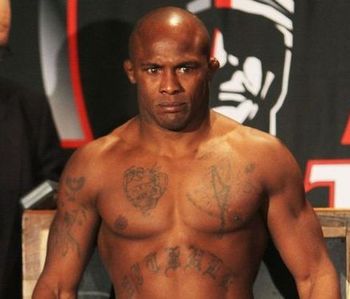 Photo credit: Sherdog
Promotion: Bellator
Record: 11-1
Bellator's bantamweight tourney finalist looks like he'd be just as comfortable fighting zombies as other people.
18. Tony "Kryptonite" Lopez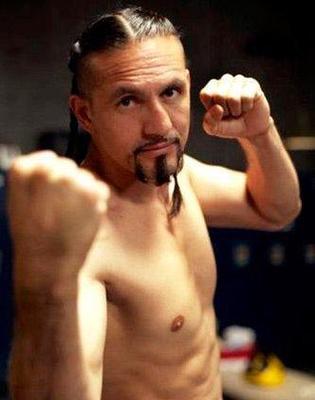 Photo credit: Sherdog
Promotion: King of the Cage
Record: 29-8
You may remember "Kryptonite" not only as the title holder in both the KOTC heavyweight and super heavyweight divisions, but also from such television programs as every single television program that has anything to do with prison.
17. Aleksander Emelianenko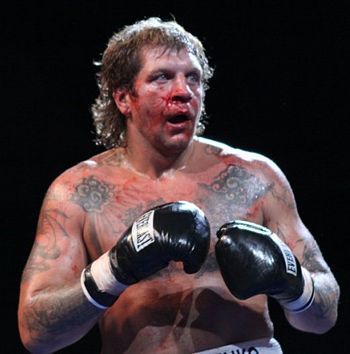 Photo credit: BoxRec
Promotion: M-1
Record: 19-5

Fedor's little bro shares his elder sibling's blank, I-must-do-violence-now gaze, but combines it with a homeless man's haircut and a disturbed man's tattoo.
16. Cheick Kongo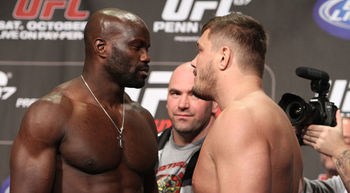 Photo credit: Combat Lifestyle
Promotion: UFC
Record: 17-7-2
The marble-cut French-African heavyweight is a comic book character in 3-D. And I think he was one of the bad guys. The beard took it to another level.
15. Tatsuya Kawajiri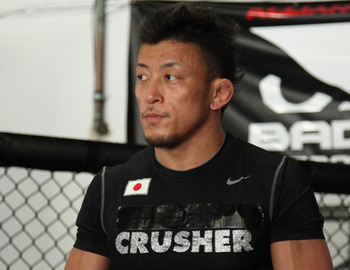 Photo credit: MMAMania
Promotion: One FC
Record: 31-7-2
The longtime lightweight veteran dropped to featherweight about six months ago (he's 3-0 there so far).
He also seems to have a pretty good fighting stare. It's disdain, hatred and malice rolled into one. It looks like he's trying to set something on fire.
14. Mark Hunt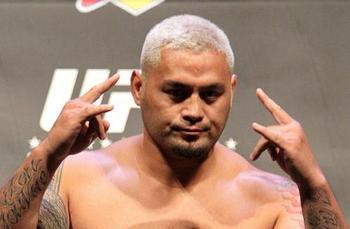 Photo credit: MMAJunkie
Promotion: UFC
Record: 8-7
The cantankerous New Zealander looks like he'd be just as happy to break your head as shake your hand.
13. Chad Griggs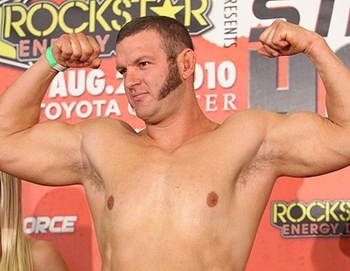 Photo credit: Watch Kalib Run
Promotion: Strikeforce/UFC
Record: 11-1
It's the mutton chops. They just...they're terrifying.
12. Keith Jardine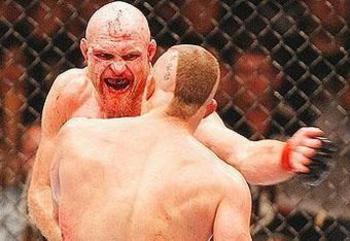 Photo credit: MMAMania
Promotion: Strikeforce
Record: 17-10-2
The bald, blonde-goateed ex-bounty hunter will always be a fixture on these types of lists. He looks like the enforcer for a motorcycle gang.
11. Evangelista Santos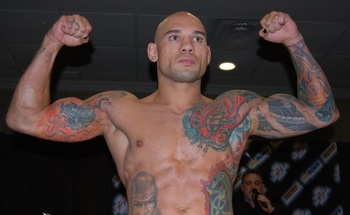 Sherdog
Promotion: Strikeforce
Record: 18-15
He's often thought of more as his wife's husband. But "the other Cyborg" is a pretty darn intimidating—if not as successful—presence in his own right.
10. Mariusz Pudzianowski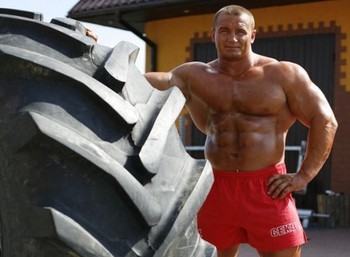 Sherdog
Promotion: KSW
Record: 3-2 (1)
"Hey! Get one of me and my most favorite tire."
Laugh all you want at his MMA mediocrity. It's definitely something I like to do. But if I see the champion strongman walking down the street, I am NOT making eye contact.
9. Damacio Page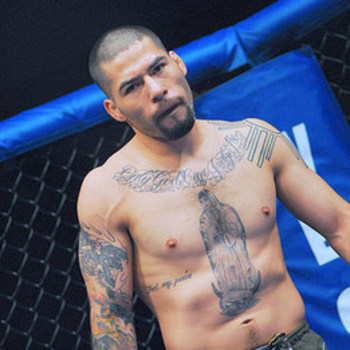 Photo credit: Sherdog
Promotion: UFC
Record: 12-6
If he loses at UFC on Fuel TV 2 against Brad Pickett, it would be his third straight and could be curtains for his Octagon career. But no one can fire him from, eh, Intimidationtown, or whatever.
8. Alistair Overeem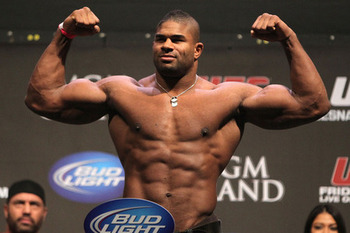 Photo credit: SB Nation
Promotion: UFC
Record: 11-1
You are what you eat? The 'Reem apparently kicks like a horse, which isn't too surprising considering that he both looks and eats the part.
His facial scar adds extra intimidation. Oh, and so does the fact that he looks like he's about to go on a 'roid rage, which is a possible side effect of all the steroid use.
7. Cain Velasquez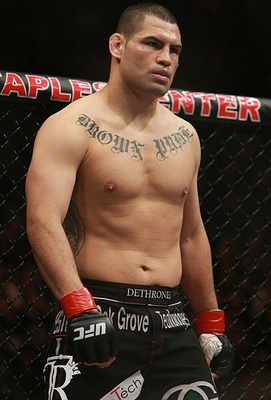 MMA Junkie
Promotion: UFC
Record: 9-1
Cain—and the name doesn't hurt his case—walks a little more softly than some of these other guys. But he carries a huge freaking stick.
Have you ever heard it said that someone lights up a room when they enter it? I feel like Cain would make the room a little darker.
6. Renato "Babalu" Sobral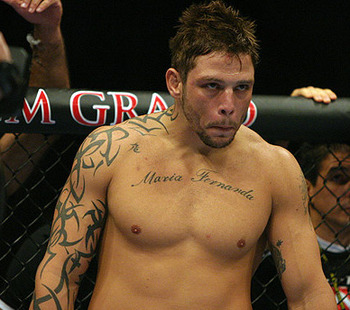 MMA Weekly
Promotion: One FC
Record: 36-9
There seems to be a very uneasy truce between the part of Babalu's brain that wants to kill and maim everything, and the part that vaguely remembers that that wouldn't be a good idea.
He can't remember why...something about it costing him money.
5. Jeff Monson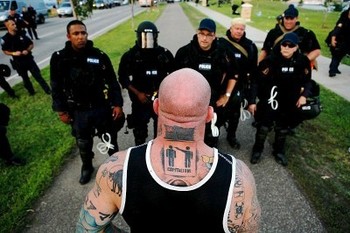 Photo credit: MMA Badass
Promotion: M-1
Record: 44-13
Hey! Did you know he's an anarchist?
"Go ahead, Bob. Go on and arrest him."
"Will do, boss. Right behind you."
4. Wanderlei Silva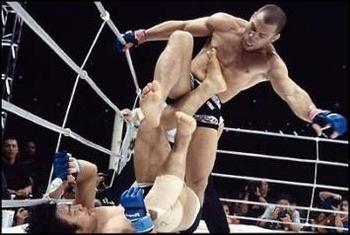 Photo credit: Susumu
Promotion: UFC
Record: 34-11-1 (1)
Like Sapp before, but opposite, I can't completely divorce this man's fighting style from his spot on this list. But even if I could, it's likely he'd be right up here.
He does have head tattoos and laser vision, after all.
3. Quinton "Rampage" Jackson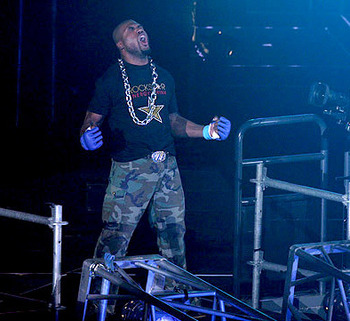 Photo credit: MMA Weekly
Promotion: UFC
Record: 32-10
He's not what he once was, but he's still one of the scariest dudes out there.
2. Melvin Costa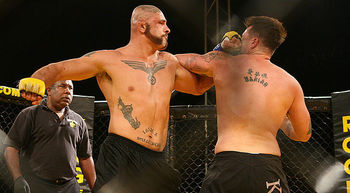 Photo credit: Combat Lifestyle
Promotion: King of the Cage
Record: 8-2
I'll let the tattoos speak for themselves. Gah.
And this isn't some random dude fighting in Bulgaria somewhere. He's the fifth-ranked light heavyweight in KOTC.
1. Oli Thompson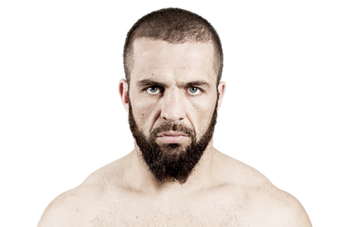 Photo credit: UFC
Promotion: UFC
Record: 9-3

The former British strongman competitor made his UFC debut last month in Sydney. But he'll be back. He has to be. I don't want to run the risk of him unleashing his enchanted morning star or dispatching locusts and talking goats to visit pestilence on our houses.
Maybe he has those types of powers. Maybe he doesn't. I don't know. I don't want to know. This would not appear to be a man to trifle with. He has a forked beard, ladies and gentlemen. A FORKED BEARD!!
Keep Reading