NHL Playoffs 2012: Surefire First-Round Predictions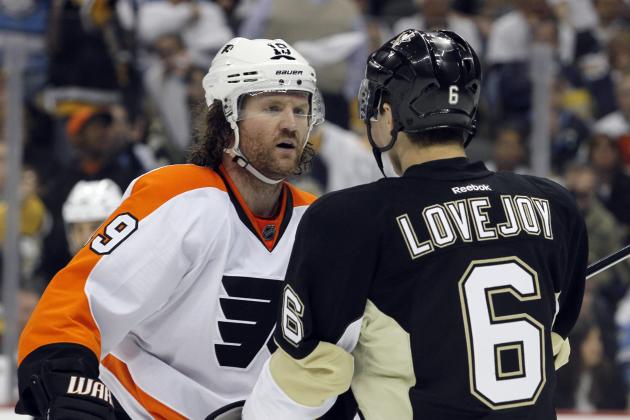 Justin K. Aller/Getty Images

The 2012 NHL playoffs are underway. Sixteen teams fighting for the chance to fight for Lord Stanley.
It might be a day late, but I'm going to give you my predictions on who will make it out of the first round. There are some intriguing matchups in both conferences. From first glance, the Pittsburgh-Philadelphia series is going to be one of the most exciting in the past few seasons. The No. 3 vs. No. 6 battles in both conferences have the better teams in the lower seeding.
By the time it's all over, eight teams will remain. Who they will be is something I will try to predict.
Begin Slideshow

»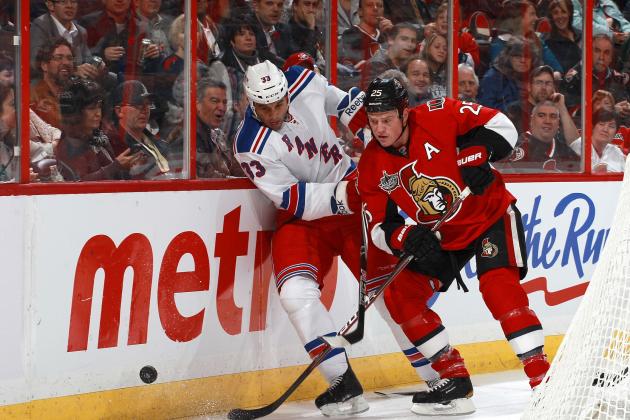 Jana Chytilova/Freestyle Photo/Getty Images

Season Series: Ottawa won 3-1

New York's Key Player: Henrik Lundqvist

Ottawa's Key Player: Jason Spezza

Goaltending Edge: New York

Defensive Edge: New York

Offensive Edge: New York
Ottawa might have won the season series and proved that they can play well in Madison Square Garden, but goaltending goes a long way toward winning the Stanley Cup, and the Rangers definitely have the edge in that. No matter what the Senators do, if Henrik Lundqvist is on his game, they have no chance.
New York in Four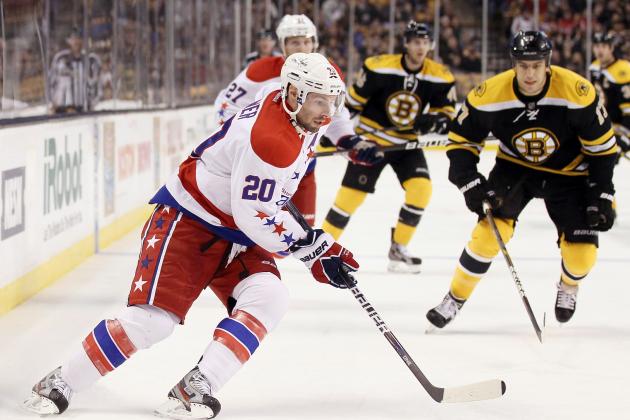 Elsa/Getty Images

Season Series: Boston won 3-1

Boston's Key Player: Zdeno Chara
Washington's Key Player: Alex Ovechkin

Goaltending Edge: Boston

Defensive Edge: Boston

Offensive Edge: Washington
Washington barely made it into the playoffs, and that could give them the opportunity they need to succeed in the playoffs, as no one expects them to do anything.
If Tim Thomas plays like he did last year, though, the Capitals will be hard-pressed to win the series. The Chara-Ovechkin matchup might determine the series.
Boston in Six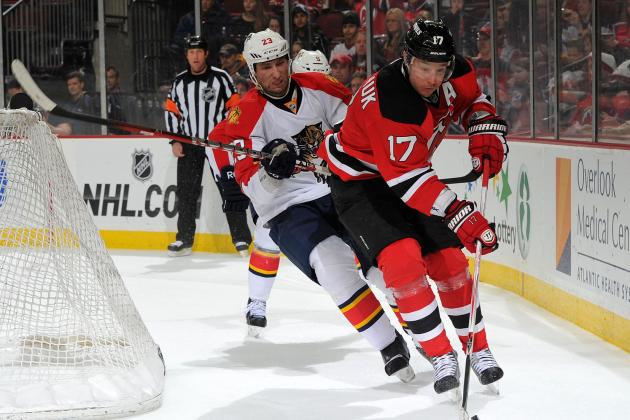 Christopher Pasatieri/Getty Images

Season Series: Tied 2-2

Florida's Key Player: Brian Campbell

New Jersey's Key Player: Martin Brodeur

Goaltending Edge: New Jersey

Defensive Edge: New Jersey

Offensive Edge: New Jersey
Florida makes back it to the playoffs for the first time in forever. They also stand little chance of making it past the opening round.
The New Jersey Devils are a defensive team that can stifle the Panthers' offensive players and make it very hard for them to muster any offense. The only chance the Panthers have is if Martin Brodeur continues his playoff struggles.
New Jersey in 5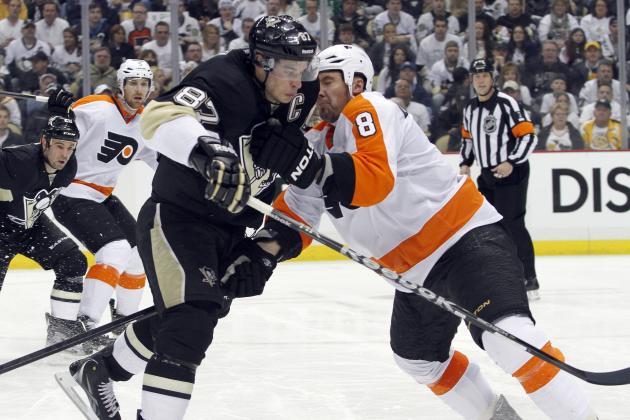 Justin K. Aller/Getty Images

Season Series: Philadelphia won 4-2

Pittsburgh's Key Player: Sidney Crosby

Philadelphia's Key Player: Ilya Bryzgalov

Goaltending Edge: Pittsburgh

Defensive Edge: Philadelphia

Offensive Edge: Pittsburgh
Philadelphia proved last night that they aren't going to go down easy. However, in my opinion, the Penguins will outlast the Flyers. Sidney Crosby, Evgeni Malkin and James Neal will just be too much for Ilya Bryzgalov to handle.
Pittsburgh in 6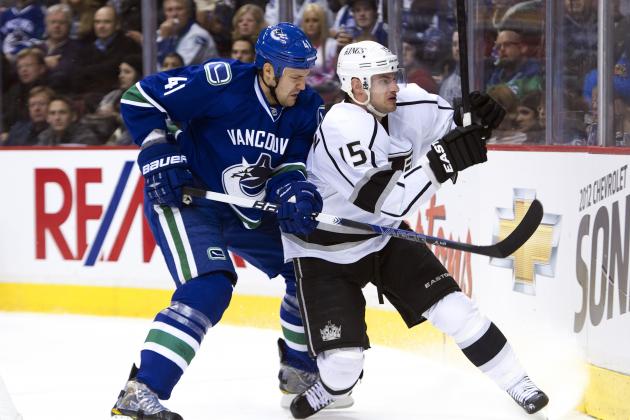 Rich Lam/Getty Images

Season Series: Tied 2-2

Vancouver's Key Player: Roberto Luongo

Los Angeles' Key Player: Mike Richards

Goaltending Edge: Vancouver

Defensive Edge: Vancouver

Offensive Edge: Vancouver
Los Angeles did something last night that was hard for them to do in the regular season: score. If the Kings can continue to do that, then we might have a series on our hands. If they revert back to their old ways, Vancouver will easily take this series.
Vancouver in 5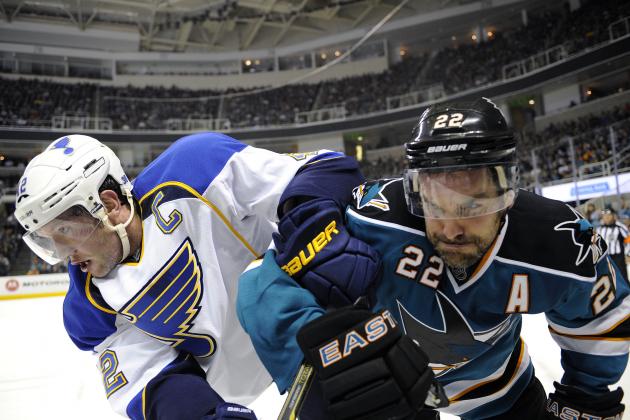 Thearon W. Henderson/Getty Images

Season Series: St. Louis won 4-0

St. Louis' Key Player: Jaroslav Halak

San Jose's Key Player: Joe Thornton

Goaltending Edge: St. Louis

Defensive Edge: St. Louis

Offensive Edge: St. Louis
St. Louis has been one of the hardest-working teams in the NHL this season and it has gotten them to the position that they are in. The San Jose Sharks are in the exact same position that Washington is in the Eastern Conference. They don't have any expectations, so they might be able to surprise us. That being said, St. Louis didn't work so hard to go out in the first round.
St. Louis in 6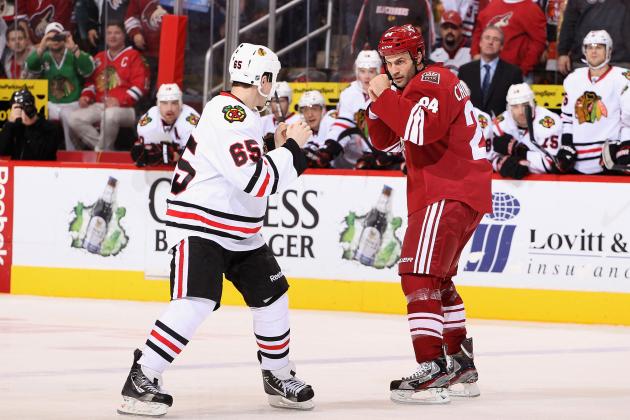 Christian Petersen/Getty Images

Season Series: Phoenix won 3-1

Phoenix's Key Player: Mike Smith

Chicago's Key Player: Corey Crawford

Goaltending Edge: Even

Defensive Edge: Chicago

Offensive Edge: Chicago
With Jonathan Toews confirmed to be playing in Game 1, Phoenix's chances of making it past the first round just got a little slimmer. This series will be the biggest goalie duel of the first round, as it focuses on two unproven goaltenders that need to get their teams to the next level. This will be a closer series than most think, but Chicago just has too much talent.
Chicago in 7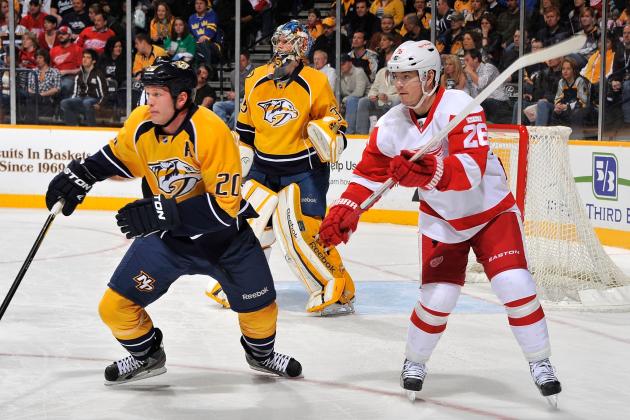 Frederick Breedon/Getty Images

Season Series: Tied 3-3

Nashville's Key Player: Alex Radulov

Detroit's Key Player: Jimmy Howard

Goaltending Edge: Nashville

Defensive Edge: Nashville

Offensive Edge: Detroit
Nashville has finally taken the right steps to make themselves a Stanley Cup contender. It's a shame that either Nashville or Detroit will be eliminated by the end of this series. It would make a perfect Western Conference Final, but we get it in the first round. The Red Wings will put up a fight, but the Predators will eventually win out.
Nashville in 6