Duke Basketball: Who Says They Can't Recruit?
April 12, 2012

Streeter Lecka/Getty Images
Tonight, Duke fans huddled around their televisions in a symbol of strength, hoping to land one of the nation's biggest remaining fish.  At night's end, UCLA and Kentucky added strength to their growing recruiting classes but as a Duke fan, something far worse stood out; the sudden turn of the average Duke fan.
All across social media and any forum of which Duke fans can converse, the atmosphere is bleak.  The distaste of an unimaginable NCAA loss still stings, and the lack of a strong recruiting class has many jumping ship.  Those waters are deep my friends, and now is not the time to jump.
The current feel around Durham is that Duke can no longer recruit.  These atrocious comments are being plastered among the basketball world and are nothing more than pure comedy.
Think Duke can no longer recruit?  Check out these stats from the past five years.
2011—No. 2 Recruiting Class
This is the year of Austin Rivers—the third best prospect in D-1 as a whole and someone that became a fixture in the Duke roster all season long.  His recruitment was successful, if nothing else, for the one very big shot at the Dean Dome.  Duke racked up five commits on the year, all in the ESPN Top 100 ranks.  Austin was the lone 5-star recruit with the rest being 4-star caliber players.
Joining Rivers was Michael Gbinije, Marshall Plumlee, Quinn Cook and Alex Murphy.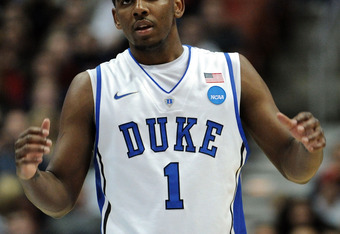 Harry How/Getty Images
2010—No. 6 Recruiting Class
I consider this the year of the toe.  Kyrie Irving was a 5-star recruit and deemed the next Jay Williams.  Some would argue he could have been just as good, but his toe injury and lack of a Duke tenure never allowed him to add up to Williams.  That being said, Duke also reeled in 4-star recruits Josh Hairston and Tyler Thornton.  While this recruiting class doesn't add up to a top 3, it is indeed a very respectable one. 
2009—No. 9 Recruiting Class
Initially, this recruiting class doesn't look that impressive.  Duke was able to get commitments from only two players in Mason Plumlee and and Ryan Kelly.  In additional to these big men that "were supposed to change Duke's front court," Seth Curry transferred and Andre Dawkins showed up early.
Ultimately, Curry and Dawkins added strength to the class.  Many forget what Curry did at Liberty and the hype that surrounded him coming in.  He was "supposed" to be just as good as his brother Steph!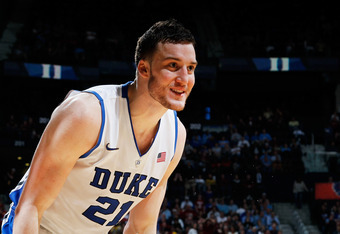 Kevin C. Cox/Getty Images
2008—No. 23 Recruiting Class
The number 23 looks worse than this class ended up.  They locked up Elliot Williams and Olek Czyz early, but got a steal late in the game by landing Miles Plumlee.  Not much can be said of this class. Czyz fizzled and Williams transferred, but Miles has been very important since he walked in the doors at Cameron.
2007—No. 5 Recruiting Class
This is, in my opinion, the best recruiting class at Duke over the past seven years.  It eventually ended with cutting down nets and adding a handful of banners at Cameron.  
While Taylor King loved to shoot, he eventually left town and the chance to win a title.  That left two guys by the names of Nolan Smith and Kyle Singler.  Neither need an introduction and both validated their worth as they became extremely strong players for Duke.  Some argue that Singler's jersey should be retired (I am not one) and Nolan truly helped carry the load time and time again.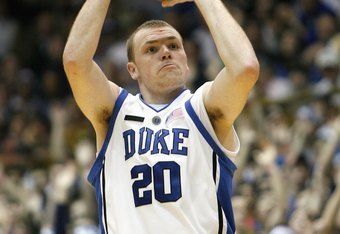 Kevin C. Cox/Getty Images
The recruiting process is ugly.  It is filled with AAU leeches, money hungry agents and a plethora of lies that swarm like a pack of hungry wolves.  In such a world, it is unfair to criticize a program that has been blazed with the best coach of our generation, incredible players and a fan base that is simply known as crazy.
While Coach K was not able to land the big fish this year, Sulaimon may not be a one-and-done player.  He could blossom into a true scorer and the next big time player for this team.  Time will tell how things will go, but if you are expecting Duke to be NIT-bound next season, I think you're going to be mistaken.
If you're curious about the 2013 season, Duke already has one ESPN top 100 recruit and is in line for at least one or two more. Duke is not dead!  The recruiting myth is just that—a myth.  Coach K, his staff and Duke are not falling off.