NL West: The Two Biggest Factors That Will Decide the Winner
April 12, 2012

 Like last season, the 2012 NL West title will most likely be a two-way race between 2011's unlikely victors, the Arizona Diamondbacks, and 2010's equally surprising World Champions, the San Francisco Giants.
While the other three teams definitely have exciting seasons to look forward to, as players like Dee Gordon, Drew Pomeranz and Yonder Alonso look to burst onto the scene and join established stars like Kershaw, Tulowitzki and Maybin, all three teams are still undeniably incomplete teams and a ways away from competing with the top dogs over 162 games.
So without further ado, let's look at the two biggest and often overlooked factors that ultimately will decide who will be crowned division champions at the seasons end.
Health 
Health is always the biggest factor to decide any team's success over the long season, and like in 2011, will play a unequivocally huge role in the battle for the division.
In 2011, the San Francisco Giants were snake bitten—Buster Posey's brutal injury was only the tip of the iceberg as literally every single position they had got injured, with the unfortunate exception of Aubrey Huff who continued his dead-cat bounce with a pitiful season long slump.
The Arizona Diamondbacks on the other hand, with the exception of Stephen Drew, rode excellent health all the way to the finish as hugely critical players like Miguel Montero, Ian Kennedy and J.J. Putz shed expectations of dubious durability with a full season of good health.
With essential middle infielders Freddy Sanchez and the aforementioned Stephen Drew already set to begin the season on the DL, it is clear that health will once again be a huge factor for both teams' success, especially as both teams are relatively shallow in depth should other important players go down with serious injuries.
For the Giants, this is where the Mike Fontenot release really hurts as Ryan Theriot has looked pretty awful, and Manny Burriss is the same Manny Burriss we know and love/hate, despite a good spring.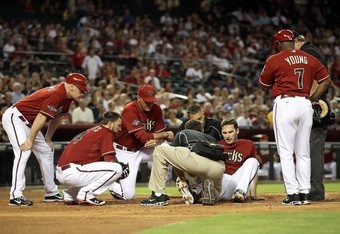 Defense
To the casual fan, defense often goes unnoticed and unappreciated as pitchers and hitters are unduly credited with the results of a struck ball landing for a hit or an out, while fielders are only noticed when they screw up or do something obnoxiously flashy.
For both the Giants and the Diamondbacks, a huge proportion of their success in their respective victorious seasons was due to exquisite fielding: In 2010, the Giants led the majors with an impressive 65.2 UZR* (ultimate zone rating), while in 2011, the Diamondbacks paced the majors with an equally impressive 61.8 UZR. 
For the Giants, they look to return to elite defensive production with a full season of improved health and Brandon Crawford's slick glove replacing the painfully incumbent zombie, Miguel Tejada. The Giants also hope that Angel Pagan can regain his elite defensive production that was somehow lost in 2011's disappointing defensive performance, as until 2011 Pagan had amassed 27.0 UZR in only 418 games.
They will need the Pagan of 2009-2010 if they want to adequately replace the black hole in center that was Andres Torres, whose spectacular defense was criminally underrated, but critically important to the Giants' championship run of 2010.
For the Diamondbacks, regression is most likely the harsh reality to be expected, as 2011's bar was set so high that down is the only way to go, much like the 2010 Giants. Until Drew returns, Willie "how-is-that-guy-still-playing" Bloomquist will do his best not to do too much damage with the glove as his ever worsening career UZR of -20.2 leaves much to be desired.
Even so, the outfield is where most of the importance is, as last year's defensive wizardry in the outfield was highly critical to helping the pitching staff that led the National League in fly ball percentage. Unfortunately, the outfield looks to see plenty of regression as offseason acquisition, Jason Kubel is a notoriously atrocious fielder, as illustrated by his career -17.0 UZR/150, and replacing the gold-glove caliber defense of Geraldo Parra, who boasts an impressive career 9.5 UZR/150, in the starting lineup could be a very costly move for the pitching staff and the team in general.
Chris Young is also somewhat of a question mark defensively—his incredible defensive season last year, in which he posted a team best 14.1 UZR, seemingly came out of nowhere as his career UZR up to that point was actually below average at -6.9. How the playing time and defensive regression plays out in the outfield will play a huge role in keeping the pitching staffs' fly ball-heavy ways under control and deciding whether those long hits are outs or extra base hits.
While the Giants undeniably posses the stronger pitching staff and the Diamondbacks indisputably have the better offense, the real strength and key to victory for both teams will be defense, which we've already seen play huge role in deciding the first series between the two. What will most likely decide that race, however, is how well each team can avoid the potential Achilles' heel of health that will continue to threaten both teams' dreams of champagne showers and November baseball.
* UZR, or ultimate zone rating, is a sabermetric stat which represents defensive production in runs above or below average. If you're interested, further explanation can be found here.