Los Angeles Galaxy vs. Portland Timbers: 10 Bold Predictions
April 11, 2012

Victor Decolongon/Getty Images
Bruce Arena's Los Angeles Galaxy are finding their 2012 MLS Cup defense to be more and more challenging with every match, and it doesn't get any easier when they host the Portland Timbers on Saturday at the Home Depot Center (kickoff: 7:30 p.m. PT/10:30 p.m. ET, KDOC-TV and KWHY-TV).
With just a paltry 1-3 record, the Galaxy have the worst record in the MLS Western Conference and take on a Portland Timbers side that is having similar issues with gaining results.
Here are 10 bold predictions for Saturday's tilt between Los Angeles and Portland on Bleacher Report.
1. LA...simply snaps
At some point in time, the Los Angeles Galaxy reach a point where they are simply fed up with their recent lack of form that they control the game early and actually play the type of soccer that defined them last year.
In the first half, I see the Galaxy finally hearing the alarm clock and scoring early to break the game open.
2. Introducing...David Junior Lopes
This match should debut the new guy: David Junior Lopes, formerly of Chivas USA. Traded to the Galaxy for Paolo Cardozo, Lopes should match well with Tommy Meyer and finally move A.J. DeLaGarza to right back. Thus, the Galaxy have two imposing central defenders that are capable of limiting the damage.
Plus, Portland is not one of the stronger teams in the West, so Saturday would be a good day to go for a Lopes-Meyer combo.
3. Four-goal festival...at the minimum
No shutout Saturday night for Josh Saunders. Why? You have two teams that are capable of scoring on anyone, and I expect Portland and Los Angeles to up the ante and deliver some goals. At least four will be scored at the Home Depot.
4. No start for David Beckham
David Beckham has been suffering from back issues this year, which has left an indelible impact on his playing time. Beckham is officially listed as "Questionable" and I expect him to sit this match out, allowing Landon Donovan to control the match in the midfield.
5. Two goals for Robbie Keane
The Irishman whose work ethic has kept the Galaxy in a number of matches will score twice this Saturday. The objective for Donovan is to create a series of sequences that will allow Keane to beat the offsides trap and beat Troy Perkins, who has had a rough year in goal for the Timbers.
6. Consolation goal for Kris Boyd
This year's scoring revelation? Kris Boyd. The Scotsman can finish when he has pace and space to work. I see Boyd becoming the Chicken Thief late in the second half for the Timbers. But it will be a consolation goal at best.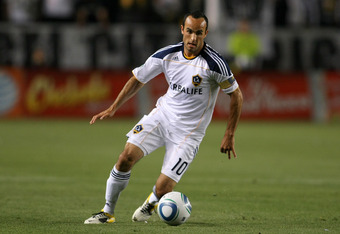 Victor Decolongon/Getty Images
7. Donovan gets at least two assists
The team captain wears the armband for a reason: he can create plays better than anyone on the pitch. It has been a difficult season of all sorts for Landon Donovan, but Saturday is where he gets a break and creates chances for players like Keane and Chad Barrett to score. Donovan can make the deliveries, but it will be up to those on the receiving end to finish.
8. Chad Barrett gets the start this week over Edson Buddle
I think I made this prediction before, but I am going to try it again—Chad Barrett has to get the start over Edson Buddle. Barrett had one legit look on goal last week against Sporting Kansas City, and the mere fact that he did have a chance means that he gets the nod up top alongside Robbie Keane.
9. Physical match, over 25 fouls called
In this, a glorified pillow fight between an established veteran club and an ambitious sophomore establishment (not counting their time in the lower divisions and the old NASL), there will be plenty of fouls called. Look for at least 25 fouls, and two yellow cards minimum, on Saturday.
10. Galaxy win...with authority
This was the same scoreline from their last meeting at the Home Depot Center, so I am going for it again. The Galaxy win with authority, albeit in a scoreline that has been common this early in the season...
Los Angeles Galaxy 3, Portland Timbers 1