Oklahoma State Football: 10 Reasonable Goals for the 2012 Season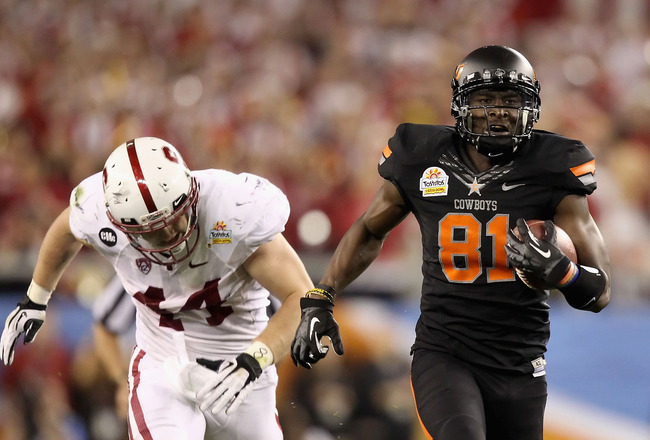 Christian Petersen/Getty Images
After the best season in school history in 2011, the Oklahoma State Cowboys and their fans are hoping a big year once again in 2012. Some goals are more realistic than others.
Many are expecting a bit of a rebuilding year for the Cowboys, and just how much of a rebuilding year it is will remain to be seen. That will show whether this Cowboy program is an elite one or still climbing the national ranks.
Here are 10 reasonable goals for the Cowboys for the 2012 season.
One of the Big 12's Best Defenses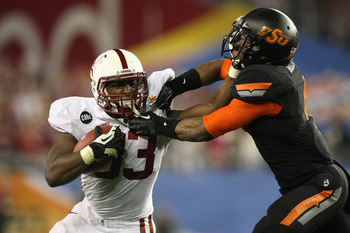 Donald Miralle/Getty Images
Nearly all of the defensive playmakers off a defense that was one of the best nationally at forcing turnovers are coming back this season.
While the Cowboys did lose safety Markelle Martin and defensive ends Jamie Blatnick and Richetti Jones, they still return both of their corners, most of their defensive line and all of their linebackers.
This defense should still be one of the best in the Big 12 and one of the best nationally at forcing turnovers. Defensive coordinator Bill Young has transformed the defense in Stillwater over his tenure, and he should have them even better this season.
Establishing the Quarterback of the Future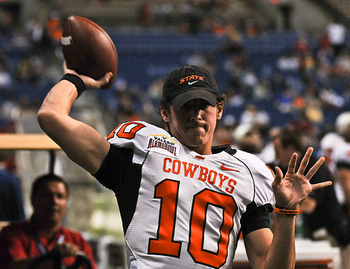 One of the biggest goals for this season is establishing who the next Cowboy quarterback will be now that Brandon Weeden is gone. The candidates are Colton Chelf (pictured), J.W. Walsh and Wes Lunt.
Walsh and Lunt are the most likely candidates, as both are freshman and have four full seasons of eligibility ahead of them. Lunt is a pro-style quarterback, much like Weeden, while Walsh is a dual-threat guy like Zac Robinson.
Either way, this season should decide who the guy is for years to come.
Top 3 Finish in the Big 12
Brett Deering/Getty Images
The Big 12 is returning a lot of talented teams. Oklahoma, Kansas State, Baylor and Texas all look to be as good or better than they were last season. That being said, Oklahoma State will still be talented enough to finish in the top-three in the conference.
Oklahoma State returns enough guys on both sides of the ball that few teams will have more talent than them, and they'll have the experience of winning a conference title from last season. Those ingredients should make them one of the best teams in the conference.
Position Joseph Randle as a 2013 Heisman Candidate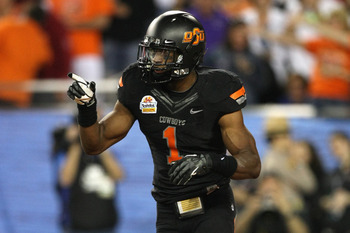 Donald Miralle/Getty Images
Last season, Joseph Randle accounted for over 1,200 rushing yards and 24 rushing touchdowns in an offense where he was the third option most of the time.
Can you imagine what he could do if given a bigger role in the offense?
Randle probably will next season, considering that the quarterback and receivers will be pretty green. That gives the Cowboys a great shot at helping Randle have an even better season, which could put him in Heisman contention, especially for 2013.
9 Wins
Donald Miralle/Getty Images
The Oklahoma State Cowboys actually had a very difficult schedule last season, playing at Missouri, Texas A&M and Texas. This season, they only have to travel to Oklahoma and Baylor.
Having more home games will help a team that lost a lot of leadership this offseason, and they'll benefit from a raucous home crowd as well. This team could easily win nine games.
Beating Texas for the 3rd Straight Time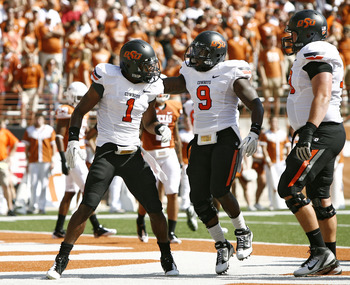 Erich Schlegel/Getty Images
Even though Texas appears to be getting stronger and better, it still hasn't resolved its quarterback issues. David Ash and Case McCoy both looked pretty weak last season, despite being surrounded by talent.
The Cowboys will be talented on both sides of the ball again. If they can get solid play from the quarterback position, they'll beat Texas for an unprecedented third straight time.
Leading the Big 12 in Offense
Brett Deering/Getty Images
The Cowboys may have lost some offensive playmakers in Justin Blackmon and Brandon Weeden, but they'll still be very potent offensively. Anyone who thinks differently hasn't been watching Mike Gundy's teams over the past decade.
Leading the Big 12 in offense won't be easy, especially with the potent offenses it has. Oklahoma, West Virginia and Baylor will all be scoring big points, putting pressure on the Cowboys.
Establish a Young Receiving Core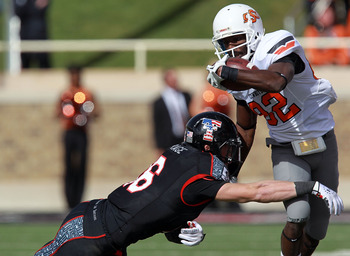 Ronald Martinez/Getty Images
The Cowboys are losing Justin Blackmon, Hubert Aniyam and Josh Cooper to graduation and the NFL draft. It will be important to establish the next group of receivers for this high-octane offense.
Isaiah Anderson (pictured), Josh Stewart and Tracy Moore will help carry the load for the Cowboys this season and will, hopefully, try to maintain the level of production of their elders.
Undefeated Home Record for the Second Straight Season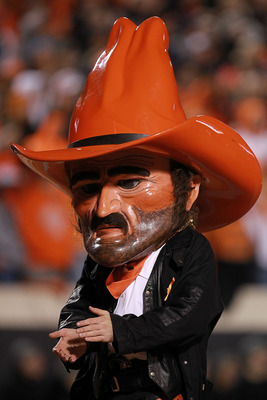 Ronald Martinez/Getty Images
This past season, the Cowboys suffered their lone loss on the road to Iowa State, giving them an undefeated record in Stillwater at Boone Pickens Stadium. They could continue that streak this season.
The toughest home games the Cowboys will have will be with West Virginia and Texas, and neither of those should strike much fear into the Cowboy fan's heart. This goal is very attainable.
Beat Oklahoma Again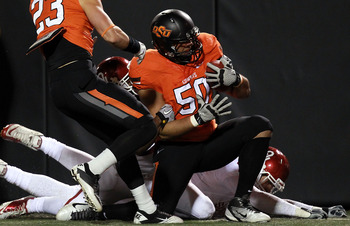 Ronald Martinez/Getty Images
The Cowboys can beat the Sooners for the second consecutive time next season. It will be difficult, with the Sooners returning many key players and having to play the game in Norman. However, it won't be impossible.
Oklahoma State's defense, the one that frustrated Sooner quarterback Landry Jones, will be largely intact, and the offense will continue to be explosive. It could happen again.
Keep Reading

Oklahoma State Football: Like this team?