NHL Playoffs 2012: Detroit Red Wings vs Nashville Predators Series Preview
April 12, 2012

Frederick Breedon/Getty Images
With all the attention that has gone to the Penguins and the Flyers in the first round, there has not been a ton of talk about the Western Conference series between the Detroit Red Wings and the Nashville Predators.
The season series between the Wings and Predators was extremely competitive, and we can expect much of the same in the postseason.
Here is a breakdown of the Western Conference Quarterfinal matchup between the Detroit Red Wings and the Nashville Predators.
Regular season series: split 3-3
Nov. 26: Predators at Red Wings 1-4
Dec. 15: Red Wings at Predators 3-4
Dec. 26: Red Wings at Predators 4-1
Feb. 17: Predators at Red Wings 1-2
March 10: Red Wings at Predators 2-3
March 30: Predators at Red Wings 4-1
Playoff Schedule


 


GAME 1 at NSH, April 11, 7:30, CNBC
GAME 2 at NSH, April 13, 7:30, CNBC
GAME 3 at DET, April 15, 3, NBC
GAME 4 at DET, April 17, 7:30, NBC Sports Net.
GAME 5 at NSH, April 20*, 7:30, CNBC
GAME 6 at DET, April 22*, TBD
GAME 7 at NSH, April 24*, TBD
*if necessary, all times Eastern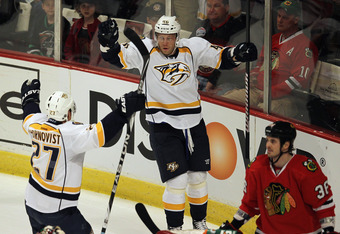 Jonathan Daniel/Getty Images
Key Injuries
Detroit—RW Dan Cleary, C Darren Helm (knees, both expected to play in series), RW Patrick Eaves (concussion, out for season);
Nashville—G Anders Lindback (upper body, day-to-day)
Preview
Although some of the games in the season series were a little one-sided, the season series was split 3-3 between Detroit and Nashville. These two teams met in the 2004 and 2008 playoffs, where Nashville fell short in six games on both occasions. This time though, the Predators believe they can get it done, as they now have the home ice advantage.
The most interesting thing about this series is that it will either be very offensive or very defensive. The Red Wings are ranked seventh in the NHL in goals per game (2.9) and seventh in goals against per game (2.4). Much like the Red Wings, Nashville is ranked eighth in goals per game (2.8) and eighth in goals against per game (2.5).
With all that being said, I fully expect that either the offense of defense will take over the series, and I am going to go out on a limb and choose the offense.
Both of the teams will score lots of goals in a series that will be back and forth throughout.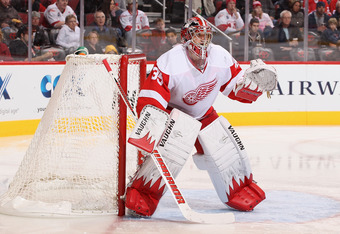 Christian Petersen/Getty Images
In such a close series, the power play of both teams will obviously be a major factor. The Predators have a major edge in that category. Nashville had the highest ranked power play this season at 21.6 percent and had a penalty kill that ranked 10th in the NHL at 83.6 percent. On the other side, Detroit struggled with the power play and penalty kill this season. The Red Wings ranked 22nd in the NHL on the power play this year at 16.1 percent and their penalty kill ranked 18th in the league at 81.8 percent.
All signs point to a closely contested series, with the major factors being the power play and the X-Factors. Here is a look at what I think the biggest X-Factor for each team is in the series.
X-Factor for the Predators: Alex Radulov
After scoring 26 goals last year for the Predators, Alex Radulov missed much of this season due to injury. He made his return on March 22 for the Predators and then played nine games for them to close out the year.
During that stretch of games, Radulov scored six goals and added seven assists. The Predators posted a record of 6-3 during those games, including a 4-1 victory at Detroit March 30.
If Radulov can deliver in a few clutch moments for Nashville, it will be very difficult for the Red Wings to get past them in the first round.
X-Factor For the Red Wings: Jimmy Howard
When people talk about elite goaltenders in the NHL, I believe Jimmy Howard is frequently overlooked. He is easily one of the top 10 goalies in the NHL and could maybe even be considered one of the top five. Howard has the ability to completely shut down an offense in a playoff series, and this ability can not go unnoticed when previewing this series.
I did mention earlier though, that I think this will be a very offensive series, but that does not mean a goalie can not be the difference maker. 
In the 2010 NHL Playoffs, the Red Wings faced the Phoenix Coyotes in a Western Conference Quarterfinal matchup that was certainly not lacking in goals. There was an average of 6.28 goals scored per game in that series, but in Games Four and Five, Howard was the difference maker. 
In Game Four, Howard secured a shutout by stopping all 29 shots he faced. The win pushed the series into a 2-2 tie, but Howard was not done yet. Going on the road, Howard stepped up again and stopped 30 of the 31 shots he faced in Game Five to help propel the Wings to a victory.
The series was offensive throughout, but Howard stepped up and had two huge games (arguably three because he was very good in Game Seven as well) which proved to be enormous factors in Detroit winning the series in seven games.
I expect a similar performance from Jimmy Howard in this series against Nashville.
Final Line
Many of the signs seem to point to Nashville winning this series. Their power play and penalty kill are much better than the Red Wings and the addition of Alex Radulov makes them a dangerous team.
With that being said, I think when both teams are at even strength, the Red Wings are just a better team than Nashville. This factor, along with the goaltending of Jimmy Howard, gives the Red Wings the advantage in my opinion.
Prediction: Red Wings in seven games