Cameron Wake and 5 More Miami Dolphins Who Deserve Long-Term Extensions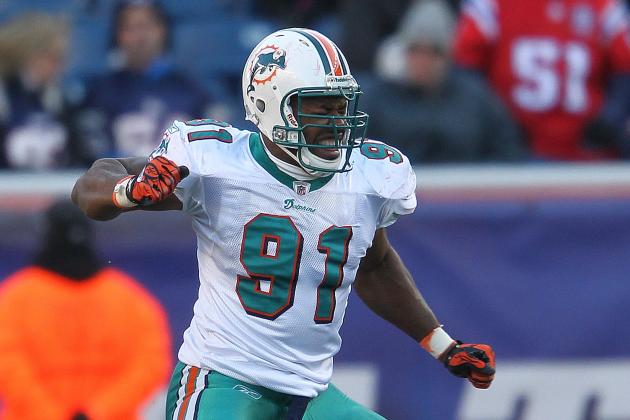 Jim Rogash/Getty Images

The Miami Dolphins have made national headlines for all of the wrong reasons this offseason.
Just when you thought things couldn't get any more tumultuous, star linebacker Cameron Wake hasn't shown up to any of the team's offseason workouts, and it appears he is prepared to hold out for a bigger contract.
Wake is entering the final year of the four-year, $2.3 million deal he signed in 2009, and he clearly deserves a new deal.
He isn't alone, though.
Here's a breakdown of other Dolphins players who also deserve long-term extensions.
Begin Slideshow

»
Scott Cunningham/Getty Images

Cam Wake has established himself as one of the league's fiercest pass-rushers, registering 28 sacks in three seasons with the Dolphins. Now entering the final year of his contract, Wake wants a lucrative extension—and deservedly so.
Wake's current contract will pay him just $615,000 next season, far too low for a player who is so pivotal to Miami's success.
However, here's the problem: Wake is already 30 years old. Wake's age puts the Dolphins in a tough spot, but GM Jeff Ireland has to pay him eventually.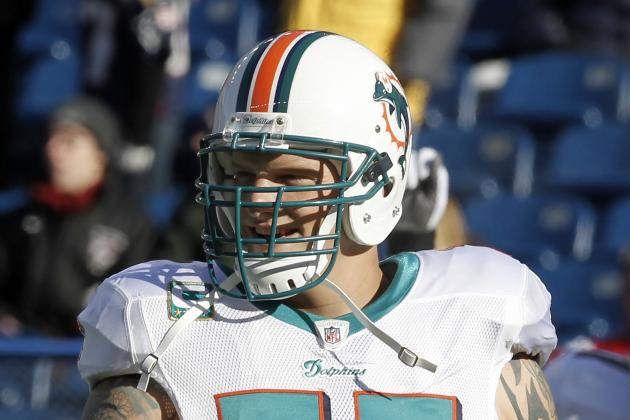 Winslow Townson/Getty Images

Jake Long is also entering the final year of his contract, but he's coming off a major biceps injury. The Dolphins will have to make sure Long is fully recovered before handing him a new contract, but there's no doubt he'll get an extension before next offseason.
However, things could get problematic. Miami is already strapped for cash. ProFootballTalk estimates the 'Fins have only $6.4 million in cap space right now. And remember, the team has to sign its draftees and pay Cameron Wake.
Long is a franchise player whom the Dolphins absolutely cannot and will not lose. However, Jeff Ireland has to be extremely shrewd with the team's money. He'll either have to restructure a few contracts or cut a handful of valuable players.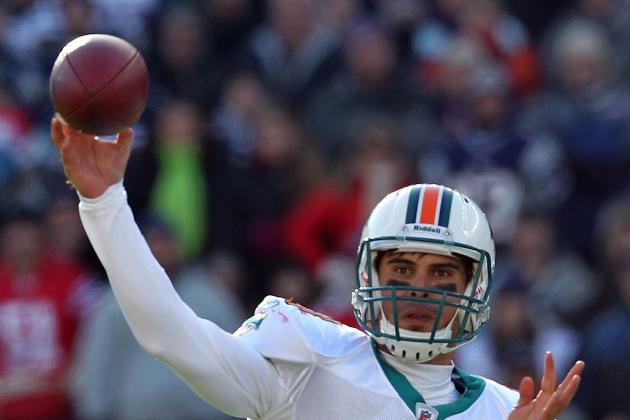 Jim Rogash/Getty Images

When the Dolphins signed Matt Moore to a two-year deal last summer, nobody thought he would be the team's starter come 2012. However unlikely it was a year ago, Moore should enter next season as Miami's starting quarterback.
Even though the Dolphins clearly don't view Moore as a long-term solution—otherwise, they wouldn't have pursued Peyton Manning, Matt Flynn and Alex Smith—he might be in line for a contract extension. Moore might not be a franchise quarterback, but he's proved he can put the team in a position to win every week.
The Dolphins will probably draft a developmental quarterback in the first or second round of the draft, but it's imperative he is given ample time to sit and learn. Miami needs to prepare itself in case that quarterback needs multiple seasons to develop.
So, Jeff Ireland should give Matt Moore an extension. In all likelihood, it won't happen until after the 2012 season, though.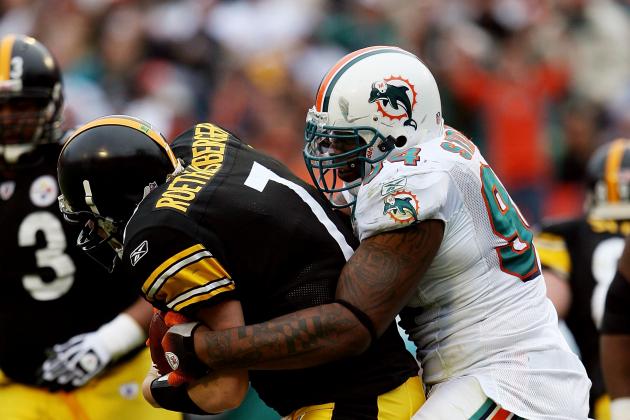 Doug Benc/Getty Images

Randy Starks is one of the Dolphins' most underappreciated players, and he is entering the final year of his five-year, $20.5 million deal.
The Dolphins have asked Starks to alternate between defensive end and defensive tackle the last few seasons, a process that requires significant physical transformation. Not only has Starks done so without complaining, he has thrived at both positions.
Given its current cap restraints, there's no feasible way Miami can re-sign Starks right now even though he definitely deserves a new contract. Unless the 'Fins can figure out a way to free up cap space before next offseason, Starks might flee for greener pastures.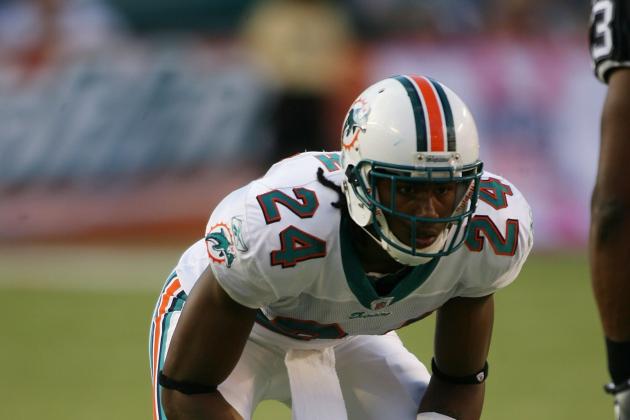 Marc Serota/Getty Images

Sean Smith still hasn't developed into a lock-down cornerback, but he's still a rock-solid starter.
Unfortunately, this might be Smith's final season with the Dolphins.
Smith is entering the final year of his rookie contract, and barring a disastrous season, he's going to demand a relatively big contract.
However, re-signing Jake Long and Cam Wake are much higher priorities. Assuming the Dolphins do, in fact, give Long and Wake new deals, there might not be enough money left over to pay Smith.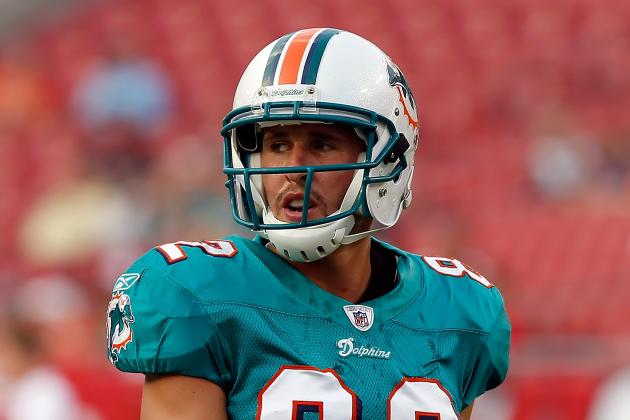 J. Meric/Getty Images

Looking at Brian Hartline's numbers, you don't see a player who deserves a new contract. In his first three NFL seasons, Hartline has reeled in a modest 109 receptions and five touchdowns.
Consider a few things, however. First, Hartline was a fourth-round draft pick, and he has definitely exceeded expectations. Second, he always seems to make spectacular catches when the Dolphins need it most. And, finally, he is an ideal West Coast offense wide receiver, so he might breakthrough next season.
Hartline is entering the final year of his rookie contract, so he'll have an even greater incentive to increase his production next season. If he delivers, the Dolphins should give him an extension.