Philadelphia Eagles Mock Draft: Full Latest 7-Round Predictions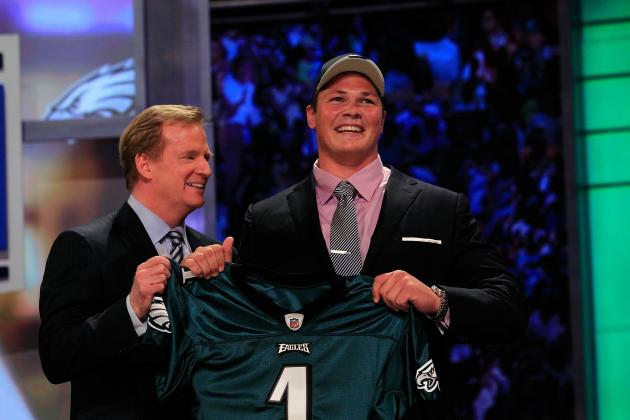 Chris Trotman/Getty Images

The 2012 NFL Draft is just around the corner. We are less then two weeks away from the first round. Every team has their needs narrowed down and every general manger and front office personnel has looked at every possible game tape on every possible prospect.
Andy Reid probably just wants this things to get going. He lives for the draft and has built this franchise through the draft. He has made some bad picks during his tenure here in Philadelphia but he has made great picks in every single round of the draft.
The Eagles have no major needs at this point. A kick returner would be nice along with stud pass rusher, outside linebacker and a play maker inside the 20. They have three picks in the first 51 and nine in the first six rounds to get the job done.
There isn't a whole lot of wrong answers with the Eagles potential draft picks in the first two rounds. It's a very deep draft class this year, especially for teams looking at pass rushers, cornerbacks and wide receivers. There is the potential that the Eagles pick those three positions in the first two rounds of the draft. Here is the latest draft projections for the Eagles.
Begin Slideshow

»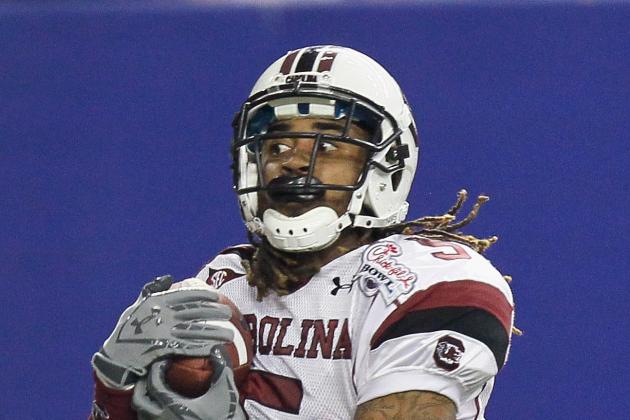 Kevin C. Cox/Getty Images

I believe the Eagles will stay put with their 15th overall pick. They could trade down and take a Coby Fleener or they could trade up and take a Ryan Tannehill or Fletcher Cox. But I believe Andy Reid will look at the top 20 prospects and be satisfied with the best player available at 15.
Prospects like Michael Floyd, Melvin Ingram and Fletcher Cox would be great picks. They are the best at their position, although it's debatable with Floyd, and they would make major impacts right away. That's why they won't last past the top 10.
Dontari Poe, Quinton Coples and Luke Kuechly are all possibilities in the first round. Poe will get serious interest from Kansas City and Dallas. One of those teams will scoop up the 340 pound athletic freak. Coples could go to St. Louis if they trade down to the early teens, or he could be a good fit in Seattle.
Kuechly is a great fit for Philadelphia but I don't know if Andy Reid will make two major moves at the linebacker season in the same offseason. He has devalued the position more then any other coach. He finally understood that this team can't win in the playoffs without a good middle linebacker. I don't think they add two Pro Bowl caliber players that can't cover wide receivers or rush the passer. Those are the positions on defense that Reid puts a premium on. I think that Reid and Castillo believe in Jamar Chaney as the strong side linebacker of the future as well.
That leaves Stephon Gilmore, a corner back out of South Carolina who started at corner for all 40 games of his college career. He can play man or zone coverage at a very high level. He has excellent ball skills and he is more then a willing tackler in run support. He has good size at 6'1, 190 pounds. He would give the Eagles three cornerbacks with Pro Bowl potential all over six feet tall.
First round is all about getting the player that has the best chance to live up to his hype. Free agency and the next two rounds are where you can reach for need. Take the best player available in the first round. Gilmore will be the best player here unless someone falls a few spots due to other teams reaching on other prospects.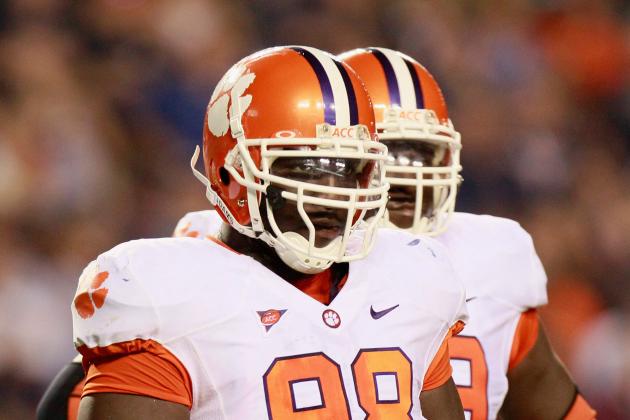 Kevin C. Cox/Getty Images

The Eagles will be in the market for a pass rushing defensive tackle at some point during the first two days of the 2012 NFL Draft. Fletcher Cox is the best inside pass rusher, but for that reason he won't last past the top 10. Jerel Worthy is another outstanding inside pass rusher, but the Eagles would have to trade down in the first round or trade up in the second round to acquire him.
The drop off after Worthy in the second round isn't much. The Eagles will most likely target two defensive tackles in the second round that would fit well in their scheme. Kendall Reyes out of UCONN and Brandon Thompson out of Clemson are those two targets.
Reyes is a versatile player who has lined up at both tackle and end while in college. He is a strong player with a good motor but he lacks the explosion and pass rushing skills to be a good inside rusher at the next level in the wide-9 scheme.
Brandon Thompson does not however. He is a very strong player with a great motor. When you watch him on tape you see a player that consistently takes on double teams early in the play but continues to chase the ball carrier up the field. He has an incredible explosion right off the line and should develop into a really good pass rusher early in his career.
Short arms and lack of upside will push Thompson into the middle of the second round. Other defensive tackles like Dontari Poe and Michael Brockers aren't as polished as Thompson but they have the potential to be Pro Bowl caliber players.
His lack of elite potential and short arms will keep him out of the top 40 of the draft. His ability should make him an immediate impact player on the Eagles defense and that's why they will spend their first second round pick on him.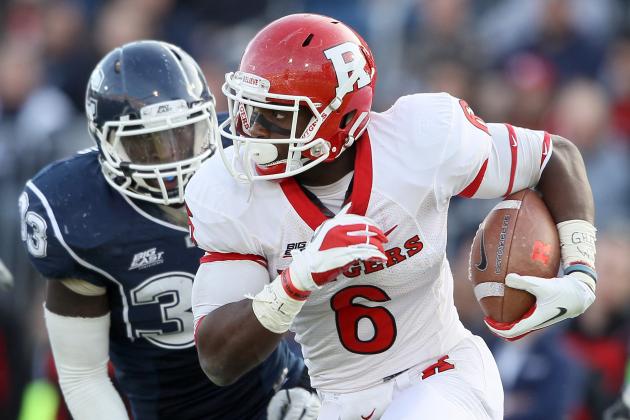 Elsa/Getty Images

Mohamed Sanu isn't the type of early round prospect, but I've been high on this kid for a while. When you watch him on tape you don't usually see him getting a lot of separation from his defender. That leads to two different opinions on Sanu. One. he can't gain separation at the next level and thus, will struggle in the NFL to get open. Two, he has more receptions then any player in Big East history and he did it in just three seasons. Nobody in this year's draft class is better at catching the ball in traffic.
The Eagles have receivers on offense that consistently gain separation, but they don't always make catches in traffic. Sanu would bring some toughness in the receiving core. He can line up in the slot and make plays in the middle of the field and most importantly in the red zone.
The Eagles offense is already explosive. They are dangerous between the 20s and on the outside. They need another player who can make plays in the middle of the field and inside the 20. Sanu is projected as a second or third round pick because he doesn't have an elite 40 time. However, what he lacks in straight line speed he makes up for with hands, route running and agility.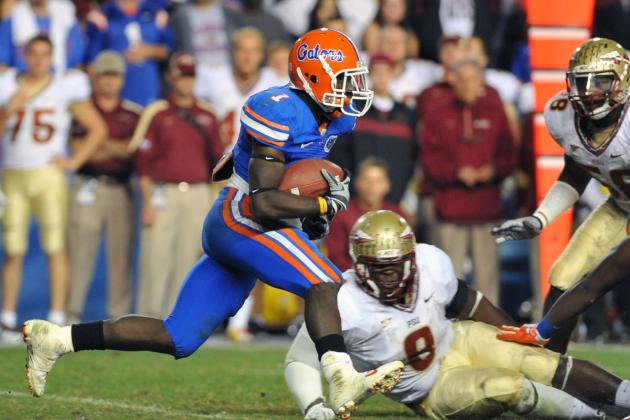 Al Messerschmidt/Getty Images

Chris Rainey has been called a luxury pick, meaning he doesn't fit a need for most teams but he will add plenty to any offense. He isn't an every down back and he doesn't possess much blocking abilities. He is a versatile weapon for any offense.
Rainey is an undersized, speed back who can line up in the backfield and as a slot receiver. He is also a dangerous return man and a special teams ace where he blocked six punts in college.
The Eagles don't need a complete running back in the draft. They already have LeSean McCoy and Dion Lewis. Both players are good runners who can stay in on third downs and pass protect. What the Eagles need in the draft as running back is a player with kick return ability with enough speed to be a chance of pace back.
Rainey is the type of player that both offensive coordinator Marty Mornhinweg and specials teams coach Bobby April can really play around with. Rainey can line up anywhere as a receiver or running back on offense and can do a lot of different things on special teams as well.
Rainey's versatility will make him the steal of the third round.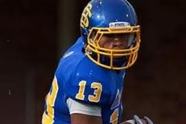 On paper this is a bad pick for the Eagles. In this draft scenario the Eagles have already selected Mohmaed Sanu to team up with current wide outs Jeremy Maclin, DeSean Jackson, Jason Avant and Riley Cooper. Now they add a wide receiver when they should be adding a outside linebacker?
Dale Moss played just one year of college football at South Dakota State. He was a basketball player who is trying to make the transition to football. That is why he is projected so late in the draft. Some scouts have him projected as late as the seventh round.
When you watch Dale Moss on tape your jaw drops to the floor. The man is an athletic freak who picked the game up very quickly. He is incredibly fast, quick and can jump out of the stadium. He wasn't invited to the NFL Combine but he wowed scouts at his pro day. He had a 41.5 inch vertical jump, a broad jump of 10'10, a 40 time between 4.38 and 4.45 and a 3-cone drill time of 6.32 seconds which would have been an NFL Combine record.
Those numbers are phenomenal. Very rarely is a wide receiver that fast, agile and that athletic at the same time. It all shows up on tape too. You see some prospects that have excellent times at the combine or their pro day but their speed doesn't show up on film.
Sometimes Moss leaps over his defender, sometimes he just runs right by them. You can't pass over a player this athletic in the fourth round. The Eagles have the luxury of not having to draft any one type of player or position. They could use a good pass rusher or kick return specialist but it won't make or break them this season. Their draft strategy will be to go after the best players available that can fit into their schemes. Moss is a one of a kind athlete. He will fit into any scheme. He is a deep threat and an ideal jump ball target at the same time. All he needs is a little time to develop and he the sky is the limit for this kid.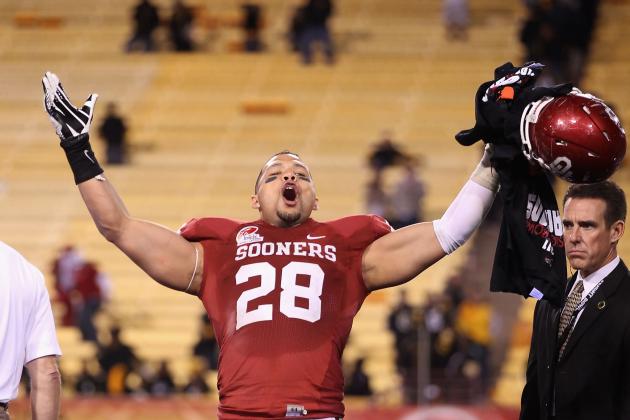 Christian Petersen/Getty Images

Andy Reid probably won't be taking a linebacker early in the draft. Demeco Ryans and Brian Rolle are penciled in as starters and I believe that Juan Castillo has a lot of trust in Jamar Chaney as an outside linebacker. That leaves them with four reserve linebackers with experience as starters.
Strong side linebacker won't be a huge need for the Eagles in the draft. It's a two down position in this defense. Brain Rolle, Casey Matthews or Keenan Clayton will line up next to Demeco Ryans as the other nickel linebacker. The Eagles will be looking for an outside linebacker to compete with Chaney in camp.
Akeem Jordan played well at the position last season and could compete for a starting job as well.
Travis Lewis is a great value pick here. He is solid in pass coverage and is a textbook tackler. He can play all three linebacker positions and can be a solid contributor on special teams.
The Eagles can find a spot for Lewis on their roster. Whether he earns a starting job or is a reserve and a special teamer, He is high character type of guy that you want to add to your locker room.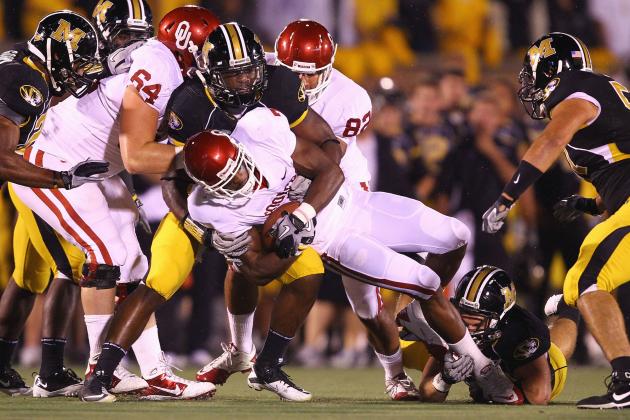 Dilip Vishwanat/Getty Images

Jacquies Smith is a great value in the sixth round. He isn't a very long player at just under 6'3 but he has a great motor and had a very impressive 7.25 time in the 3-cone drill at the combine(fast then Quinton Coples and equal to Nick Perry).
He is a solid pass rusher with the ability to drop back in pass coverage. Impressive at times on film. I watched one play where he dropped back in coverage, rushed the passer and ran upfield 10 yards to make a tackle all on the same play. Very good change of direction and burst. Has the ability to be a good pass rusher coming off the edge in the wide-9 scheme.
Once you get to the last two rounds you are looking for players who are either good project players or who fit your scheme perfectly. I believe Smith is both here. He won't be a legitimate starting defensive end in this league but will be a good rotation player at end.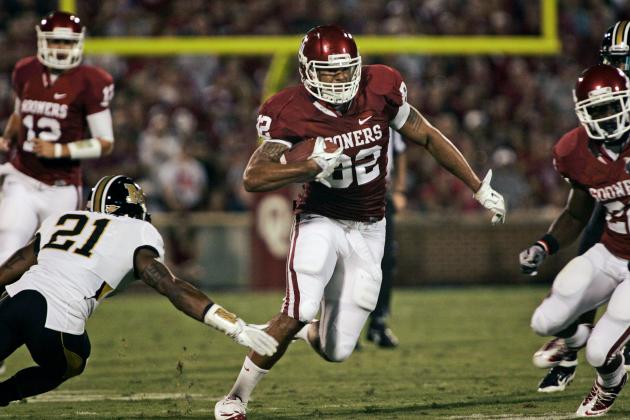 Brett Deering/Getty Images

I don't think anyone has a clue as to when James Hanna will be selected in the 2012 NFL Draft. He has just 52 career receptions at Oklahoma in four seasons, but he ran a 4.49 40 at the combine. He is the most athletic tight end in the draft.
Athletic tight ends are hot right now in the NFL. Aaron Hernandez and Rob Gronzowski are the best tight end duo in football. They helped the Patriots bolster one of the best passing attacks in the league without having a deep threat at wide receiver. They owned the red zone and the middle of the field.
Every team is going to want a Rob Gronkowski on their offense. That will raise Hanna's and every other athletic tight end's draft stock. Hanna isn't much of a blocker and is still very raw as a receiver. His potential is great even if there is no guarantee he will reach it.
It's a great value in the sixth round. Taking a player this mysterious and risky earlier then the sixth isn't wise but it could make Andy Reid look like a genius down the road here.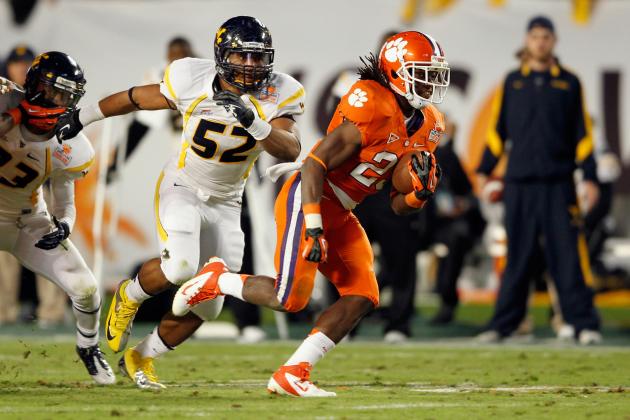 Mike Ehrmann/Getty Images

Najee Goode has a skill set that will make him a great addition on special teams. He is an outstanding open field tackler who is willing to do anything to help the team. He also has good lateral quickness to chase down the ball carrier.
He doesn't have the skill set to be a starting linebacker at this point. He gets swallowed up by blockers even easier then Casey Matthews. He will struggle to make an impact against the run and is a liability in man coverage.
He is a smart enough player who plays hard for four quarters to become a better linebacker down the road. Right now he is a good special teams player and you can never have too many of those.