NBA Rumors: Why Deron Williams Is Slam Dunk to Bolt NJ Nets
April 11, 2012

Kevin C. Cox/Getty Images
In this wild world of NBA superstars, no one knows for sure where they might end up or in what way they'll hold their team hostage.
From "The Decision" to the year-long "Melodrama" in Denver and Dwight Howard vs. Stan Van Gundy in Orlando this year, it's hard to argue that the superstars aren't running the NBA currently.
Now the spotlight is on Deron Williams in New Jersey, where the team has given him the title of "assistant GM" and the power to recruit whomever he wants to play with.
And as Yahoo! Sports reported, even that power won't stop Williams from testing the free agent market.
Really, who can blame him?
The Nets have been pathetic since last making the playoffs in 2007, going a combined 125-262 (32.3 percent) over the last five seasons.
So bad they couldn't land any of the big-time talent out there in 2010, which included Chris Bosh, Joe Johnson, Amare' Stoudemire and many more.
So bad they didn't get Melo to come to New Jersey last year.
So bad even the three-time All-Star Williams couldn't lure Howard to Jersey, which could have made for a formidable front court with Brook Lopez.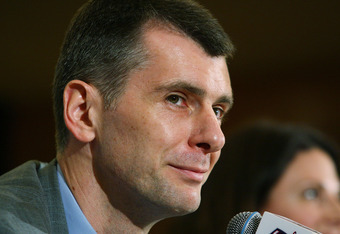 Mike Stobe/Getty Images
Nets' owner Mikhail Prokhorov met with Williams Monday to discuss the point guard's future and following the meeting Prokhorov said, "Wait for the summer. I'll tell you all the details. For the time being, it's top secret for us."
He knows that keeping Williams in a Nets uniform will be difficult, even with the promise of breaking in the brand new Barclays Center arena in Brooklyn, New York.
Why?
Because Williams, like any competitive person, simply wants to win, not waste his career with a team that perennially misses the postseason.
"I want to win. At the end of the day, I'm not getting any younger," Williams told Yahoo!. "I'll be 28 when I sign this next deal. I have to look for the best situation for me."
The Nets couldn't lure any stars to New Jersey, it's why they traded Derrick Favors, Devin Harris and two first-round picks for Williams little over a year ago.
They still can't, even with Williams in his friend Dwight Howard's ear.
Simply stated, the Nets can't keep Williams and until a major revitalization of the franchise takes place, no stars or superstars will willingly play for Prokorov in New Jersey or New York.
Prokhorov set his mind to making the Nets a winning franchise, but he's lost out on every free agent and his team has lost a vast majority of their games on the court with him as the owner.
He's been in Russia most the last year, running for President—and coming in third to Vladamir Putin—though he says he watches 80 percent of the team's games.
If he really wants to impact the franchise in a meaningful way, he's got to be more involved, shaking up the front office if they can't sign any big-name free agents, demanding his team gets out of the wretched existence they currently know as commonplace.
Until then, the Nets will continue to go nowhere, helplessly watching other teams land big players while they try to build around a bevvy of high picks.
Rich Kurtzman is a freelance journalist actively seeking a career in journalism. Along with being your Denver Nuggets Featured Columnist, Rich is the Denver Broncos and CSU Rams Examiner and Kurtzman also writes for Blake Street Bulletin, Stadium Journey, and Mile High Hoops.
Follow Rich on twitter for breaking news, need-to-know retweets and interesting insight on the Rams and everything Colorado sports related.
Follow Rich on facebook to links to all his pieces and breaking news.