Golden State Warriors: 10 Keys Down the Stretch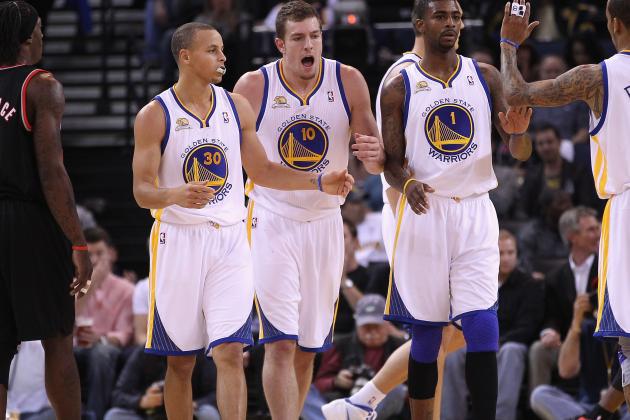 Ezra Shaw/Getty Images

The Golden State Warriors are nine-and-a-half games out of the NBA playoffs with nine games left in this NBA season. Yet they find themselves in the biggest standings race they've had in years.
They need to finish within the bottom seven spots in the the standings to retain their own draft pick.
Not exactly the stuff that movies are made about, maybe a reality show?
As long as they keep losses coming, which shouldn't be a problem since they play only two more games against teams with losing records, they will be on their way into the lottery.
For the whole Warriors organization, the rest of the season has to feel like they put in their two-week notice. They are showing up because they have to and are getting next to nothing accomplished. What's even worse, being detrimental is actually beneficial.
For the last few games, here are the things the Warriors can do to salvage the rest of the season rather than just getting their "senioritis" on.
Begin Slideshow

»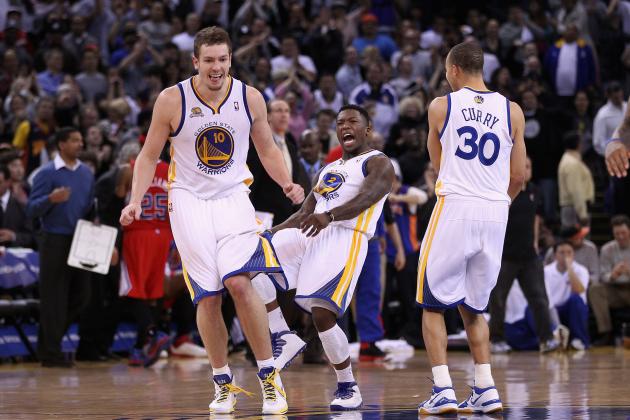 Ezra Shaw/Getty Images

For everyone involved, this season can't end fast enough.
I was at a bar watching the Warriors play not too long ago, and when Golden State scored a bucket late in the game to go up by two, one guy got up and cheered. The guy next to him said, "what are you cheering about, we need to lose!"
The remaining games really are a conflict of interest because you should "Play to win to the Game," but everyone should agree it's best that the Warriors lose so that they can keep their draft pick.
Conversely, I don't think anyone on the court is trying to lose so that a 19 year-old kid can come in and help them next year. The players are going to continue to compete, whether or not they have the talent to win right now is another thing.
The best thing for all parties is for the Warriors to improve without actually winning any games.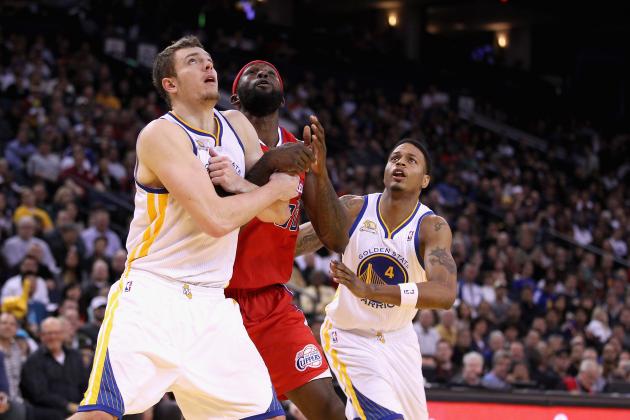 Ezra Shaw/Getty Images

David Lee has been the best player for the Warriors this year and it's not even close.
Given next to no help down low, Lee has managed to average nearly 20 points and 10 rebounds while giving everything he has night in and night out.
This short season has to be taking a toll on everyone, and with Lee only having missed one game this year, it's time to give his legs some much needed rest.
Plus, when he's not out there playing, the Warriors have less of a chance to win.
Right now, that's a good thing.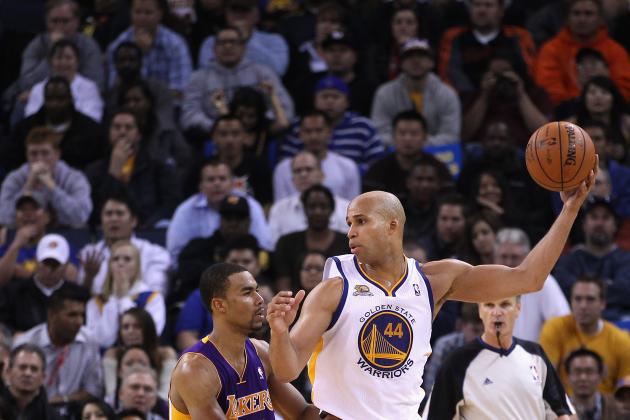 Ezra Shaw/Getty Images

Acquiring Jefferson cost the Warriors an extra $11 million just so that they could lock in an 2012 NBA first-round draft pick. So they had better find a way to use him.
The biggest dilemma for the Warriors this offseason will be finding out who is going to start at small forward next season. Is it going to be Dorell Wright, who is entering the final year of his contract, or do they look elsewhere? Lamar Odom?
Whoever it's going to be, in all likelihood Jefferson is going to be on this team for the foreseeable future. Taking the remainder of this season to find out how they can best utilize him will make a good solution to a bad problem.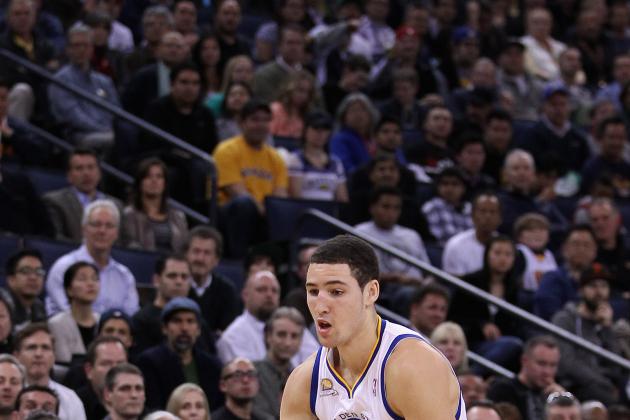 Ezra Shaw/Getty Images

By all accounts, Thompson is going to be the Warriors' starting shooting guard for years to come.
He has terrific game, a sweet shooting stroke and once he builds more strength and improves defensively, could be among the best 2 guards in the West.
He just needs to stop shooting as soon as he touches the ball.
Using these final few games to improve his shot selection will be key when Curry and Bogut return to the floor next season. He will see fewer shots when they're back, so he needs to get better looks at the rim so he can make the most of his opportunities.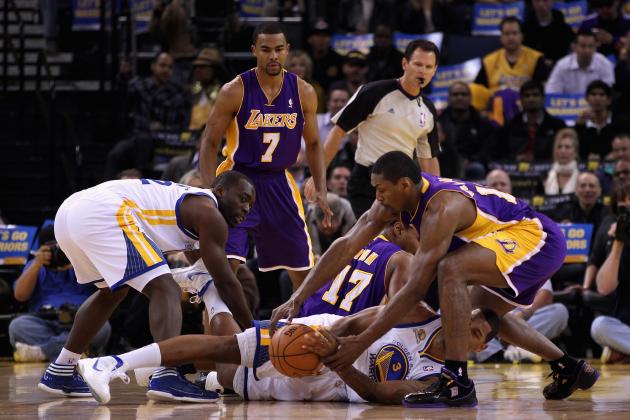 Ezra Shaw/Getty Images

Tyler has been getting the start at center lately and I love it!
They could just throw Andris Biedrins out there to start at center, but they are showing confidence in Tyler and now is a great time to get him some experience.
If he gets his confidence up and accelerates his learning curve, he is going to make an extremely valuable backup to Bogut next year.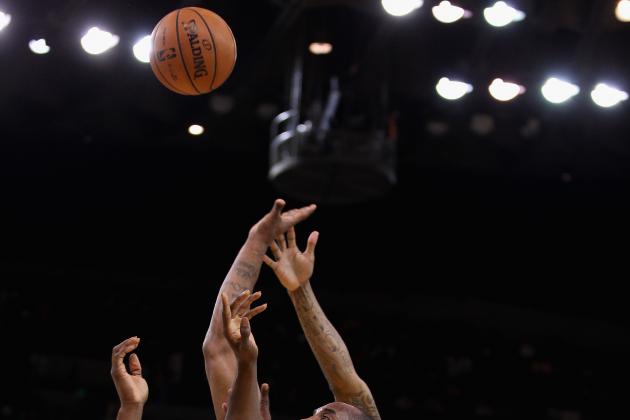 Ezra Shaw/Getty Images

Nate Robinson has and brought a lot of excitement to this year's team. However, when he got hurt, it opened up minutes for Jenkins and he took advantage of them.
It didn't take long to realize that the younger, cheaper, soon-to-be-better player is going to be the man next year.
Keep starting Jenkins and give him all the minutes he can handle, especially at the end of games where Robinson still plays quite a bit. This will make him an even more valuable backup to Stephen Curry next season.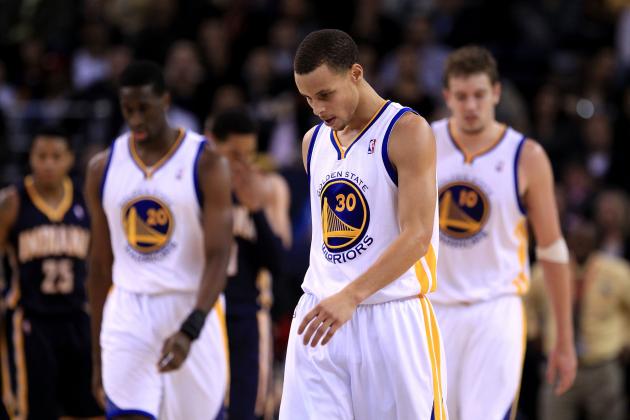 Ezra Shaw/Getty Images

Even if his doctors give him a clean bill of health, if there is such a thing for him, there is no reason to put him back onto the floor this season.
A healthy Curry is the key to the Warriors making the playoffs, which I think everyone will agree is Golden State's goal next season.
Keep him away from the floor for the rest of the season so that he doesn't aggravate anything and is at full strength for October.
They might even want to send him to Germany this summer to make sure he is ready.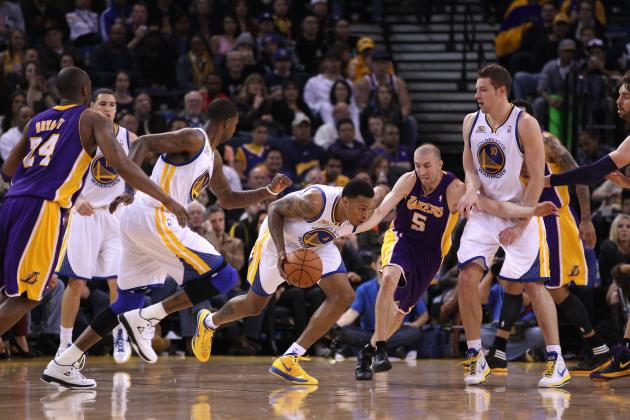 Ezra Shaw/Getty Images

The Warriors' starting four is set with Curry at point guard, Klay Thompson at shooting guard, David Lee at power forward and Bogut at center. Wright and Jefferson will be fighting for the small forward spot and Biedrins...there will always be Biedrins.
What about the rest of the team?
Jenkins and Tyler are going to stay and we already went over Nate Robinson, but what about Brandon Rush, Dominic McGuire, Chris Wright and Mickell Gladness?
Not exactly Murderers' Row, but they need to use these remaining games to figure which of these players, if any, are going to be a part of the Warriors' future.
The Warriors don't have a lot of money to play with next summer, so they better be sure on whom they want to keep around.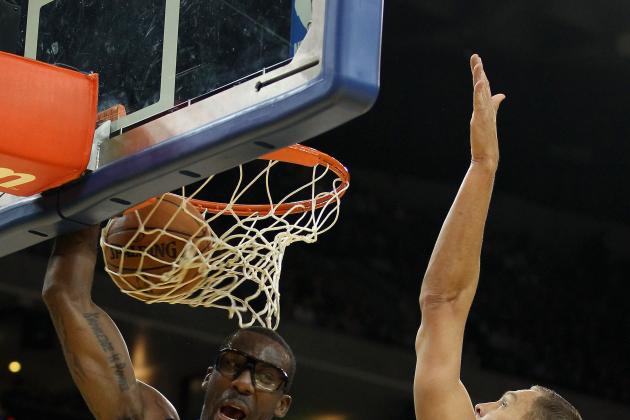 Ezra Shaw/Getty Images
Believe it or not this is actually one of the better pictures of Biedrins available
Mark Jackson can cement his status as a legitimate NBA coach if he can find a way to make Andris Biedrins productive.
Actually, if Jackson does find a way to make Biedrins useful they might just build him a statue outside Oracle.
Biedrins was playing decent basketball at the beginning of the year when he and Kwame Brown created a two-headed center. When Brown went down, so did whatever momentum Biedrins had going.
The Warriors need to use this time to figure out exactly how he is going to fit in next season.
If it's going to be playing 12-15 minutes a game, fine. If he is going to be the third-string center that's fine to; just figure what he is soon so that no one has to go through another offseason hearing how Biedrins came back from home rejuvenated and is going to be a dominant force again.
Please.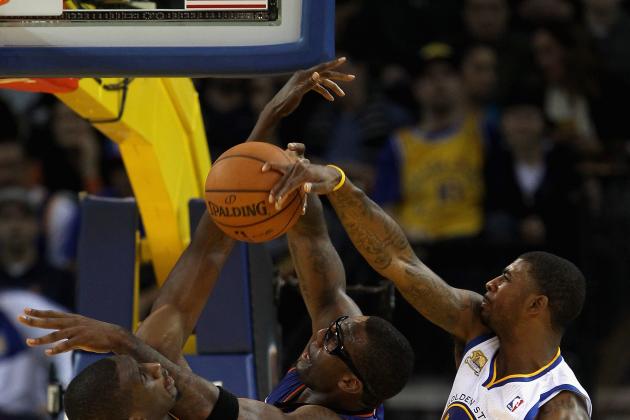 Ezra Shaw/Getty Images

After watching the mess that was the game against the Denver Nuggets on Monday (well that and most of this entire season), it's clear Golden State really needs to start focusing on playing defense.
Mark Jackson was hired to bring in a defensive mentality, and that has not manifested itself so far this season. A healthy Andrew Bogut is obviously going to help, but in the meantime the Warriors need to be getting ready to make the step up defensively next season.