Philadelphia Eagles: 10 Players That Need to Step It Up in 2012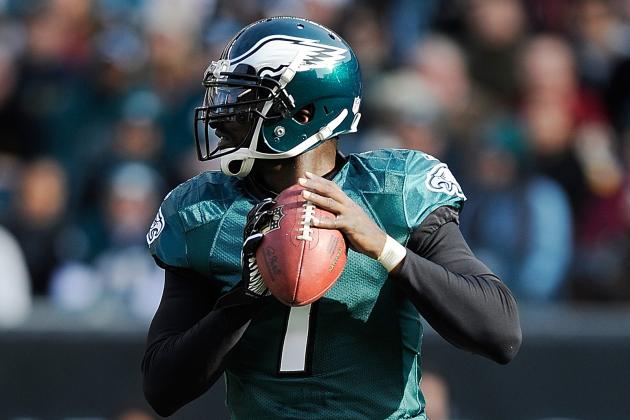 Patrick McDermott/Getty Images

The Philadelphia Eagles are coming off a vastly disappointing season at 8-8 and the team will need stronger performances from some of the key players to contend in 2012.
The NFL draft will be vital for the Eagles, as Andy Reid will need to address several positions that cost the team last season, namely linebacker and safety. The Eagles also need some of the veterans to step it up next year.
Michael Vick was a huge disappointment after signing a $100 million deal. DeSean Jackson underachieved for 16 games and dealt with contract issues that affected his play. Nnamdi Asomugha was a disappointment after signing a massive contract in the offseason and some of the most recent draft picks haven't performed as they should have.
Begin Slideshow

»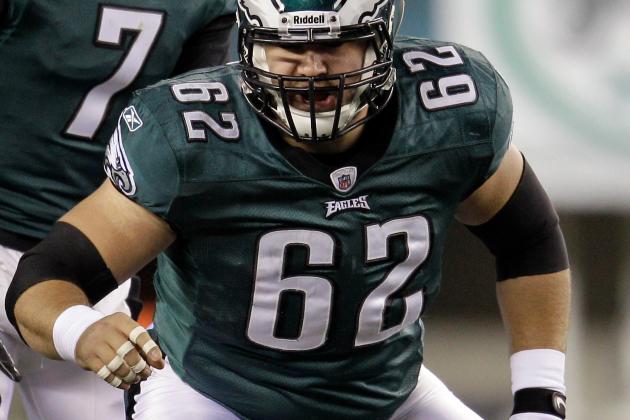 Rob Carr/Getty Images

The Philadelphia Eagles went with rookie Jason Kelce at center in the 2011 season because he fit Howard Mudd's offensive scheme significantly better than the veteran Jamaal Jackson. Mudd's system calls for quick and undersized offensive linemen rather than slower and bulkier players like Jackson.
Kelce started all 16 games as the center, but was one of the weak spots of an offensive line that was otherwise very stable. He rated as the 32nd best center out of 34 qualifiers according to Pro Football Focus. He was far and above the worst pass blocking center in the NFL, giving up 26 quarterback pressures—eight more than anyone else.
Kelce was still just a rookie sixth-round draft pick coming off an offseason that was shortened due to the lockout. He has a lot of potential and I'm not concerned that he won't be a good player simply because he struggled mightily in 2011. But Kelce will need to show some improvement in '12 because Michael Vick simply won't last if his center can't pass block.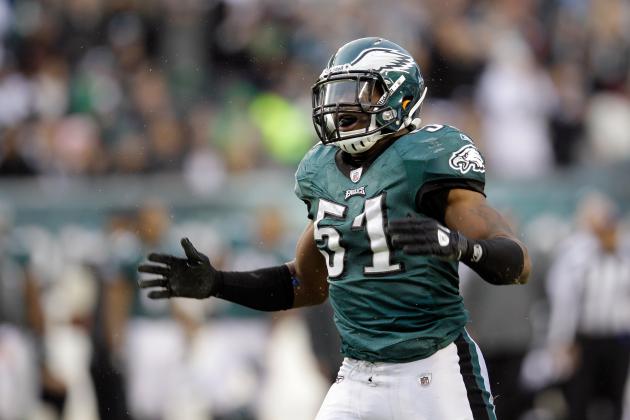 Rob Carr/Getty Images

The Philadelphia Eagles traded for DeMeco Ryans in the offseason to bolster a linebacker corps that vastly underachieved in 2011. Ryans is a two-time Pro Bowler that should inject some ferocity into a unit that appeared soft and undisciplined for 16 games.
Jamar Chaney showed a lot of promise as a rookie middle linebacker down the stretch in 2010, and NFL analyst Brian Baldinger went as far as to call Chaney a top-ten middle linebacker in the league. Chaney struggled in 2011 though, frequently getting beat on pass plays and underperforming in run defense, while committing too many penalties as well.
Chaney has the ability to play outside linebacker and middle linebacker, but he can't possibly perform again like he did last year.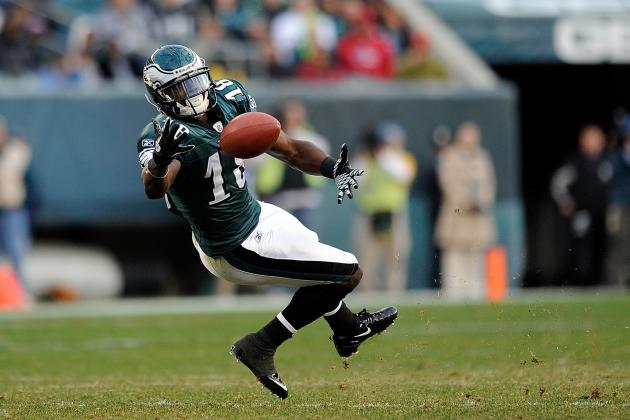 Patrick McDermott/Getty Images

I give Jeremy Maclin a pass for much of his 2011 season. After all, he did experience a potential lymphoma scare in training camp that threatened his NFL career.
Maclin caught 63 passes for 859 yards and five touchdowns, good numbers for a No. 2 receiver, but not one that was drafted in the first round recently. Maclin complements Jackson well as a he's a big receiver and plays a more physical style. I think he lost some weight in training camp that affected his play.
Even so, Maclin had several key turnovers that cost the Eagles. He dropped a key fourth-down pass against the Atlanta Falcons in a 35-31 loss in Week 2 and he fumbled away the football late in the fourth quarter in a 24-23 loss to the San Francisco 49ers in Week 4. With DeSean Jackson signed to a long-term deal opposite Maclin, plus playmakers in LeSean McCoy and Brent Celek, Maclin better put up numbers in the range of 1,200 receiving yards and 10 touchdowns.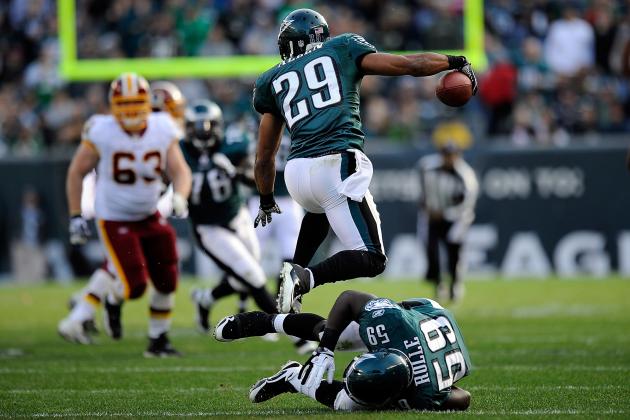 Patrick McDermott/Getty Images

The team's second-round draft pick in 2010 struggled for most of the season in 2011, as he was marred by a patellar tendinitis injury he suffered late in his rookie campaign, which took quite awhile to recover from.
Nate Allen was a playmaking force in his first month in the NFL, intercepting a pass in each of his first three games and earning NFC Defensive Player of the Month honors. He wasn't the same player in '11, looking overmatched at times in pass coverage and playing below standards defensively against the run. The Eagles are reportedly interested in former Miami Dolphins safety Yeremiah Bell, and he would team well with Allen in 2012.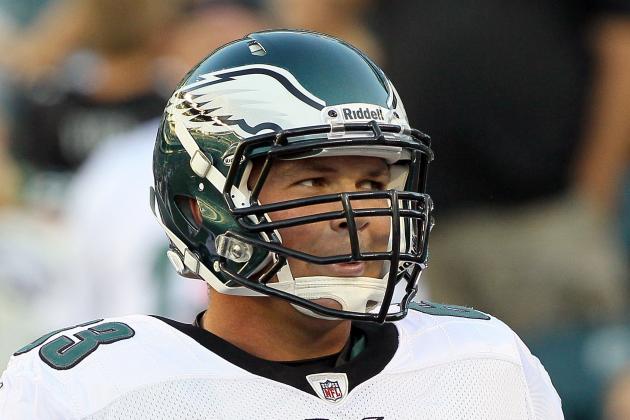 Jim McIsaac/Getty Images

The Philadelphia Eagles' first-round pick underachieved in his 2011 rookie campaign, losing his starting job in training camp to a guy (Kyle DeVan) that was released four weeks into the season.
Danny Watkins didn't give up any sacks in pass protection, but he was below expectations in run blocking. Watkins committed too many penalties (5), gave up too many quarterback pressures (23), and didn't play up to his potential as a first-rounder. Like Jason Kelce, Watkins didn't have the benefit of a full offseason, and he should perform much better in 2012 with OTAs and a normal training camp.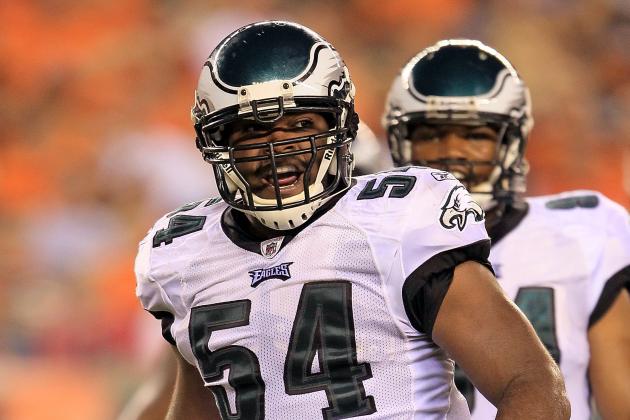 Andy Lyons/Getty Images

The Philadelphia Eagles first round-pick in 2010 has been nothing short of a colossal bust so far. That's not to say he won't ever amount to his potential, but so far the Eagles have to be disappointed with the way Brandon Graham has been playing.
Graham registered three sacks in 12 games as a rookie before tearing his ACL in Week 14 against the Dallas Cowboys. He underwent microfracture knee surgery and was put on the PUP (Physically Unable to Play) list for the first six games of 2011. Graham was eventually activated on November 5, but didn't make much of an impact, if any, for the remainder of the season.
The Eagles enter 2012 with Trent Cole and Jason Babin as their starting defensive ends, but Graham is expected to be a key part of the defensive rotation along with Philip Hunt and Darryl Tapp. Andy Reid has struggled with defensive ends in recent years, failing with Jerome McDougle in the first round back in 2003 and Victor Abiamiri in the second round in 2007. Graham better be careful he doesn't become the third such bust under Reid.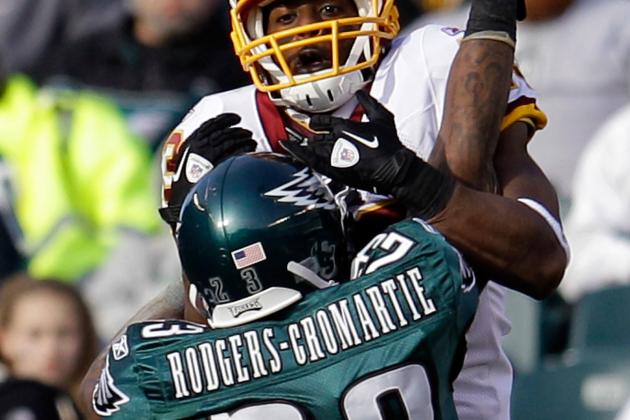 Rob Carr/Getty Images

Dominique Rodgers-Cromartie was acquired from Arizona along with a second-round pick in the Kevin Kolb trade, but he vastly underachieved in 2011. He dealt with injuries and struggled to even get on the field, with Joselio Hanson seeing many of the snaps as the nickel cornerback.
DRC is a much superior player on the outside than in the slot, and hopefully if the Eagles trade Asante Samuel this offseason and can play DRC on the outside, he will be much better in 2012. Then again, DRC was rated by Pro Football Focus as the worst cornerback in the NFL in 2010, and he may not regain the form that made him a Pro Bowl player in 2009.
DRC is entering the final season of his contract and, if he plays better, will likely be back with the Eagles. But if he doesn't perform, he's gone.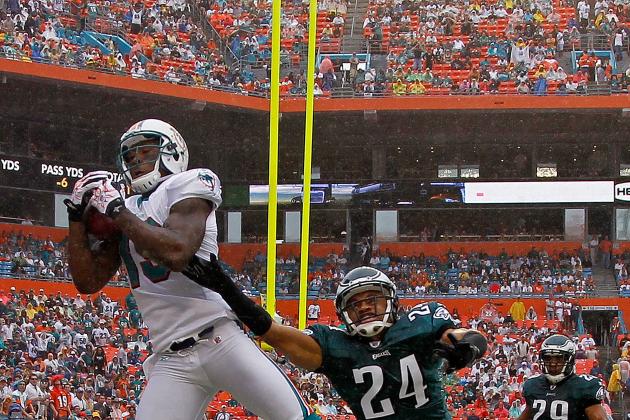 Mike Ehrmann/Getty Images

Like Dominique Rodgers-Cromartie, Nnamdi Asomugha wasn't utilized correctly in 2011. New defensive coordinator Juan Castillo tried to use Asomugha in a sort of hybrid cornerback/safety role, and it failed miserably.
Asomugha wasn't the same player he had been in Oakland. He was completely beaten by Victor Cruz in Week 3, helping to jumpstart Cruz's career. He was outjumped by Brandon Marshall on a pass to the end zone against Miami in Week 14. And he gave up numbers that in no way are representative of a Pro Bowl corner—61.7 completion percentage, 8.0 yards per attempt, four touchdown passes, and an 88.6 passer rating.
He also underperformed against the run and committed a whopping seven penalties in pass coverage. With the NFL being such a pass-happy league, Asomugha's role will be vital for the Eagles in 2012.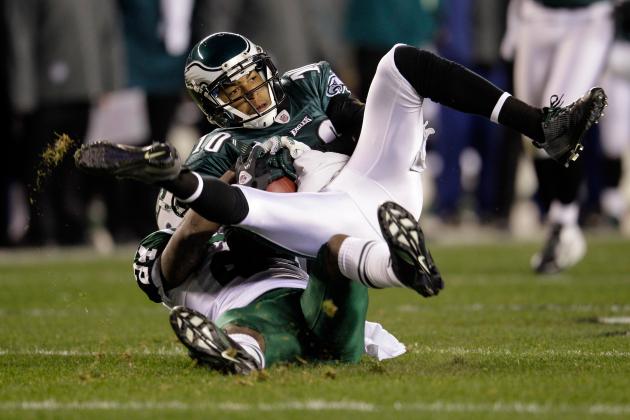 Rob Carr/Getty Images

The Philadelphia Eagles know the value of DeSean Jackson and that's why they locked him up to a five-year contract extension in the offseason. Jackson is irreplaceable as a football player and he forces the opposing defenses to completely change the way they play against the Eagles.
Jackson has speed that puts him in a class of his own and no one in the NFL has scored more touchdowns of 50 yards since Jackson entered the league in 2008. He has his flaws—he is undersized which makes him a subpar blocker, he's not adept at going across the middle, he drops too many passes, and he's essentially a one-trick pony.
Jackson is good enough at his particular skill that the Eagles felt it was worth $50 million, and it's safe to say Jackson can't be replaced by anyone in free agency or in the NFL draft. He did total just 58 receptions for 961 yards and four touchdowns, his worst numbers since his rookie season, and he failed to make an impact as a punt returner.
Speed is the first thing to go on a football player, but it's also something that can't be taught and that's what makes Jackson special. He has the ability to completely take over a game with just a few plays and he has the ability to score every time he touches the football. But the Eagles need him to be more like the Jackson of 2009 and 2010 than 2011.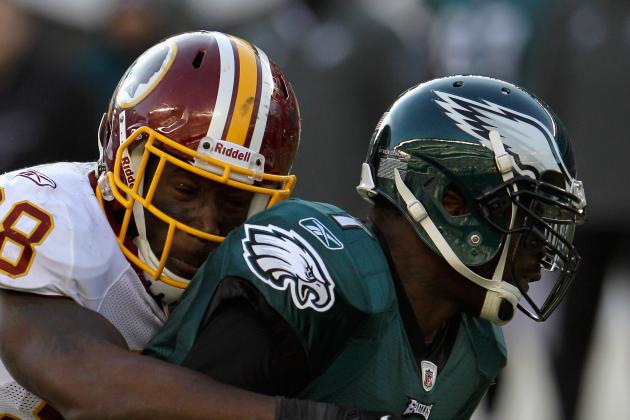 Rob Carr/Getty Images

To be honest, I don't know if Michael Vick really regressed that much in 2011. He simply overachieved in 2010, throwing 21 touchdowns to just six interceptions and winning a slew of games in the fourth quarter.
Vick in '11 was much like the quarterback he had been previously in Atlanta—an erratic, injury-prone quarterback who fumbled a lot, looked to run before passing, and was vastly inconsistent. He isn't worth anything near a $100 million contract and I don't think Andy Reid envisioned Vick actually playing his contract out when he signed him long-term.
But Vick symbolized the Dream Team in 2011, as he was an immensely talented player that didn't play to his potential. He needs to protect the ball better in 2012, stay healthy for 16 games, and play at a more consistent level or the Philadelphia Eagles won't come anything close to a Super Bowl championship.