Arsenal vs. Wolverhampton: Ranking the Arsenal Players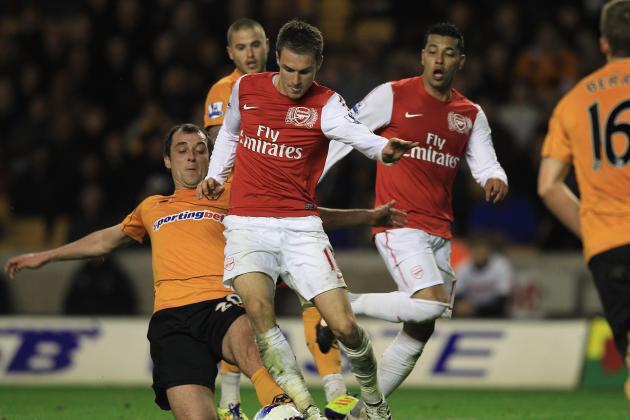 Michael Steele/Getty Images

Barring that one little beep against Queens Park Rangers, Arsenal have won all of their past 10 Premier League games.
In the game against Wolverhampton, we witnessed Arsenal completely dominating proceedings for an empahatic 3-0 victory.
Robin van Persie opened with a calmly taken penalty, while Theo Walcott blasted one past Wayne Hennessey.
A superb pass by Alex Song and an equally great goal from Israeli captain Yossi Benayoun made it three.
Here are the player rankings.
Begin Slideshow

»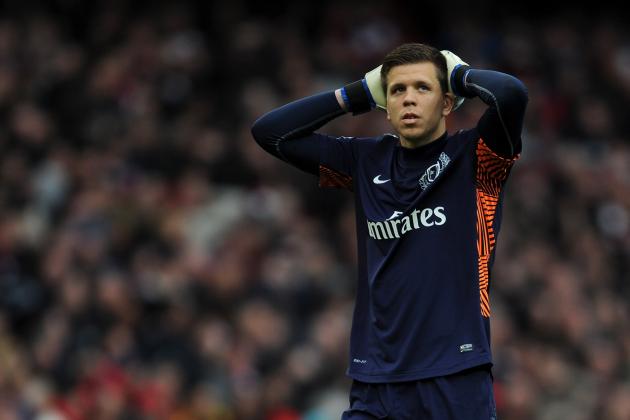 Michael Regan/Getty Images

Wojciech Szczęsny, besides one or two nervous moments, had quite an uneventful game at goal today.
However, when his services were called upon, he made a save of the season to deny Kevin Doyle in the 60th minute, showing cat-like reflexes from three yards out.
Rating: 8/10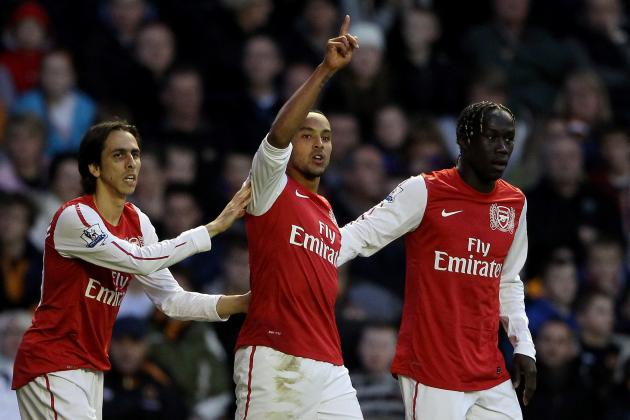 Scott Heavey/Getty Images

The defenders also had quite an uneventful day.
Johann Djourou served as a great deputy for Thomas Vermaelan in Laurent Koscielny's absence. Both center-backs dealt with threats effectively, neutralizing several surging runs by Wolves.
Bacary Sagna, at right-back, was his usual self. Some of his crosses were really luscious, but no Arsenal player was able to convert them.
However, Andre Santos was god-awful in defense. He highlights the crucial need for a quality left-back amongst the Arsenal ranks.
If Arsenal really want to compete for the title and in Europe, they will need to find a left-back capable of not only making runs but also someone who holds the ball and tracks back.
Santos made mistake after mistake, especially in the first half. Against better opposition, he would have been torn apart.
Johann Djourou: 8/10
Thomas Vermaelan: 8/10
Bacary Sagna: 7/10
Andre Santos: 2/10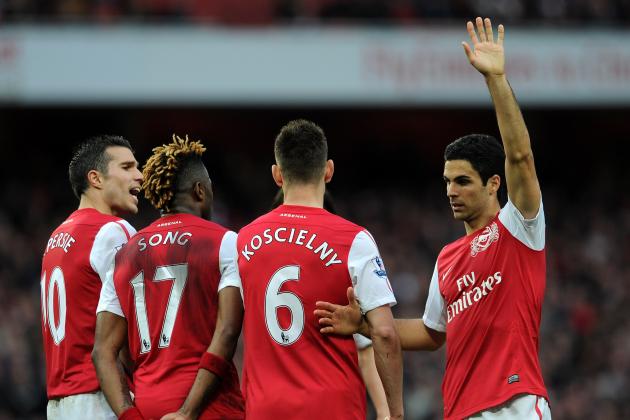 Michael Regan/Getty Images

Arsenal employed Mikel Arteta and Alex Song in a deeper role, while Ramsey occupied the more central role. Yossi Benayoun and Theo Walcott operated as attacking midfielder left and right respectively.
Alex Song added another great game to his name, and he made a fantastic pass to Benayoun who latched onto it and buried the ball into the net.
Mikel Arteta operated well in the midfield, the highlight being a pass of the game to Alex Oxlade-Chamberlain in the 78th minute towards the right-hand flank from almost the halfway line.
Ramsey and Benayoun had good games too. Benayoun had two consecutive starts, and he is really putting in a lot of effort, making tackles, tracking back and contributing to offense. Arsenal's third goal came at the behest of him.
I expected a bit more from Ramsey though. He is unable to dictate the game in certain instances, and he loses the ball at crucial moments. Against stronger opposition, this cannot be tolerated.
Theo Walcott was my man-of-the-match. He won the penalty for the first goal and struck a beautiful one himself to double Arsenal's lead.
His finishing and crossing have improved substantially, and Arsenal can only hope to get such matches from the Englishman.
Mikel Arteta: 8/10
Alex Song: 8.5/10
Aaron Ramsey: 7/10
Yossi Benayoun: 7.5/10
Theo Walcott: 9/10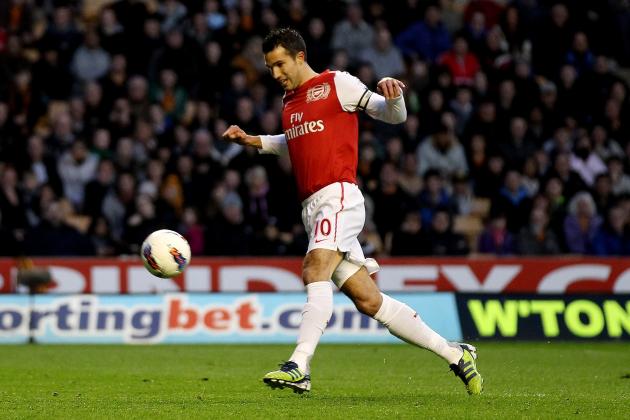 Scott Heavey/Getty Images

Robin van Persie was the lone striker up front but he was tremendous.
He gave Arsenal the lead through a penalty and then set Walcott up for the second.
He added another assist to his name when he rounded the defenders and laid a great pass to Ramsey.
Ramsey looked destined to score but the keeper was equal to it.
Rating: 8.5/10
Follow me on Twitter: @BrenGoetze